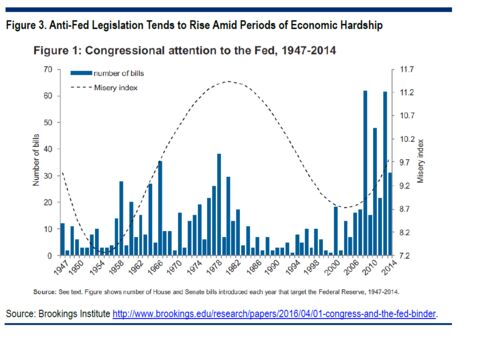 Citigroup Inc. on Tuesday posed an unspeakable question: will a political storm sweep Federal Reserve Chair Janet Yellen after the election that will force her to quit before her term ends in February 2018?
Amid one of the most polarized U.S. elections in living memory, monetary policy has been thrust firmly into the campaign limelight. Republican nominee Donald Trump has attacked Yellen in highly personal terms, questioned the independence of the Fed, and suggested the Chair could be replaced with a partisan choice under a Trump administration.
That the Citi analysts indulge such an extreme scenario is a testament to the unprecedented nature of the current U.S. electoral cycle, and fears a Trump presidency would expose the U.S.'s institutional and legal architecture to something of a stress test, given his stated bid to launch a war against the establishment.
The Democratic presidential contender Hillary Clinton, by contrast, has struck a far more conciliatory tone on the Fed's independence but that hasn't stopped her from proposing significant governance reforms at the central bank, including a desire to alter the composition of Fed personnel. As such, the political winds are blowing against the Fed with such ferocity that Citigroup Inc. analysts deem the prospect of Yellen's premature exit a worthy subject of investigation.
"Calls to limit the power and monetary policy independence of the Fed are not new," the analysts, led by Dana Peterson, wrote in a research note published this week. "However, recently intensified scrutiny of Fed activities and policy decisions, especially amid the 2016 election season, has prompted speculation that Fed Chair Yellen may exit her position and the board itself, sooner rather than later."
The Citi analysts don't shed light on the provenance of such speculation, however, pressure on the Fed has mounted in recent years thanks to criticism on everything from the Fed's low-rate policies have contributed to runaway asset-price inflation that might have worsened wealth inequality, and long-standing calls to limit the central bank's as the sole arbiter of U.S. monetary policy and lender of last resort.
Anti-Fed bills introduced in Congress since the crisis have surged in tandem with the uptick in economic uncertainty, a development that has largely held true in post-war history as per Okuns Misery Index, which pulls together inflation and unemployment data, the Citi analysts observe.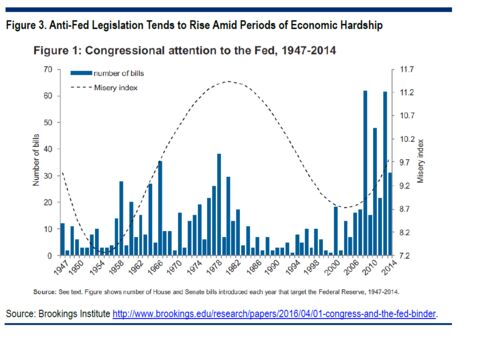 The analysts conclude on a sanguine note, however, arguing that Trump wouldn't "expend the political capital necessary to ease Yellen out before 2018" which would require either proof of legal malfeasance or, legislative redress while there are no suggestions that her ousting would be attempted in a Clinton administration.
What's more, the Fed's institutional structure that preserves its independence and its history of political run-ins suggest Yellen's tenure is highly unlikely to be blown off course by partisan winds, they say.
However, a Clinton administration still exposes significant headwinds for Yellen, the Citi analysts conclude:
"It is not clear that Clinton would nominate Yellen for a second term. There are Democrats who are in favor of auditing the Feds monetary policy decisions, as well as Republicans. Moreover, Clinton has expressed a desire to make significant changes in Fed governance, some of which might encroach upon its current degree of independence. For example, Clinton supports (1) removing bankers from the boards of directors of regional Federal Reserve Banks; (2) increasing racial/ethnic and gender diversity in Fed leadership positions; (3) increasing the director-level representation of persons from community groups, labor organizations, and academia."
Nonetheless, the U.S. bank might be worrying about the future of the wrong female monetary policy maker.
Former President of the Federal Reserve Bank of Minneapolis Narayana Kocherlakota remarked last month that the possible departure of Fed governor Lael Brainard in January in the event she becomes U.S. Treasury Secretary as part of a Clinton administration could pose a "significant macroeconomic risk for the U.S." since dovish voices at the Federal Open Market Committee might subsequently be diluted.
Read more: www.bloomberg.com