Republican frontrunner praises his supporters and blames these other people for demonstations erupting into chaos and violence at previous events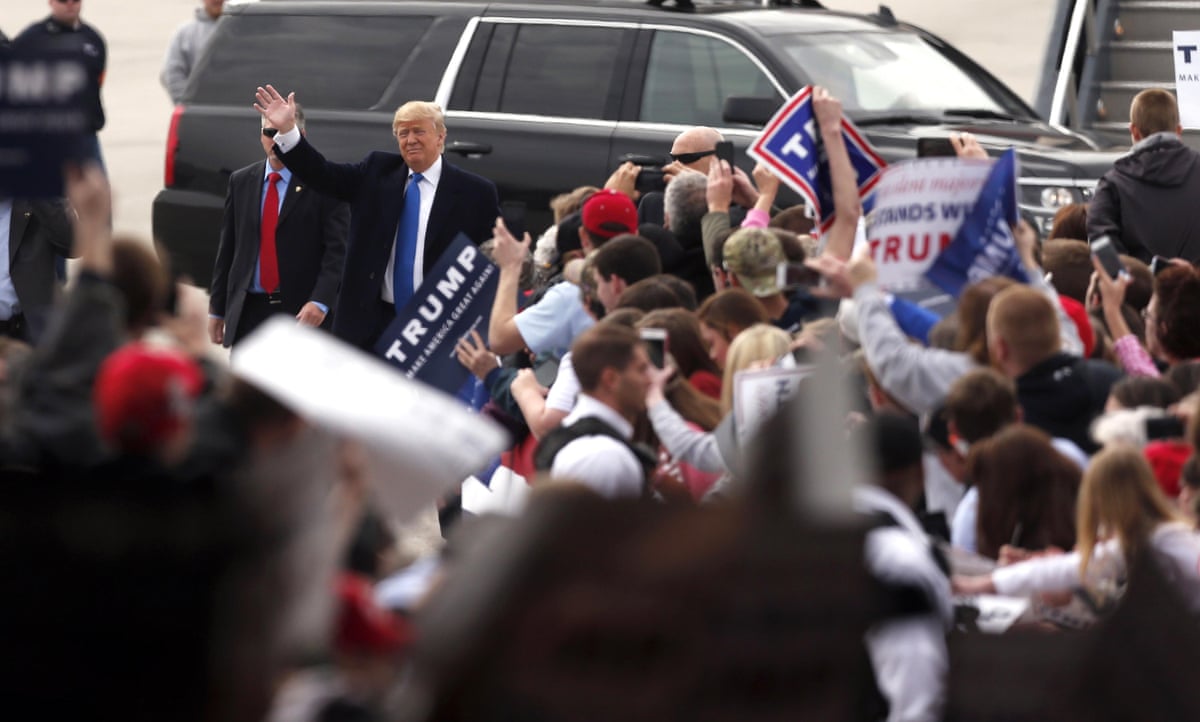 Donald Trump has cancelled a planned rally in Cincinnati, a day after a postponed Chicago rally descended into chaotic clashes between supporters and anti-Trump protesters.
The rally in Cincinnati was due to take place on Sunday afternoon, two days ahead of Tuesdays Ohio primary, in which the Republican frontrunner will seek to knock Ohio governor John Kasich from the presidential race.
Political leaders on both sides of the party divide, meanwhile, tried to dress wounds that were opened in Chicago. Hillary Clinton said violence has no place in our politics, and Republicans John Kasich and Ted Cruz pinned blamed on Trump for the inflammatory rhetoric.
Fridays Trump event saw myriad protesters, including students and people affiliated with the black lives matter movement, demonstrate against Trumps policies on immigration and racially tinged rhetoric.
The protest, which produced scuffles and arrests, including that of an Indian American CBS reporter who was charged with resisting arrest, came after days of escalating political rhetoric and violent incidents at Trump events.
Last week a Trump supporter sucker-punched a black protester leaving an event with security. An allegation of assault against a reporter by Trumps campaign manager is investigated by Florida police.
Trump himself has suggested in recent months that protesters at his events should be taken out on stretchers, and said he would like to punch a demonstrator in the face.
On Saturday, Trump took to Twitter to say: The organized group of people, many of them thugs, who shut down our first amendment rights in Chicago, have totally energized America!
He also told a crowd in Vandalia, Ohio, that his supporters in Chicago were so nice and caused no problem. He instead blamed these other people, naming Bernie Sanders supporters specifically, as the culprits who taunted and harrassed his fans.
Trumps Republican rivals were quick to condemn his speech. On Saturday, Marco Rubio, whose last presidential hopes rest with his home state, which also votes on Tuesday, hedged on whether he would support Trump as the Republican nominee.
Addressing reporters ahead of a rally in Largo, Florida, the senator offered a blistering critique of frontrunners incitement of violence.
Its called chaos, anarchy and thats what were careening toward, Rubio said. We are being ripped apart at the seams now, and its disturbing. I am sad for this country. This country is supposed to be an example to the world.
Asked if he would still support Trump if he were the partys nominee, as he pledged to do at a debate in Detroit a week ago, the senator responded: I dont know. I intend to support the Republican nominee, but [its] getting harder every day.
Kasich also appeared to waver on the question of backing Trump, according to reporters with the governor in Sharonville, Ohio, on Saturday. It makes it extremely difficult, he said, of the violence in Chicago.
On Friday night, the Texas senator Ted Cruz, Trumps nearest rival for the nomination, accused the billionaire developer of whipping up tensions.
When you have a campaign that is accused of physical violence against members of the press, Cruz said, you create an environment that only encourages this sort of nasty discord.
The Trump rally in Illinois was cancelled 30 minutes after it was scheduled to begin, due to what an announcer called security concerns as protesters mingled with Trump supporters in the hall.
The Trump campaign later said the decision was taken for the safety of all, though the Chicago police department said it had not advised the postponement and would have been able to cope.
Trump later said he thought it was a better idea to call off the rally than to let people mix it up. I didnt want to see anybody get hurt, he said. I think we made the right move.
Clinton, the Democratic frontrunner, called for calm. In a statement issued on Saturday, she said: Violence has no place in our politics. We should use our words and deeds to bring Americans together.
Clinton said divisive rhetoric should be of grave concern to us all, before tying events in Chicago to inflamed cultural and racial tensions after the murder of nine people in a church in Charleston, South Carolina last June.
All of us, she said, no matter what party we belong to or what views we hold, should say loudly and clearly that violence has no place in our politics.
Trump, however, said he had no regrets bringing up contentious issues.
You have so much anger in the country. I mean its just anger in the country. I dont think its directed at me or anything, he told CNN on Friday.
Illegal immigration, Trump said, is an important subject and if I didnt bring it up, people wouldnt even be talking about it. Im proud I brought it up.
Trump also defended his comments about taking out protesters on stretchers.
These were rough, tough guys and they did damage, he said. It happens, not often, but it happens. When it happens I will talk about them, but mostly we just have fun.
Trump also suggested that though images from the Chicago rally broadcast nationally could lead to higher voter turnout at the polls in Illinois, Florida and Ohio, he could not even have a rally in a major city anymore.
Outside the rally venue in Chicago, violence flared as Trump supporters were cornered in a parking garage. Inside the arena, punches were thrown amidst scuffles.
We stopped Trump, some protesters chanted.
Read more: www.theguardian.com