The former presidential candidate is the first governor to endorse Trump and said: I will lend my support in every way between now and November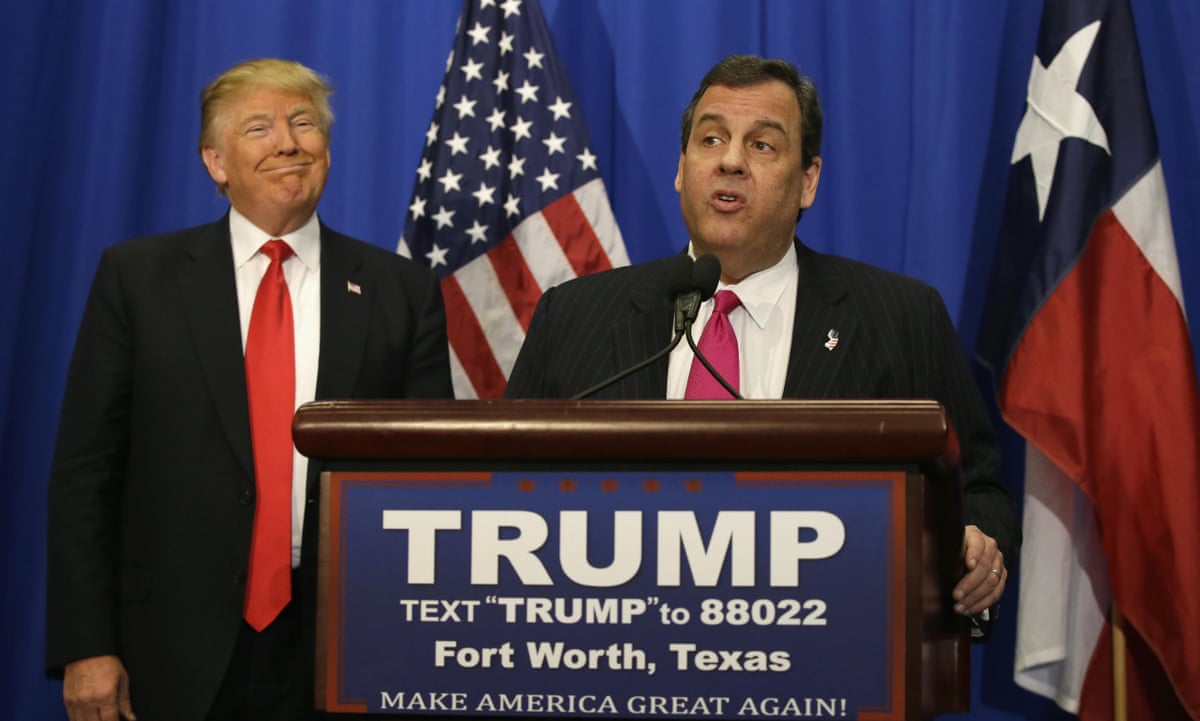 Chris Christie on Friday became the first governor to endorse Donald Trump, giving the Republican frontrunner a shot in the arm after a disappointing debate performance on Thursday night.
The New Jersey governor told reporters in Fort Worth, Texas: I will lend my support in every way between now and November for Donald to help in everything he needs.
The New Jersey governor dropped out of the Republican primary earlier in February after a disappointing sixth-place finish in New Hampshire. Christie had long been an establishment favorite who was considered an early frontrunner for the nomination, but his campaign never recovered from the damage caused by the Bridgegate scandal over the closure of lanes to the George Washington Bridge between New York and New Jersey, allegedly for political reasons.
Christie praised Trump for leaving the private sector and seeing the need for strong leadership in this country.
He said his family prizes loyalty and added that he and Trump have been good friends for many years.
Trump echoed Christies praise. He said this was an endorsement that really meant a lot and described Christie as an outstanding man with an outstanding family. In addition to their family ties, Trump is also a good friend of one of Christies political patrons, George Norcross, the political boss of southern New Jersey.
The two took turns criticizing Marco Rubio, who spent much of Thursdays debate on the attack against Trump. Christie mocked the Florida senator in the last debate before the New Hampshire primary and on Friday he made little effort to hide his disdain.
Senator Rubio has shown himself over time to be wholly unprepared to be president of the United States, said Christie.
Trump, meanwhile, referred to Rubio as nervous Nellie and said: Ive never seen a human being sweat like this guy sweats.
Christies endorsement of Trump is sure to inflame sentiment against him among movement conservatives.
The New Jersey governors famous embrace of Barack Obama in the wake of Hurricane Sandy on the eve of the 2012 election has long been viewed as anathema by many Republicans, who saw it as a betrayal of Mitt Romney and a tacit endorsement of the incumbents leadership.
With his relatively moderate record, the bombastic New Jersey governor is unlikely to have much appeal in many of the states voting on Super Tuesday. However, Christies appeal to blue collar Reagan Democrats is likely to be a boost to Trump in the 8 March primary in Michigan, and in Ohio and Illinois on 15 March.
The endorsement also serves to further validate Trumps status as the Republican frontrunner. The insurgent has won three of four nominating contests so far, accumulating a sizable delegate lead.
Christie joins two congressmen, Chris Collins of New York and Duncan Hunter Jr of California, and 2008 vice-presidential nominee Sarah Palin among the few prominent Republicans to have endorsed Trump.
Read more: www.theguardian.com