State-run tabloid says trade tensions between US and China seem inevitable within the four years ahead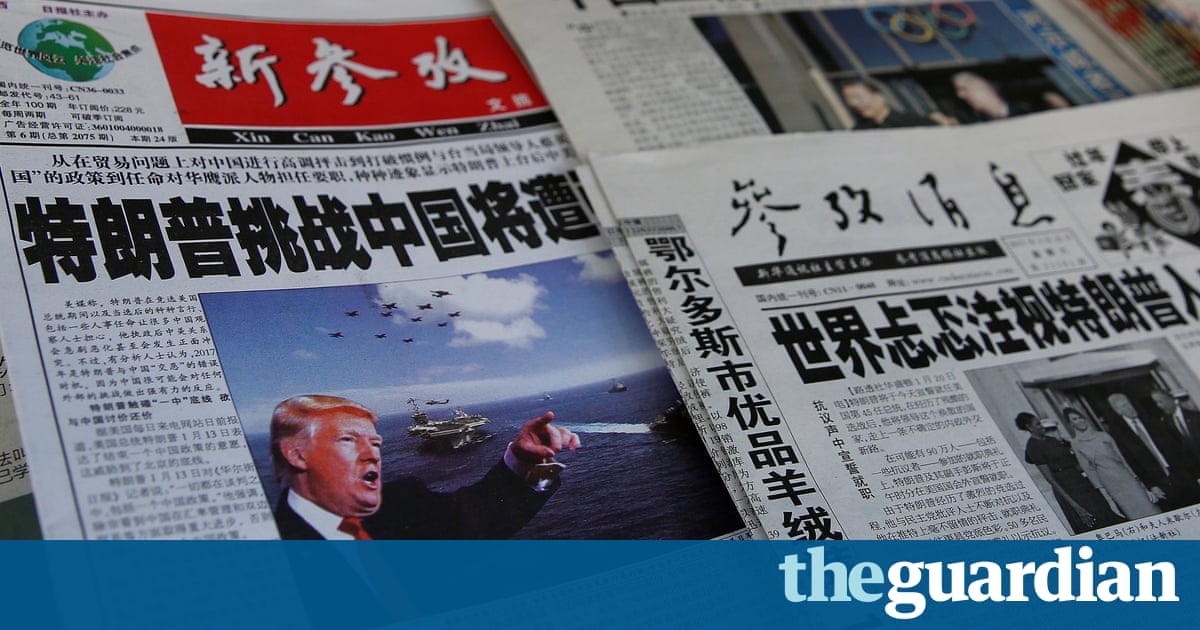 Chinese media warned the country to brace for dramatic changes and discord between the worlds two largest economies after Donald Trump used his inaugural speech to pillory the ravages of countries he accused of lining their pockets by destroying American jobs.
Frictions between the US and its allies, and trade tensions between the US and China seem inevitable within the four years ahead, said an editorial in the Global Times, a state-run tabloid.
Undoubtedly, the Trump administration will be igniting many fires on its front door and around the world. Lets wait and see when it will be Chinas turn, it added.
The president did not mention China the subject of repeated attacks from Trump and his team in recent weeks by name during his unabashedly nationalist 17-minute address.
But the speech was peppered with indirect references to the worlds most populous nation as Trump lamented how the US had enriched foreign industry at the expense of American industry; subsidised the armies of other countries while allowing for the very sad depletion of our military and watched factories relocate abroad with not even a thought about the millions and millions of American workers that were left behind.
The president vowed to protect the US from the ravages of other countries making our products, stealing our companies, and destroying our jobs.
Christopher Balding, a finance professor from the HSBC School of Business at Peking University in Shenzhen, said Beijing could not have missed the message.
You couldnt listen to that speech and not think about China and Mexico as the two biggest targets.
Balding said China had so far shown public restraint in responding to a salvo of attacks from Trumps camp on issues from currency manipulation to the South China Sea and Taiwan. But with the property tycoon now officially occupying the White House the Chinese government would have to buckle up for a potentially bumpy ride.
Youd be foolish if you were in the Beijing foreign affairs ministry to start planning vacations in the next three to six months because you can expect something to happen, Balding predicted.
If you are Beijing you are absolutely saying: We need to be ready to go. Maybe this guy implements 40% tariffs the day after tomorrow. Maybe he calls us up and says we need to get together and hash this out.
The Chinese government issued no immediate reaction to Trumps inauguration. But a front page commentary in the overseas edition of the Communist partys official mouthpiece said Washington and Beijing needed to find ways to control and manage disputes.
China hopes the inauguration of the new US president can be a new starting point for the development of China-US ties, the Peoples Daily article said.
An English-language commentary from Xinhua, Chinas official news agency, warned: Cooperation invites good faith, and provocation incites bad blood.
Trumps swearing-in appeared to unnerve government censors in one-party China, where criticism of the countrys top political leaders is outlawed.
His inaugural address was not broadcast live on Chinese television and authorities issued a ban on unauthorised criticism of the billionaire.
In comments that were swiftly purged from the internet, Zhang Ming, a political scientist from Beijings Renmin University, took aim at Trumps claim to be handing power back to the people.
He is a liar. Did he mean that previous American presidents were not elected by the people and that he, Donald Trump, is an incarnation of the people? Zhang asked on Weibo, Chinas Twitter. History tells us that those who hold up the banner of representing the people behave like hooligans.
Dai Xu, an outspoken and hawkish air force colonel who is an internet celebrity in China, said the best reaction to Trumps posturing was silence.
I will ignore [his speech], he wrote on Weibo. What we should do right now is to get ourselves prepared and start thinking about how to respond [to Trump]. Action is the most resonant language.
Niu Tanqin, another commentator, told his followers a new era has begun.
Every single word Trump has said is deeply embedded with protectionism. Countries around world, most of all China, dont kid yourselves, and do get ready for a trade war, he wrote.
Renmin University scholar Pang Zhongying told the South China Morning Post Beijing now needed to engage in some worst-case scenario planning for Trumps time in power.
The confrontation between China and the US will likely not be focused on ideological aspects, but has moved to the economic front A trade war between China and the US seems inevitable.
Despite those warnings, Balding said he hoped President Trump would step back from some of his more extreme campaign trail promises, such as introducing 45% tariffs on Chinese imports.
What exactly happens once Trump starts getting calls from GE saying: Hey, youre going to kill our business in China and we are going to have to lay people off who export things to China because they are going to retaliate by raising tariffs or doing this, that, or the other?
Hes going to have a lot more constraints on his actions once he has to start taking decisions that affect people and that is going to prove much more complex than any Trump supporter or even Donald Trump realises.
For all Trumps tough talk, Balding said it was possible Beijing had been encouraged by the uncharacteristic lack of swagger in the presidents debut speech.
The academic described the vibe given off by the USs newly anointed leader on Friday as: Oh crap, this is real.
Additional reporting by Wang Zhen
Read more: www.theguardian.com