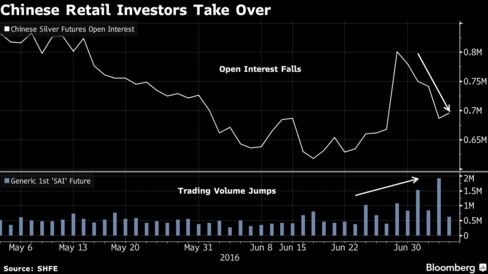 Chinese day traders are moving the silver market.
The metal posted its biggest two-day rally in five years on Monday, with a two-year high being set in Asian trading hours. In recent days, open interest in Chinese silver futures has declined while trading volume surged. Thats a clear sign that day traders are behind much of the rally, according to Saxo Bank A/S.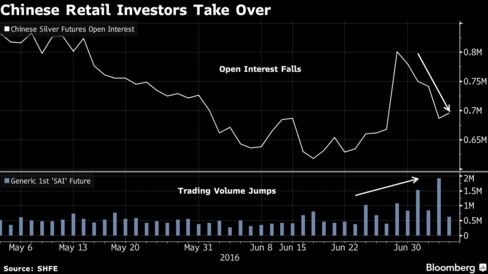 A weaker yuan and strong momentum has attracted Chinese day traders to silver as the next big thing, Ole Hansen, an analyst at Saxo Bank, said by e-mail on Tuesday. While it is unlikely to dictate the overall direction of the market we should be getting used to higher volatility, especially during Asian hours, as long as this interest to trade remains elevated.
While hedge funds have been partly behind silvers 43 percent surge this year, the recent jump is reminiscent of Chinas speculative frenzy in commodities earlier this year, Hansen said. After retail investors drove up prices of iron ore to steel rebar, a trading clampdown by regulators sent them falling again. A similar collapse probably wont happen to silver as its more globally traded commodity, he said.
Aggregate open interest in silver futures, or the number of outstanding contracts, has dropped 13 percent since June 29 on the Shanghai Futures Exchange. At the same time, trading volume increased, reaching the highest since August on Tuesday.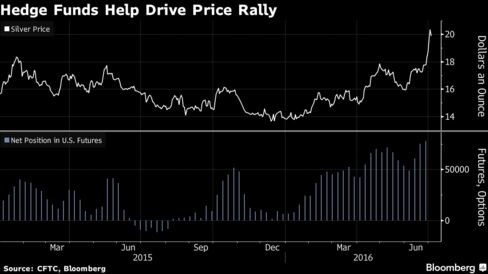 Investors have poured money into precious metals this year as concerns about the U.K.s decision to leave the European Union and low U.S. interest rates boosted demand for a haven. Money managers are holding a record bullish bet on Comex silver futures, U.S. government data show.
Read more: www.bloomberg.com