U.S. President Donald Trump said that the U.S. plans to impose 25 percent tariffs on steel imports and 10 percent on aluminum, and expects to sign a formal order next week. Analysts, executives and politicians reacted to the prospect of the barriers, which would affect businesses from beer to autos. While tariffs may benefit U.S. steel and aluminum producers, they raise the possibility of retaliation from other countries.
QuickTake explainer: How Steel Became Cast as a U.S.-China Security Issue
We will be following developments here. Time-stamps are New York.
Tariffs Could Trigger U.S. Smelter Restarts (10:25 p.m.)
Trump's push may mean U.S. aluminum smelters get a good deal busier. There's about 490,000 tons of idled capacity in the U.S. that could potentially restart, according to Mike Ferraro, who cites Harbor Intelligence data. Ferraro is head of Melbourne-based Alumina Ltd., a producer of alumina and bauxite. Operations that could lift output include plants in Missouri, Kentucky, and Washington state. However, some shuttered capacity is high-cost, so it's unclear how much of an impetus the tariffs will prove to be, Ferraro said.
China Metals Makers Say Retaliatory Measures Coming (10:02 p.m.)
Here's another broadside from China Inc., which touts the risk that we're on the brink of a tit-for-tat escalation. The U.S. aluminum tariffs "overturn international trade order," Wen Xianjun, vice chairman of the China Nonferrous Metals Industry Association, said via Wechat. "Other countries, including China, will take relevant retaliatory measures."
China Mills Group Says Trump's Tariffs Are 'Stupid' (9:14 p.m.)
The Chinese steel industry is furious, offering a powerful, early taste of the global antagonism that the curbs are likely to cause. "This is a stupid trade protection measure, which will only make the U.S. weaker instead of stronger," Li Xinchuang, vice chairman of the China Iron & Steel Association, said via Wechat. China exports only a limited amount of steel to the U.S., said Li, who's been in the industry for decades and often speaks at conferences. Over-protection of U.S. mills will "only make the industry more outdated while raising customers' costs," he said.
Asian Mills Tumble as Tariff Plan Alarms Investors (8:51 p.m.)
Mills across Asia are getting hit amid concern that they'll ship reduced volumes into the U.S., and face rising competition for sales elsewhere should flows be diverted. Mills in South Korea tumbled as trade resumed after a holiday, with Posco sliding as much as 3.7 percent. Steelmakers also sank in Japan and China. "You have to say Asian steel producers generally will be the worst hit," said Gavin Wendt, senior resource analyst at MineLife Pty in Sydney.
S. Korea to Tackle U.S. Officials on Steel Plan (8:43 p.m.)
South Korea — home to steelmakers including Posco — is going into lobbying mode. The trade ministry held a meeting this morning to discuss the impact of the potential 25 percent tariff on steel shipped to the U.S. Trade Minister Kim Hyun-chong has been in the States from Feb. 25, and met with Commerce Secretary Wilbur Ross as well as National Economic Council Director Gary Cohn to raise the trade measures. Given firm details remain sketchy, S. Korea said that it'll reach out to U.S. officials before a final decision is made.
Japan Says Its Metals Don't Hurt U.S. Security (8:29 p.m.)
Japan is one of Washington's most important allies in Asia, and the government says it needs clarity from Trump on which countries will be targeted and which, if any, will be exempt. Trade Minister Hiroshige Seko told reporters on Friday he's seeking to confirm the details. "Steel and aluminum imports from Japan, which is an ally, do not affect U.S. national security at all," Seko said. "I would like to convey that to the U.S. when I have an opportunity."
Moody's Sees Widespread Fallout for U.S. Metal Users (8:18 p.m.)
The curbs are likely to have a far-reaching impact on U.S. metals users, according to Atsi Sheth, a New York-based managing director at Moody's Investors Service. U.S. domestic manufacturers could face higher import costs, potentially affecting sectors including aerospace, automotive makers, heavy-machinery manufacturers, petroleum refiners, chemical manufacturers, construction companies and tire producers, according to Sheth. While the immediate risks to growth appear more limited, over time U.S. competitiveness and innovation could be dented by protectionist trade policy, she said.
Tariffs Raise Risk of 'All-Out Trade War,' ANZ Says (8:02 p.m.)
The planned U.S. tariffs boost "the risks of an all-out trade war, which could dampen economic growth and weigh on the sector," Australia & New Zealand Banking Group Ltd. said in a note on Friday. In terms of the impact on the actual metals, it's a mixed picture, according to the bank. In steel, as Chinese exports to the U.S. are relatively small at just 2 percent of total exports, that volume could easily be diverted to other destinations, it said. But in aluminum, China provides about 10 percent of U.S. imports and, given the deficit in world ex-China, that could have a meaningful impact on prices, it said.
China Has Plenty of Ways to Hit Back, Rudd Says (6:55 p.m.)
China has plenty of options to respond to Trump's tariffs, according to Australia's ex-Prime Minister Kevin Rudd. These could include retaliation against shipments of U.S. food or measures against Boeing Co., Rudd told Bloomberg Television. Still, an escalation from Beijing is not a given. Policy makers may be divided over whether to take on the U.S., or to try to calm things down given the wider strategic importance of the relationship with America, said Rudd, president of the New York-based Asia Society Policy Institute.
Canada to Respond If Hit With U.S. Metals Tariffs (3:35 p.m.)
Canada is vowing to retaliate if Trump makes good on his pledge to impose steep tariffs on steel and aluminum producers — while holding out hope that it could be exempt. "Should restrictions be imposed on Canadian steel and aluminum products, Canada will take responsive measures to defend its trade interests and workers," Foreign Minister Chrystia Freeland said in a statement.
Steel Tariffs 'Big Mistake' as Factories Jammed (12:50 p.m.)

The planned steel tariffs would deal a major blow to U.S. factories, according to an official with an industry group. "It's a big, big mistake," Timothy Fiore, chairman of the Institute for Supply Management's factory survey committee, said Thursday. "It is going to add so much disruption and cost here. We don't make a lot of those steels anymore, so you're going to have to import them anyway."
Trump Is Said to Delay Steel, Aluminum Orders (11:14 a.m.)
Trump has delayed a decision on imposing tariffs on steel and aluminum as his administration weighs a move that could antagonize friends and foes alike, according to people familiar with the issue. Nucor Corp., U.S. Steel Corp., AK Steel Holding Corp., Steel Dynamics Inc., Alcoa Corp. and Century Aluminum Co. pared gains in U.S. trading.
Metal CEOs Said to Be Heading to Washington (9:30 a.m.)
Chief executives of U.S. aluminum and steel producers, including Century Aluminum and Nucor , are heading to the White House to attend a meeting on measures to restrict imports, according to two people briefed on the matter. Century's Michael Bless and Nucor's John Ferriola will be among executives attending the event Thursday, the people said, asking not to be identified because it hasn't been made public.
Click here for a Bloomberg Intelligence analysis on U.S. steel stocks
SocGen Predicts 'Collateral Damage' (7:21 a.m.)
The big thing to watch will be trade retaliations, especially from China, and it's possible that industries outside steel and aluminum will be hit, according to Societe Generale SA. "Collateral damage elsewhere is more likely a relevant factor than the direct impact to the metal industry," said Christian Georges, an analyst at the bank. The tariffs will also drive up inflation for buyers of the metal. Imports account for 55 percent of U.S. aluminum demand and 35 percent of steel, he said.
Trump Weighs In on Twitter (7:12 a.m.)
"Our Steel and Aluminum industries (and many others) have been decimated by decades of unfair trade and bad policy with countries from around the world," Trump wrote in a Twitter posting. "We must not let our country, companies and workers be taken advantage of any longer. We want free, fair and SMART TRADE!"
ING Says Expect Higher Aluminum Premiums (4:12 a.m.)
U.S. aluminum premiums, a measure of the all-in price that consumers have to pay to get metal imported and delivered to their plants, are near a three-year high and will keep rising if Trump pushes ahead, Oliver Nugent, an analyst at ING Groep NV, said in an emailed note.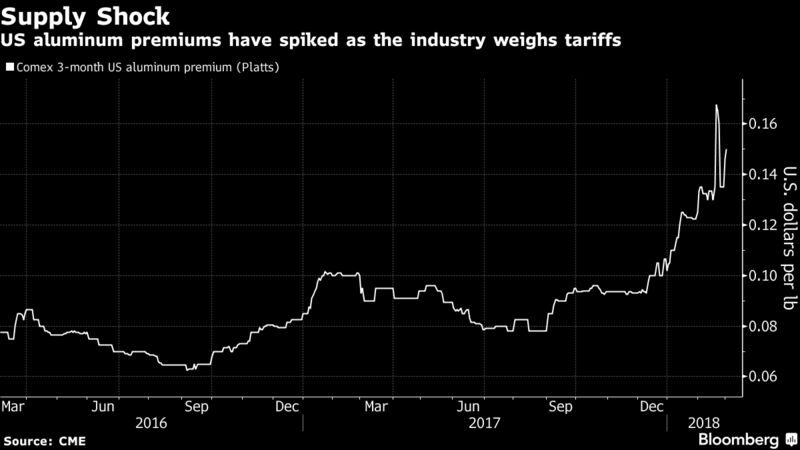 Steelmaker Says Tariffs Will Hurt Global Economy (4 a.m.)
Any kind of trade restriction is damaging to business and will hurt the global economy, said Severstal PJSC, one of the biggest Russian steelmakers. However, the U.S. accounted for only 2 percent of the company's sales, and it said the volume can be easily redirected to other markets.
Anheuser-Busch InBev Urges Trump to Reconsider (2:30 a.m.)
Higher tariffs could cost thousands of U.S. jobs and raise costs for brewers by millions of dollars, said Anheuser-Busch InBev NV's Chief Financial Officer Felipe Dutra. "About 2 million jobs depend on America's beer industry. We urge the department of commerce and U.S. President Trump to consider the impact of trade restriction tariffs," he said.
Read more: www.bloomberg.com