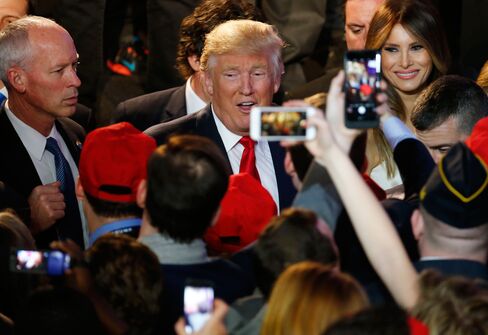 Chinese buyers keen to continue 2016s rapid dealmaking under a Donald Trump presidency are being given one piece of advice: Wait and see.
Bankers and lawyers are already counseling some Chinese clients to hit the pause button until Trump clarifies his stance on cross-border deals for U.S. targets, according to three advisers to Chinese clients, who asked not to be identified because the discussions are private.
Acquisitive Chinese companies have led a blockbuster year of dealmaking in 2016, accounting for about $225 billion of overseas purchases this year, according to data compiled by Bloomberg. Thats more than triple the level of the same period a year earlier — and the biggest chunk of the money has been spent in the U.S. If Trump follows through on his campaign rhetoric, however, their enthusiasm could be short-lived.
Theres at least a short-term pause, said Annabella Fu van Bijnen, a partner at law firm Linklaters LLP in Hong Kong. Given the way Trump has run his campaign theres not a lot of policy clarity. Investors might be a bit more cautious given the protectionist sentiments that were expressed.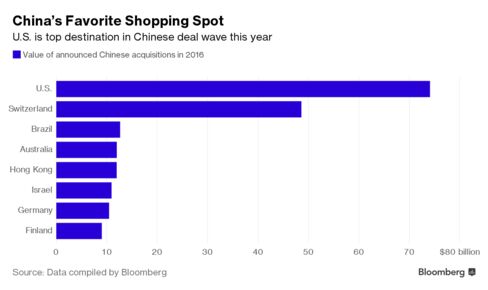 One of the hallmarks of Trumps presidential campaign was an insistence that China has taken advantage of the U.S. on trade deals. The president-elect has pledged to label Beijing a currency manipulator. Hes also vowed to lower corporate taxes in an effort to tempt companies to stay in, or come back, to the U.S.
Some of the biggest effects could be seen in the technology and entertainment industries, where Chinese buyers have been particularly active. Just this month, billionaire Wang Jianlins Dalian Wanda Group Co. agreed to pay $1 billion to acquire Dick Clark Productions Inc., the television studio behind the Golden Globe awards and Miss America beauty pageant.
Tough Rhetoric
Trumps administration could also bring changes to the way that U.S. regulators treat deals. The Committee on Foreign Investment in the U.S., the body tasked with reviewing acquisitions of companies that could have implications for national security, is chaired by the Treasury Secretary.
Until that position is filled its unclear how CFIUS will judge Chinese interest in U.S. targets. Advisers are pushing temporary caution.
People are still in the process of working out what it means, said Joseph Chow, who formerly led Moelis & Co.s China business and now runs CJC Partners, a financial advisory firm in Beijing. He has some tough rhetoric but hes a businessman.
Chinas interest in U.S. companies spiked earlier this year as the worlds second-largest economy by nominal gross domestic product searched for growth outside its borders.
Through June, buyers from the country accounted for about 24 percent of total deal volumes, Gregg Lemkau, Goldman Sachs Group Inc.s global co-head of mergers and acquisitions, said at the time. Thats an increase from the usual annual output of about 10 percent, he said.
Biggest Ever
The largest announced Chinese deal of the year is the acquisition by China National Chemical Co., known as ChemChina, of Switzerlands Syngenta AG in February for about $43 billion. The deal, which was approved by CFIUS in August but is still going through European regulators, is the biggest ever foreign acquisition by a Chinese firm.
Despite the increase in activity, dealmaking under the Obama administration hasnt always been easy.
Chinese deal flow for U.S. technology companies has already slowed in recent months after several acquisitions failed to make it through regulatory processes. Tsinghua Unisplendour Corp.s $3.8 billion investment for 15 percent of Western Digital Corp. fell apart in February after the deal came under a U.S. national security review from CFIUS.
In January, Dutch company Royal Philips NV said it was canceling the sale of its lighting-components business to a Chinese-led consortium due to CFIUS concerns. Fairchild Semiconductor International Inc. also passed up a higher offer from a Chinese group on the grounds it might not get a U.S. security nod, opting instead for a bid from domestic suitor ON Semiconductor Corp.
Political Body
Despite the slowdown, other sectors continue to generate interest. China Oceanwide Holdings Group Co. agreed to acquire Richmond, Virginia-based insurer Genworth Financial Inc. last month for $2.7 billion. Still, investors have already shown skepticism that regulators will allow the deal, pushing Genworths shares more than 20 percent below its acquisition offer price.
CFIUS has always been a political body, said David Tang, Managing Partner for Asia at law firm K&L Gates in Hong Kong. It consists of elected officials or officials appointed by elected officials, so it absolutely captures the policy framework of the elected administration. It will expand or become narrower as a reflection of the politics.
Not all deal advisers are certain there will be a slowdown, particularly in industries that the Chinese government has earmarked for investment. Semiconductor deals, for example, have been booming, in part due to a national Chinese mandate to invest more than $100 billion to become a leading player in the chip industry.
To date at least, I havent seen any hesitation or change in posture by Chinese buyers and investors, said Chuck Comey, a partner in Morrison & Foerster LLPs Palo Alto, California office who regularly advises Chinese acquirers on U.S. targets. In fact, just within this week, weve started several new technology M&A and financing projects on behalf of Chinese buyers and investors.
Read more: www.bloomberg.com