Delegates from China's top political advisory body, the Chinese People's Political Consultative Conference, convened Saturday in Beijing. The representatives from a variety of political, social, economic and corporate organizations are meeting in parallel with a two-week session of the rubber-stamp parliament that begins Monday. 
The legislature is expected to enact sweeping changes that would allow President Xi Jinping to rule indefinitely and give him greater control over the levers of money and power. The agenda includes repealing presidential term limits, creating a powerful new agency to police officials and possibly approving the biggest regulatory overhaul of the $43 trillion finance-and-insurance sector in 15 years.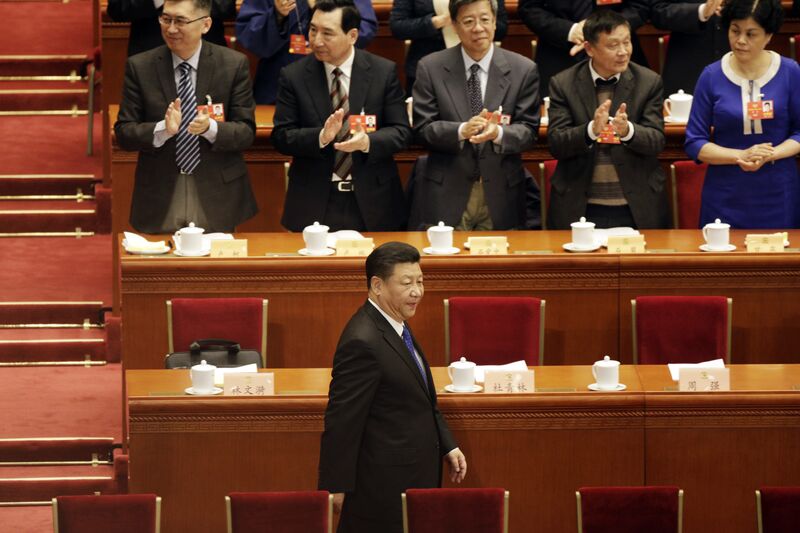 We will follow developments here. Time stamps are Beijing:
Trade Tensions Pose Global Risk: PBOC Adviser (3:50 p.m.)
Escalating trade friction poses a risk to the global economy, and the U.S. should consider potential retaliation by other countries when taking trade actions, Bai Chongen, an adviser to the People's Bank of China and Tsinghua University economics professor, told reporters on the sidelines of the Chinese People's Political Consultative Conference in Beijing.
Budget Deficit Ratio Seen Below 3%: Researcher (3:42 p.m.)
China won't adopt strong stimulus policies or expand its budget deficit, Liu Shangxi, director at the Finance Ministry's fiscal science institute, said on the sidelines of the CPPCC, in response to a question on why the target will be lower than that of last year.
Ex-PBOC Adviser Urges Response to U.S. Tariffs (3:28 p.m.)
China could take "precision" measures on products from U.S. states that support the Trump administration's proposed trade tariffs, as some product costs are "too low," former PBOC adviser Li Daokui said in an interview. Li said China should "properly" react but avoid full-scale global trade war. China could respond with lower labor costs and more capacity cuts, he said. He cited U.S. government support to Ford Motor Co. as an example of unfair trade.
BAIC Expects Profits in 2019 (3:07 p.m.)
BAIC Motor Corp. may return to profit in 2019 after significantly reducing losses this year, Chairman Xu Heyi said in an interview. BAIC also is talking to Panasonic Corp. about greater cooperation on batteries and intelligent manufacturing, Xu said.
Read more: www.bloomberg.com