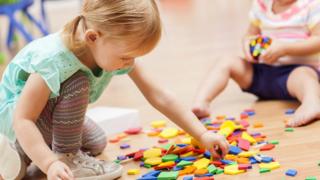 Ministers are to delay scrapping a system of childcare vouchers by six months after an intervention by the Democratic Unionist Party.
Education Secretary Damian Hinds made the concession during a Commons debate.
The employer-backed voucher scheme, used by up to 450,000 parents, was due to be closed to new entrants next month but will now have a temporary reprieve.
An alternative system of tax-free childcare introduced by the government has suffered a succession of problems.
Ministers announced in 2013 that the employee scheme – in which staff in participating companies can receive vouchers worth up to £55 a week in lieu of their salary – would effectively be replaced by a system in which parents have to open an online voucher account and have their payments topped up by the state.
But the new system, which provides support of up to £2,000 a year, has been beset with problems.
Because of glitches on the HMRC website, thousands have been unable to either set up tax-free accounts or access the money they had paid into them.
Those unable to access the tax-free childcare payments have been paid a total of £966,666 while nearly £40,000 in compensation has been paid to parents for inconvenience and expenses incurred.
'Far from perfect'
DUP MP Emma Little-Pengelly said while the employer-backed scheme – which was to remain open to existing members – was "far from perfect", it had enabled many parents to reduce the cost of childcare.
She said research suggested some families who did not use either scheme would be "better off" under the employer-administered scheme.
"The DUP is delighted that the government has agreed with our proposal to delay the scheme's closure for a period of at least six months," she said.
"This period will be used to address concerns raised about the scheme and to look at new provisions to address childcare accessibility and affordability in Northern Ireland and throughout the United Kingdom."
The DUP has expressed its opposition to the changes in the past and Nigel Dodds, their leader at Westminster, could be seen talking with Tory chief whip Julian Smith moments before Mr Hinds made the announcement.
Speaking in Parliament, Mr Hinds said: "I have heard the concerns that have been raised about this and the timing, and I can confirm that we will be able to keep the voucher scheme open for a further six months to new entrants."
Labour opposed the change but was defeated in a vote by 314 votes to 285.
The government also avoided defeat in three other votes on changes to childcare and Universal Credit, including the introduction of a means test for families on Universal Credit to receive free school meals.
Read more: www.bbc.co.uk