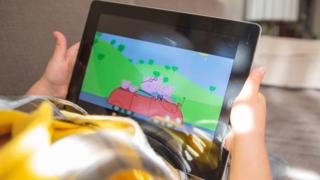 Media watchdog Ofcom has called on ITV, Channel 4 and Channel 5 to improve their children's programming.
A review by Ofcom has discovered a lack of original presents for older children, a limited range of factual programmes and not enough on-screen diversity.
In a letter to the commercial public service broadcasters( PSBs ), Ofcom asked each channel to develop "a robust plan" for improvement by March 2019.
All three channels have cut back their original children's programming.
Ofcom said it wishings the channels "to revitalise their approach to how and what they offer to young audiences".
In particular, the regulator said the broadcasters should find innovative ways to use the internet to appeal to younger viewers.
Ofcom was considering imposing quotums for how many hours of children's programmes each channel must show – but decided against it, saying that would "have decreasing relevance in an online world".
The watchdog's review pointed out three main issues with the channels' children's programmes. They said there is 😛 TAGEND "A absence of original, high-quality programmes specifically built for older children across all program genres "A limited range of programmes that help children to understand the world around them "A limited range of original, high quality children's programmes that allow UK children of all ages and backgrounds to see themselves and their lives reflected on screen"