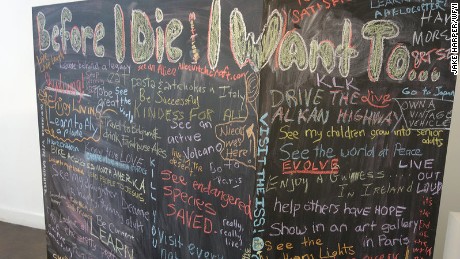 In a sunny patch of grass in the middle of Indianapolis' Crown Hill Cemetery, 45 people recently gathered around a large blackboard. The words "Before I Die, I Want To …" were stenciled on the board in bold white letters.
Sixty-two-year-old Tom Davis led us through the thousands of gravestones scattered across the cemetery. He'd been thinking about his life and death a lot in the previous few weeks, he told us. On March 22, he'd had a heart attack.
Davis said he originally planned to jot, "I want to believe people care about me." But after his heart attack, he found he had something new to write: "I want to see my grandkids grow up."
About a quarter of Medicare spending in the U.S. goes to end-of-life care. Bills that insurance doesn't cover are usually left to the patients and their families to pay.
Jason Eberl, a medical ethicist from Marian University who spoke at the festival, said advance directives can address these financial issues, too. "People themselves, in their advance directive will say, 'Look, I don't want to drain my kids' college savings or my wife's retirement account, to go through one round of chemo when there's only a 15 percent chance of remission. I'm not going to do that to them.' "
The festival also included tour of a cremation facility in downtown Indianapolis. There are a lot of options for disposing of human ashes, it turns out. You can place them in a biodegradable urn, for example, have them blown into glass even, for a price, turn them into a diamond.
"It's not inexpensive," Eddie Beagles, vice president of Flanner and Buchanan, a chain of funeral homes in the Indianapolis area, told our tour group. "The last time I looked into it for a family, it was about $10,000."
"Really, when it comes to cremation, there's always somebody coming up with a million dollar idea," Beagles added. "If you can think of it, they can do it."
Beagles showed us a pile of detritus from cremated human remains. He picked up a hip replacement a hollow metal ball then dropped it back into the ashes.
I'm a health reporter, so I know a fair amount about the things that could kill me, or are already killing me. But watching this piece of metal that used to be inside a human be tossed back onto the heap gave me pause. I'm thinking about what I might write on a "Before I Die" wall. I still don't know there are many things to do before I go. But I'm thinking about it a lot harder now.
Read more: www.cnn.com