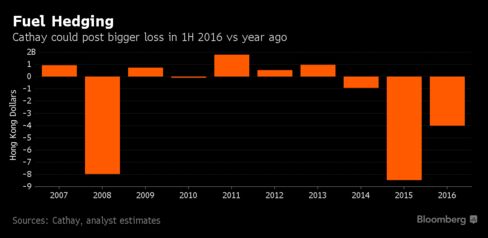 Cathay Pacific Airways Ltd., the marquee Hong Kong airline, suffered millions of dollars in losses from fuel-hedges in the past two years. With the citys government adding new fees on passengers to fund building a runway, the carrier faces more challenges to retain profit margins.
The charges to fund the expansion of the Chek Lap Kok airport follows the city government banning from February fuel surcharges airlines could levy after crude oil prices tumbled to as low as $26 a barrel.
The measures threaten to further depress ticket prices and yields as the company fights to prevent passengers from switching to Chinese and Middle Eastern airlines that are expanding rapidly in the region. Chief Executive Officer Ivan Chu, who will detail first-half results Wednesday, has already warned the aggressive capacity injection by his rivals is putting "intense pressure" on the metric, a sentiment also shared by Singapore Airlines Ltd.
There has been substantial capacity increase from Chinese carriers, said K. Ajith, an analyst at UOB Kay Hian Pte in Singapore, who recommends investors hold the stock. Cathay has to lower fares to make it more attractive for people to come to Hong Kong and thats hurting yields.
Cathay may report net income fell 46 percent to HK$1.07 billion ($138 million) in the first half, according to the median estimate in a Bloomberg News survey of four analysts. The report could include a HK$4.9 billion fuel-hedging loss, according to the average of two analyst estimates.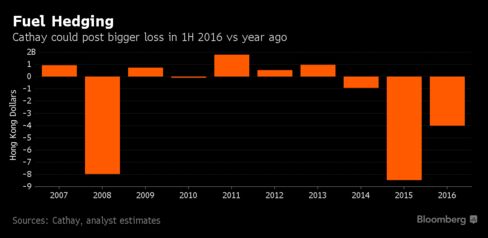 Cathay and its unit Dragonair carried 2.7 percent more passengers in the first seven months of this year, taking the number to 20.3 million, the airline said in a statement Monday. Traffic during the period rose 2.6 percent from a year ago, while capacity increased 4 percent.
Cathay is among airlines that didnt benefit fully from the drop in oil prices as the level at which it has hedged is higher than the spot market price. Thats prompted the carrier to account for paper losses. The airline declined to comment ahead of the earnings.
Shares of Cathay have declined 4.6 percent this year, compared with a 4.6 percent gain in the benchmark Hang Seng Index.
Yields — or money earned from carrying a passenger for one kilometer — are under pressure as Air China Ltd., China Eastern Airlines Corp. and other carriers offer more direct services from the mainland, making it less attractive to hop via Hong Kong. Thats coming at a time when the Middle Easts Big Three — Emirates, Etihad Airways and Qatar Airways — expand more into Asia and offer luxuries such as butlers and shower rooms.
Direct Flights
Every 1 percent decline in yields is expected to lower Cathays first-half profit before tax by about HK$347 million, UOB Kay Hians Ajith said. The metric is one of the key indicators of an airlines profitability.
Chinese carriers have added 25 percent to 30 percent more direct international flights so far this year, Eric Lin, an analyst with UBS Group AG in Hong Kong, said Aug. 9. That compares with a 2.6 percent increase for Cathay during the same period, according to the companys June operations statement.
Hong Kong aviation authorities told airlines to remove fuel surcharges from Feb. 1, cutting Cathays ticket prices by 6 percent to 7 percent, which is a disaster for the citys flag carrier given its fuel-hedging policy, according to a CIMB Group Holdings Ltd. note dated June 25.
Airlines charged HK$109 for long-haul and HK$24 for short-haul flights from Hong Kong before the levy was eliminated, according to the Civil Aviation Department.
Hard Time
Cathays rival Singapore Airlines hedged 37.5 percent of its fuel needs in the July-September period at an average $81 a barrel, compared with 42 percent at $87 in the April-June quarter. Cathay said in March that 60 percent of its fuel needs this year is hedged at an average $85 a barrel. Brent crude now trades at about $47 a barrel.
Cathay will have a hard time for the next two to three years because of its fuel hedging, John Hu, an analyst at Morningstar Investment Service in Shenzhen said Aug. 8.
More challenges await Cathay as the authorities started imposing a fee of between HK$70 and HK$180 per passenger who fly out of Hong Kong for the HK$141.5 billion expansion of the airport, including the construction of the citys third runway.
Limiting Ability
Also, the Hong Kong airport plans to increase parking and landing fees by as much as 27 percent for airlines starting Sept. 1. The fees in the territory account for about 10 percent of Cathays total costs, CIMB said in June.
While these fees wont have a significant direct impact on Cathays financials, it limits an airlines ability to raise fares and will put pressure on yields, UOB Kay Hians Ajith said.
Cathays task is to remove costs to sustain affordable mass market luxury product, said Will Horton, an analyst at CAPA Centre for Aviation, in Hong Kong. Cathay is running a major hub in a high-cost location. Unlike other high-cost hubs, such as Tokyo, the local market is not as loyal and not as willing to pay a premium for a local operator.
Read more: www.bloomberg.com