The Republican candidates have regularly railed against Nafta, the bedrock of US-Canada trade relations. Would they alienate a steadfast ally with an unfair deal?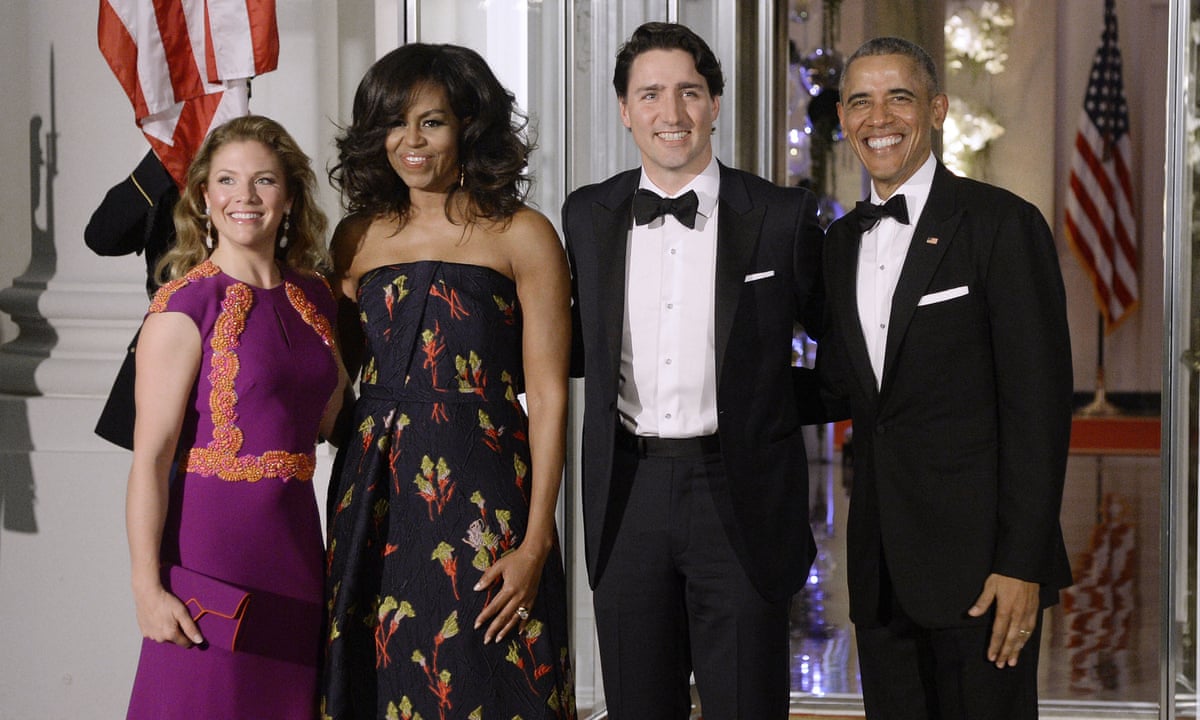 For many on the Canadian side of the border, its starting to feel like the downstairs neighbors are throwing a big party and things have gotten out of hand.
The event is starting to get violent; longstanding house rules are suddenly being challenged; and theres a growing fear that the neighbors are going to come barging in if things dont go their way. Tonight Canada will learn how likely it really is that Donald Trump a man who has railed against trade deals that have been a huge boon to its economy will be the Republican nominee for president.
While Canada currently enjoys a tightknit economic, political and social bond with its most important ally and trading partner, the recent honeymoon enjoyed by leaders of the two countries could come to a swift end when a new president takes office in January.
Last Thursday, standing beside Canadian prime minister Justin Trudeau, Barack Obama referred to Americas northern neighbor as steadfast allies and the closest of friends.
The budding relationship between the two world leaders was cemented that evening at a state dinner, the first for a Canadian prime minister in 19 years. Surrounded by Canadian royalty including Mike Meyers, Ryan Reynolds and Lorne Michaels Trudeau and Obama spent the evening discussing their shared vision for border security, trade and the environment.
That very same evening Republican presidential candidates, standing on a debate stage in Florida, argued against action on climate change, promoted the need for greater border security and railed against trade deals such as the North American Free Trade Agreement (Nafta), the bedrock of US-Canada trade relations.
To say that the two economies rely on each other would be an understatement. According to the US Census Bureau, Canada was responsible for 15.3% of foreign trade in January, second only to China (with 16.5%). The US is Canadas most significant trading partner by a far more significant margin, with 10 times more imports and 20 times more exports in 2014 than its next greatest trading partner, China, according to Statistics Canada.
Its by far and away our biggest trading partner, confirmed Corinne Pohlmann, the senior vice-president of national affairs for the Canadian Federation of Independent Business (CFIB). Of CFIBs 109,000 privately owned member companies, a vast majority of which are small businesses, 50% import from and 25% export to the United States. From a small- to medium-sized business perspective, its often the first place they dip into the trading pool, given that it speaks the same language, has a similar culture, and its a truck drive away rather than a ship or an airplane. Its absolutely integral.
Being so closely tied to the American economy, explains Pohlmann, comes with both positive and negative attributes. While Canadians often share in Americas growth, reliance on its more volatile neighbour can lead to uncertainty, especially under new leadership.
One thing business really needs is predictability and certainty going forward: what are the rules of the game? said Janice MacKinnon, the former minister of finance for the province of Saskatchewan and current professor of public policy at the University of Saskatchewan. Certainly under Trump theres much more danger that theres some dramatic change in the rules of the game than under Clinton, who has been around and has experience and understands that changing the rules has dramatic consequences.
Despite her apprehension towards a Trump presidency, MacKinnon doesnt think a Republican victory is necessarily bad for Canadas economy. The Republicans are eager to move forward on the Keystone XL pipeline, which would provide a significant economic boost to the struggling province of Alberta (though Trump is demanding a greater share of the profits). What she does fear however is the protectionist sentiment propagating both parties this election cycle.
Its common in the United States, when they get into difficulty and people are struggling and they cant explain why theyve lost their jobs and why these manufacturing jobs are leaving, its a very common reaction to turn to protectionism, she said. Its a very protectionist race, and we should be nervous about it.
The Trans Pacific Partnership (TPP) could prove a casualty of this protectionist mindset. Approval of the agreement, which was championed by President Obama and includes both Canada and the United States, is one of the more significant economic decisions that could fall to the next president.
TPP reflects the fact that the three North American partners and the North American production platform are prepared to move together to explore and carve out new opportunities elsewhere around the world, said Ed Fast, a Canadian MP and the countrys minister of trade during the TPP negotiations. We all saw that as a worthwhile endeavor, and certainly we as Canadians should hope that our American friends do eventually ratify that agreement.
While frontrunners on both sides of the presidential race have campaigned on a promise to abolish TPP and other trade agreements, Fast doesnt think all would necessarily follow through.
Seven years ago, when Barack Obama was running to be president, he made some claims about Nafta which raised eyebrows on our side of the border, but after all the smoke and the noise from the elections had dissipated, President Obama reaffirmed his support … and the importance of our three countries having highly integrated economies, he said. Now its Obama who is strongly promoting the TPP as a way forward to take our North American partners and allow us to extend that strength into the Asia Pacific region.
When asked more directly about the potential challenges that may arrive in Canada should Trump become the next president of the United States, Fast remained characteristically diplomatic.
As an individual member of parliament Im committed to working with whoever the American people elect, he said. I hope that would be the attitude of our current prime minister and his current government.
Read more: www.theguardian.com