Governor and progressive challenger get heated in their only scheduled debate before the Democratic primary next month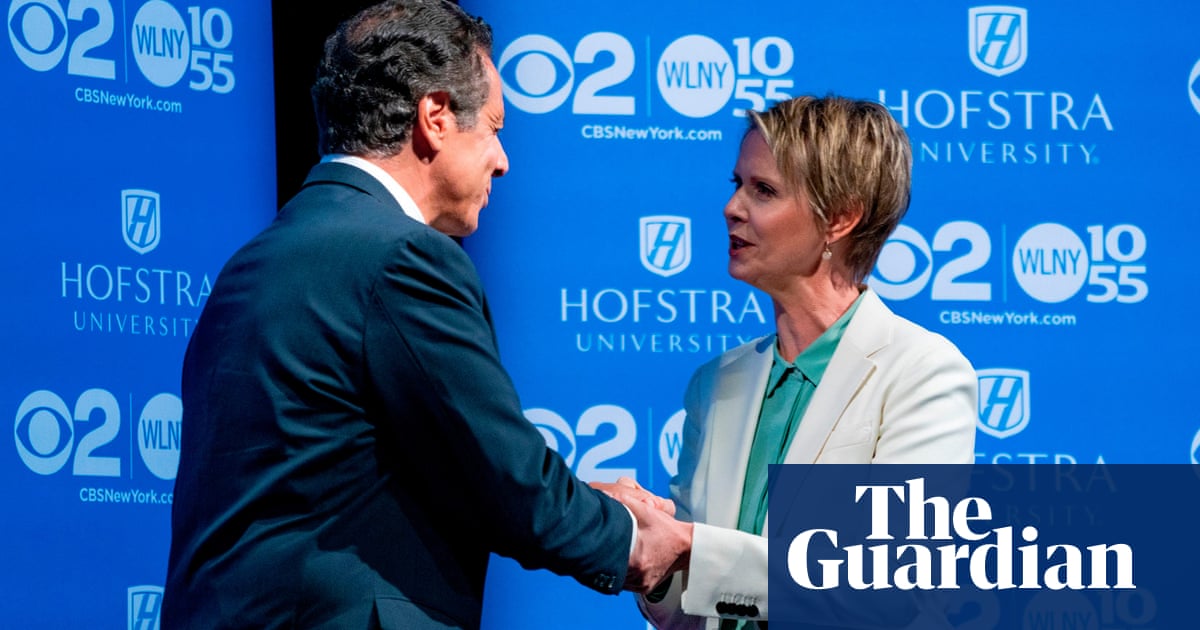 The insurgent political candidate and TV star Cynthia Nixon went on the attack against the New York state governor, Andrew Cuomo, with accusations of corruption and lying when the two clashed at their first and only debate.
Nixon is taking on Cuomo in yet another leftwing challenge to the Democratic establishment, following a flurry of wins by outspoken progressives, such as Andrew Gillum in Florida on Tuesday and Stacey Abrams in Georgia and Alexandria Ocasio-Cortez in New York in other recent primaries.
For his part Cuomo, currently serving his second term, said that if he wins a third term he will not run for the White House in 2020.
But meanwhile he described his "job" as being to "fight" Donald Trump and ridiculed Nixon's lack of experience – she has never held political office at any level – and her claim that she was up to the task of running the US's fourth-largest state.
"Part of the largest threat today is President Trump. He is attacking everything we believe in in New York. He has to be stopped. I'm going to fight with him," Cuomo declared.
Nixon countered.
"When it comes to opposing Donald Trump in New York state, we already have a corrupt corporate Republican in the White House. We don't need a corrupt corporate Democrat in Albany as his main opposition," she said.
Nixon, Broadway actor and former Sex and the City star, and Cuomo, son of the former New York Democratic governor Mario Cuomo, got into sharp spats at their debate on Wednesday evening.
At one point Cuomo barked: "Can you stop interrupting?" at Nixon, who snapped back: "Can you stop lying?"
Polls suggest the governor has a more than 30 percentage point lead over his opponent, who also trails substantially in fundraising.
But Nixon has garnered plenty of attention with her famous name. And, with her leftwing platform of education reform and social and economic equality, she is seeking to ride a populist wave of candidates assailing establishment figures with challenges from the left.
As a political ingenue who has not held office at any level before, she represents an audacious, if outside, threat to establishment figure Cuomo who has powerful standing in the party.
Her campaign finally drew Cuomo into a debate at Hofstra University on Long Island. Nixon went after Cuomo early in the exchange, calling him corrupt and a liar and saying experience doesn't matter if a politician is ineffective.
"I'm not an Albany insider like Governor Cuomo, but experience doesn't mean that much if you're not actually good at governing," she said, referring to the seat of New York government in the state capital.
Cuomo responded that Nixon did not understand the challenges of leading the nation's fourth largest state and lived in a "world of fiction", while he resided in the real world where you don't just "snap your fingers" and change happens.
"That's the art of government. I can get it done," he said.
The fireworks began even before the debate kicked off, with Nixon, who would be the state's first female governor, complaining that Cuomo had imposed a series of demands on the debate's organizers – and then making a request of her own.
The challenger asked that the temperature in the room be set at 76F (24.5C). Campaign adviser Rebecca Katz wrote that workplace conditions are "notoriously sexist when it comes to room temperature", according to an email obtained by the New York Times – referring to air conditioners being set on high to cater to suited men.
Cuomo – who in recent weeks got in a heated spat with Trump after saying that America "was never that great", comments he later walked back – has been discussed as a possible 2020 presidential contender for his party. But he pledged definitively during the debate to serve a full term if re-elected, which would preclude a presidential run. "Yes, yes, and double yes," he said. "The only caveat is if God strikes me dead."
Also Wednesday, it was revealed that Cuomo received a $25,000 campaign donation from a law firm that formerly represented the disgraced Hollywood producer Harvey Weinstein, six days before the governor called off an investigation into the Manhattan district attorney's handling of sex abuse allegations against Weinstein, according to a report on the websites Capital & Main and Sludge.
The winner of the Democratic primary on 13 September will face the Republican Marc Molinaro and independent Stephanie Miner in November.
Read more: www.theguardian.com