Iowa state director Chuck Laudner is the man behind those popular rallies, but behind the scenes some are wary of whether campaign will mobilize voters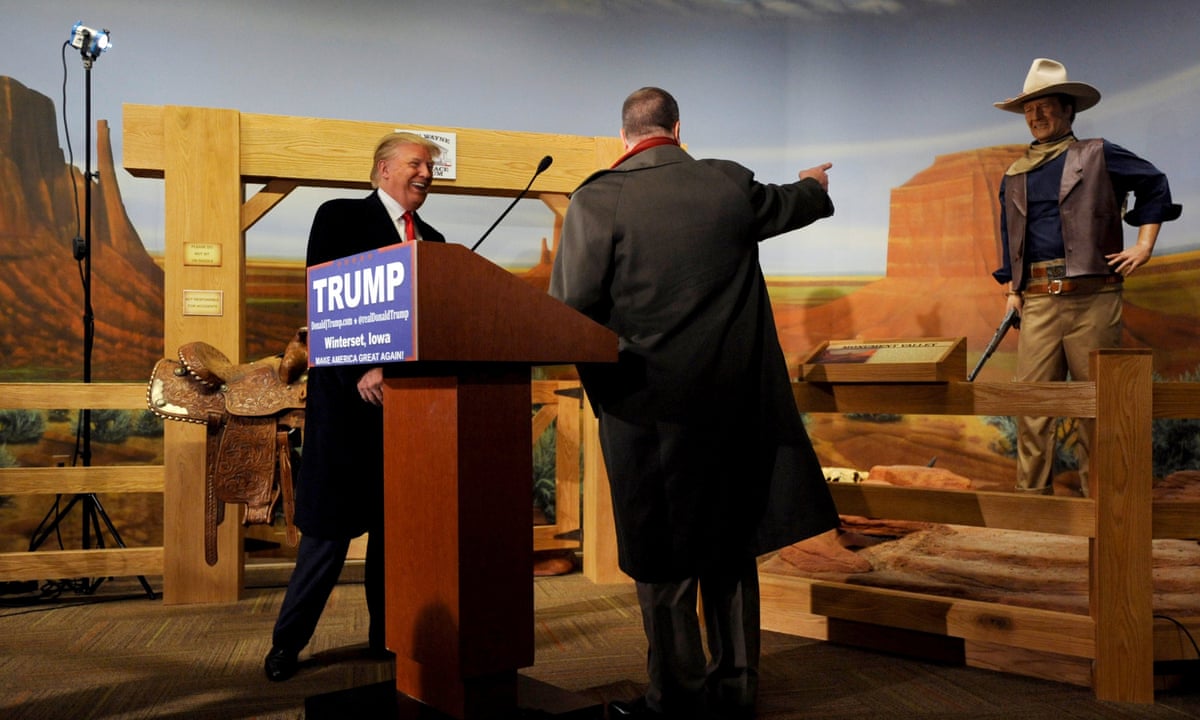 Regardless of whether they love Donald Trumps rebellious message or loathe his crude rhetoric, Republican operatives across Iowa feel confident that the partys frontrunner for president could live up to his polls he has Chuck Laudner in his corner.
Laudner is a veteran of countless Iowa Republican campaigns, including Rick Santorums shock victory in 2012, and has joined Trump as state director for Iowa. With a gruff manner, flat-top buzzcut and a wad of chewing tobacco wedged in his lower lip, Laudner resembles nothing so much as a minor-league baseball manager annoyed by his players failure to just hit the ball and run.
The top Trump operative is as adverse to the limelight as his boss is fond of the cameras. But behind the scenes Iowa Republicans are already looking warily towards the political machine Laudner has built.
Some folks might question the Trump organization, but all I know is this, top Iowa GOP political operative Grant Young told the Guardian, when Chuck Laudner does Chuck Laudner things, watch out. He is one of the best.
Laudner is best known for guiding Santorums insurgent campaign to victory from the drivers seat of his pickup truck the Chuck Truck to some Iowans. During that campaign he pursued devout evangelicals and hard-core social conservatives, veterans of the caucus process. His challenge for the Trump campaign is very different: mobilize voters on the periphery of traditional politics, many of whom have never participated in the political process before.
Laudner declined to comment for this article, though at a press conference earlier this week he slammed reporting about his organization. Trumps campaign had been misrepresented in the media.
When asked how he felt about his organization, Laudner said: I feel fantastic, I know we go radio silent and reach out to people who normally wouldnt be caught dead at caucus events but I feel good about our chances and our reach.
While Trump has managed to convince people to stand in line in freezing temperatures to hear him speak, Laudners challenge is to convert enthusiasm into turnout at the polls. As Trump said of his supporters in Sioux Center, Iowa, on Saturday, I could stand in the middle of 5th Avenue and shoot people and I wouldnt lose voters.
After all, caucus night is far less exciting than a Trump rally. Theres no stadium or well publicized venue, for instance attendees have to find their local caucus location on their own. One way that the campaign is trying to address this issue is through an online caucus finder tool.
Trump supporters can enter their address and get step-by-step Google Maps directions to their caucus site. As Iowa state senator Brad Zaun estimated at a rally in Pella on Saturday, about a quarter of people who show up at a Trump event have never caucused before.
The other challenge for Trump is organizing a volunteer infrastructure for his growing campaign. While Democrats traditionally build large campaign organizations with dozens, if not hundreds, of staffers who do the nitty-gritty work of voter contact, Republicans do things differently. They typically use existing networks through local party activists and affinity groups, such as home schoolers.
With his unorthodox campaign, Trump cant rely on these groups. Instead the rallies become recruiting events, where the information about people who reserve tickets becomes the building blocks of local organizations.
The campaign then contacts attendees if they want to volunteer. As Phil Stanley, a volunteer at the Pella event told the Guardian, he signed up for tickets and then got a call asking if he wanted to volunteer.
However, the bulk of organization seems to happen by email. Stanley told the Guardian he gets several a day from the campaign, which ask volunteers to build organizations and ask people to speak on behalf of Trump at their caucus locations before balloting begins.
There is also some active voter contact. Several Trump supporters talked about going to his campaign headquarters in West Des Moines, which they call a call center, to make phone calls on the candidates behalf.
But some Trump supporters dont even need the campaign to tell them what to do. Steve Hannam, a former Democrat and 25-year union member from Waukee, says he has volunteered at least 10 Trump events and is ready to show up even before he hears from the campaign about it.
One of the main priorities for Trumps campaign, though, is trying not to spook supporters from taking part in the caucus process. They insist that it the election is simply a matter of showing up and writing Trumps name on a piece of paper and avoid mention of anything more complicated, such as the process of electing precinct delegates for county conventions, all the way up to Republican National Convention in Cleveland.
The initial vote on caucus night is simply a preference poll and not necessarily binding, its the delegates who make the final decision and are totally unbound if the RNC goes to multiple ballots over the summer.
But those details may not matter if Trump can hold on to his lead. The Queens real estate baron currently leads in the Real Clear Politics polling average in Iowa, New Hampshire, South Carolina and nationally. The frontrunner has also built momentum in recent days with veiled hints of support from Iowa establishment figures, like Senator Chuck Grassley. Even if Laudner doesnt live up to his reputation, Trump may find a way to win in Iowa regardless.
Read more: www.theguardian.com