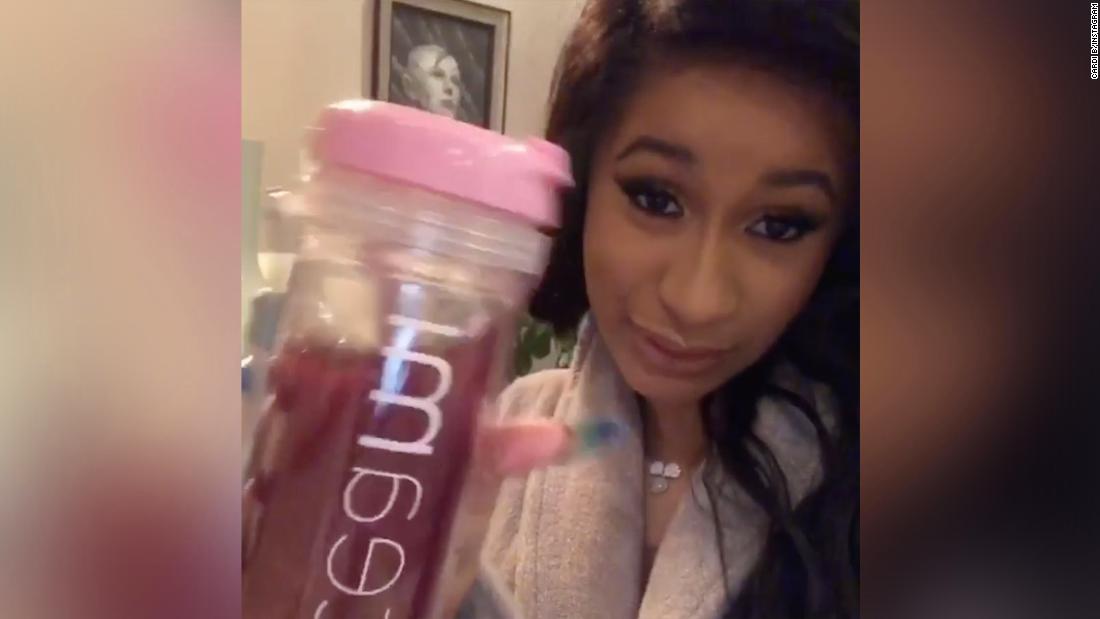 (CNN)They call her "Cardi Bardi, banging body / Spicy mami, hot tamale" — and she's got an image to maintain.
I'm trying to pee and shit all this lil weight on me .Ya ain't seeing my body till i snap back motherfuckers😩😩😩 This @teamiblends gonna do the work !!! Teamiblends and waist straining all summer shlong !…guess what ? You can use my @teamiblends code for a 20% off CODE 20CARDI
"Ya ain't seeing my body till i snap back," she wrote on Instagram late last month. "This @teamiblends gonna do the work !!!"
#ad I started the @teamiblends 30 day detox program because they promote a healthy lifestyle and it is important for me to feel my best🧡. I'm on day 7 right now… I have way more energy and it is like a magic tea to get rid of tummy bloat. I'm in love with their cute pink travel bottle💕. If you're looking for a natural detox, this is it. Use code: KYLIE20 off yours #thankyouteami
Oolong tea is a partially fermented, caffeinated tea that is a cross between black and green tea, Drayer said. Senna acts as a laxative and will cause more bowel movements.
"I don't know the amount they use, but yerba mate is known for its caffeine content, which can … perhaps speed metabolism in the short term," Drayer said. "In large amounts, it certainly can be an issue for those with high blood pressure or any heart issues."
The lack of regulation of the ingredients in these teas is a concern for many doctors.
"The FDA does not regulate these substances," said Halegoua-De Marzio, who is also an assistant professor of medicine at the Sidney Kimmel Medical College at Thomas Jefferson University. "Really, they can put anything they want in these teas. They can make any claim that they want, and it doesn't have to be supported by any evidence. That makes these very, very dangerous."
Adi Arezzini, Teami's co-founder and CEO, maintains that her company is "definitely transparent."
"All of the ingredients are 100% plant based and 100% natural," she wrote in an email to CNN. "All of the ingredients we use are written on our product labels!"
MateFit, Fit Tea, Flat Tummy and Lyfe Tea did not respond to CNN's requests for comment.
The sellers of these supplements tend to use general terms to describe their actions like "supports a healthy digestive system," Drayer said, contrasting that with drugs that have scientific backing that can assert they "lower blood pressure or cholesterol" and other more specific benefits.
"And my answer is, it's an organ," she said. "There's no way really to detoxify an organ. The liver does a very good job of it on its own."
Nevertheless, Halegoua-De Marzio and Drayer agreed that the average healthy person will probably be fine drinking the teas for a short period of time.
The key to sustained success, Drayer said, is "just making one or two changes a week until it becomes habit."
Read more: www.cnn.com