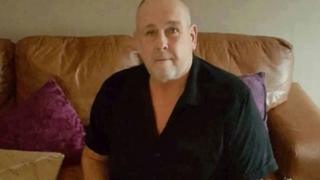 MPs have called for The Jeremy Kyle Show to be axed after the deaths among a man who appeared on the programme.
Steven Dymond, 63, was found dead on 9 May following a recording of the ITV show during which he took a lie detector test.
Hampshire Police said his death was not being treated as suspicious.
Downing Street called the death "deeply concerning", and a former president of the Royal College of Psychiatrists said the show was "the theatre of cruelty".
ITV has already suspended both filming and broadcasting of The Jeremy Kyle Show, and the episode in question "isnt gonna be" screened.
The broadcaster said everyone at the display was "shocked and saddened" and "thoughts are with the family and friends".
An inquest into Mr Dymond's death is likely to be opened within the next few days, a spokeswoman for Portsmouth coroner's office said, and they are awaiting the result of the post-mortem investigation.
Commenting on the occurrence, a spokesman for Prime Minister Theresa May said: "Broadcasters and production companies have a responsibility for the mental health and wellbeing of participants and spectators of their programmes.
"We are clear they must have appropriate levels of support in place."
'I worked on The Jeremy Kyle Show' Image caption About one million people watch The Jeremy Kyle Show every day Image caption Charles Walker says the TV we watch "is a reflection of ourselves". Media captionFormer ITV chairman Michael Grade: 'ITV is right to take the show off air' Image caption White Dee took part in a Jeremy Kyle special on the price of reputation Media captionPsychologist Honey Langcaster-James: TV producers are well-meaning but are not mental health care experts.