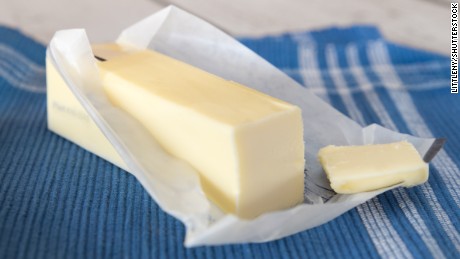 (CNN)Have we gotten the health risks of butter all wrong?
In other words, it's neither terribly bad nor incredibly good for us, said Laura Pimpin, who co-authored the paper as a postdoctoral fellow at Tufts University and now is a data analyst for the UK Health Forum in London.
"We know from recent studies that the effects of dairy fats on health are not as negative as saturated fat from other sources, so we were expecting butter to have a limited risk in causing disease," she said.
Additionally, "no significant associations were seen" between butter consumption and heart health, according to the paper.
"People should think of the strength of all of these relationships as small, either increasing or decreasing butter intake does not appear to have a major relationship with health," Pimpin said. "Other food choices are more important."
Therefore, these new findings do not mean that butter is healthy, said Dr. Frank Hu, professor of nutrition and epidemiology at Harvard T. H. Chan School of Public Health, who was not involved in the paper.
"This is a meta-analysis of published studies, and thus the quality of the meta-analysis depends on the quality of original studies," Hu said.
"A small amount of butter is not going to be a major problem, but regular consumption — such as using butter on bread, cooking and frying — may substantially increase risk of heart disease because butter contains mostly saturated fat," he added. "A much better choice would be olive oil, canola oil or nut butter."
One thing that most scientists agree on, Hu said, is that a healthy diet is typically rich in plant-based foods such as fruits, vegetables, whole grains, nuts and seeds, and seafood.
"It doesn't matter that you're eating it; what matters is what you're eating it in place of and what else you're eating," said Dr. Dariush Mozaffarian, dean of the Tufts Friedman School of Nutrition Science & Policy and senior author of the paper.
"Butter is neither the villain it was made out to be, nor a health food," he added. "So it's about your other food choices, not about the butter."
Read more: www.cnn.com