New Jersey governor says in an interview that Fridays guilty verdicts against two former aides confirmed his belief that only three people were responsible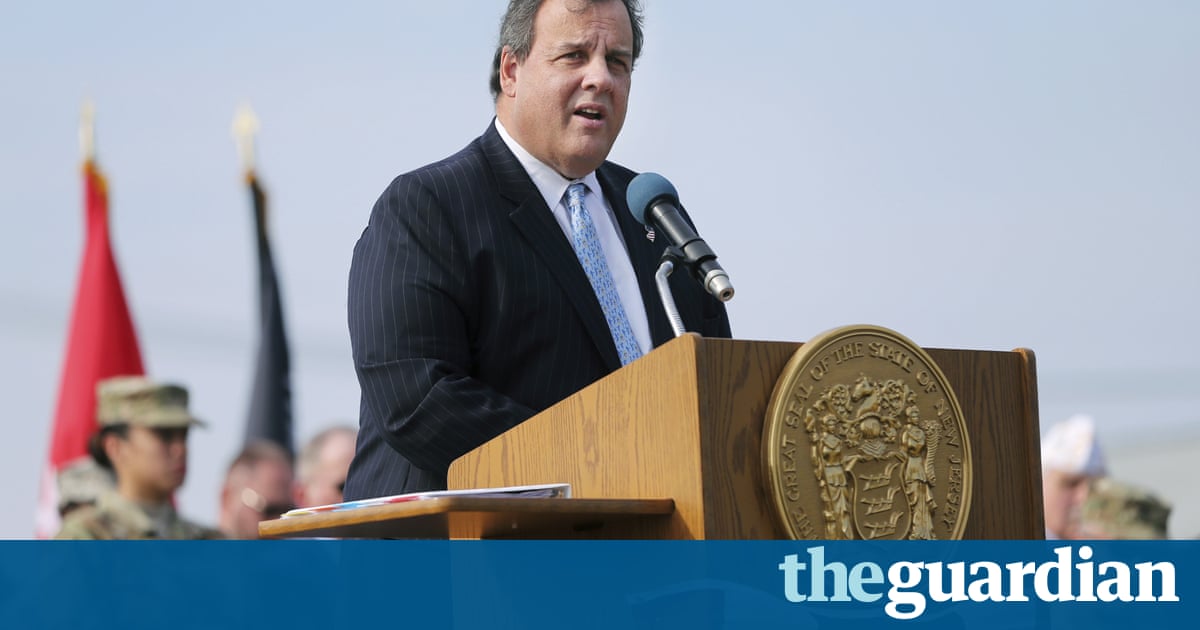 New Jersey governor Chris Christie maintained in an interview aired Monday that he had no recollection of any of his aides telling him about lane closures on the George Washington Bridge that were ultimately found to be a political retaliation plot.
Two of Christies former aides were convicted on Friday of causing epic traffic jams for political revenge near the countrys busiest bridge, a verdict that further damages Christies legacy and raised anew questions about why he and his inner circle escaped prosecution.
Christie said in an interview on CBS This Morning that Fridays guilty verdicts against two former aides confirmed his belief that only three people were responsible. Christie called the plot one of the most abjectly stupid things Ive ever seen.
Bridget Kelly, Christies former deputy chief of staff, and Bill Baroni, an executive at the Port Authority of New York and New Jersey, were convicted of scheming with a former Christie ally, David Wildstein, to punish a Democratic mayor for not endorsing Republican Christie when he ran for re-election in 2013. Wildstein pleaded guilty.
Testimony during the seven-week trial contradicted Christies statements about when he knew about the four days of gridlock at the base of the George Washington Bridge in Fort Lee in September 2013. The traffic jams were aimed at retaliating against the Democratic Fort Lee mayor, Mark Sokolich, for not endorsing Christies re-election, prosecutors alleged.
Wildstein, a former political blogger and high school classmate of Christies, testified Christie was told about the traffic jam at a September 11 memorial event in New York while the gridlock in Fort Lee was in progress. He said Christie laughed and made a sarcastic joke when he learned of Sokolichs distress over not getting his calls returned. Christie said Monday that he had no recollection of that alleged conversation.
If they would have told me that they were creating traffic at the George Washington Bridge in order to punish the mayor for not endorsing you, I would have remembered that. And they never said that, Christie said. In the whole trial, no one, not even Bridget Kelly, Bill Baroni or David Wildstein, ever testified that anyone ever said to me that this was an act of political retribution.
It was unclear from Wildsteins testimony whether Christie knew then that the mess was manufactured for political reasons; however, Kelly testified she told Christie about Sokolichs concerns about political retaliation during the week of the traffic jams at the bridge, which connects New York and Fort Lee.
Other testimony described some of Christies top advisers and confidants knowing about the plan ahead of time or soon afterward and being aware of the political motivation well before Christie told reporters in December 2013 that none of his staff was involved.
Baronis attorney, Michael Baldassare, called the case a disgrace and said the US attorneys office should be ashamed of where it drew the line on whom to charge.
They should have had belief in their own case to charge powerful people, and they did not, Baldassare said.
US attorney Paul Fishman declined to say whether any of the testimony could lead to charges against Christie or others. He said prosecutors only charged people where they had evidence beyond a reasonable doubt to convict.
At the time the scandal unfolded, Christie was considered a top presidential contender and was on the verge of a runaway re-election victory to demonstrate his crossover appeal.
Christie ultimately dropped out of the presidential race after a poor showing in the New Hampshire primary and said recently the scandal probably influenced the decision by Donald Trump, the Republican presidential candidate, not to pick him as a running mate. Christie is chairman of Trumps transition team, in charge of hiring thousands of employees if he wins the presidency.
Christie said in the interview aired Monday that Trump did not call him to offer him the running mate job before changing his mind. He said that youd have to ask Trump what role the bridge case played in his decision to choose Indiana governor Mike Pence instead.
Christie was scheduled to campaign for Trump in New Hampshire and Pennsylvania on Saturday, but the Trump campaign said Friday night that those events had been canceled.
Read more: www.theguardian.com