Sick of players parking the bus and playing for a draw? Then maybe its time to start making sure they feel the wrath of the referee for sitting back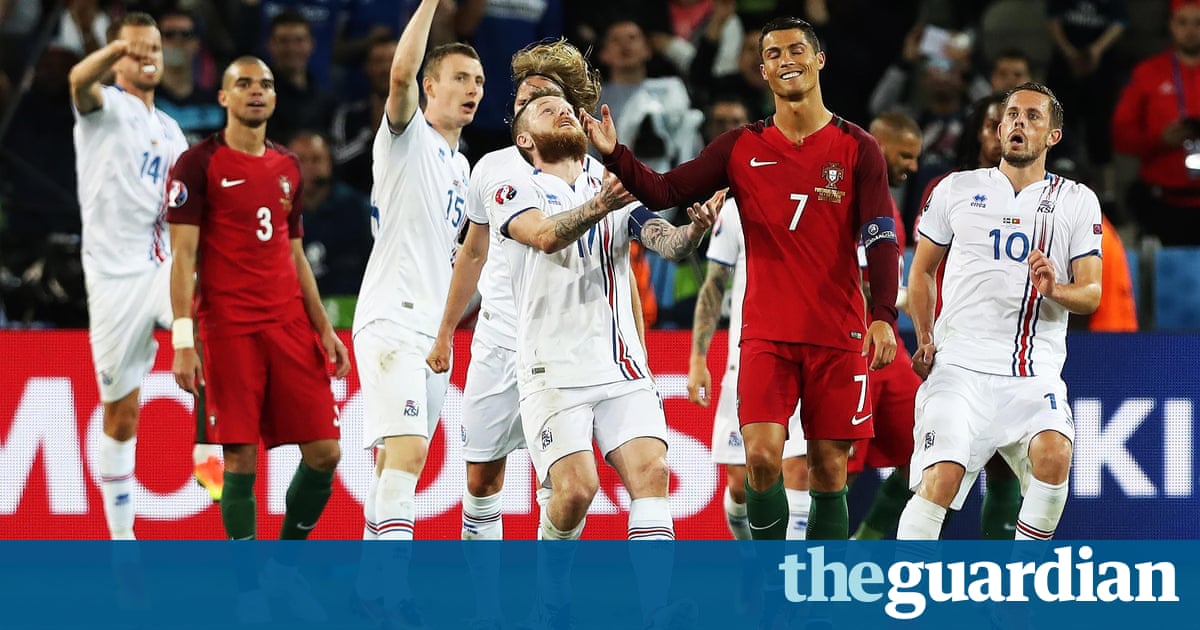 Cristiano Ronaldo and Hope Solo are how shall we say this politely? divisive characters in world football. Both attracted ire this summer when they attacked their opponents for a lack of adventure. Solo called Sweden a bunch of cowards after they ground their way to a penalty shoot-out victory against the defending champions, USA, at the womens Olympic football tournament. And at Euro 2016, Ronaldo launched the biggest attack on Iceland since the Cod Wars when he disparaged the tactics of everyones favorite plucky underdogs. When [Iceland] dont try to play and just defend, defend, defend, this in my opinion shows a small mentality and they are not going to do anything in the competition, fumed Ronaldo after Portugal drew with Iceland. Ronaldo was proved right too, as long as you dont include beating England in the last 16 as anything. Which many people wouldnt.
But cheap gags at Roy Hodgson aside, did Ronaldo and Solo – which sounds a bit like an 80s cover band have a point? Are todays football games too easily destroyed by parking the bus and counter-attacking? The answer is simple: yes. The solution, though, is more difficult.
And make no mistake: For all the global dollars, euros and pounds that wind up in the hands of Manchester United and Barcelona, a solution is necessary. The internet and the 500-channel universe have given football a larger audience, particularly in the United States where the Premier League now regularly draws in bigger viewership that the NHL. But that audience can also be taken away.
Gimmicky attempts to jazz up the game, done mostly for an American audience with Fifas alternating blessing and scorn, didnt pay off. The old NASL had a points system that rivaled English county cricket in its complexity and enforced the offside law only in the last 35 yards of the field. The USISL of the early 1990s used a 60-minute countdown clock that stopped when the ball went out of play, along with kick-ins, cruel and unusual punishment for fouling too often, and the occasional flirtation with larger goals.
A proposed new league in the US that would have limited players to particular zones and given bonus points for long-range goals was dismissed in favor of the less experimental Major League Soccer. When commissioner Don Garber took over MLS in 1999 and immediately killed the post-game shootout, a 35-yard one-on-one vestige of the NASL, the United States ended its service as a laboratory for attack-boosting rules.
But the changes made globally to discourage negativity havent solved the problem, either. No one wants to go back to the days of awarding only two points for a win or allowing defenders to play the ball into their own goalkeepers safe hands. Yet those tweaks are not enough, especially in an era in which weve all realized that to play like Barcelona, you need to be a team like Barcelona.
The fundamental problem is space. Twenty-two players on a large rectangle seems to be a good number until the space is condensed by a team playing a high defensive line. Or when a crowd of players are in the box, reducing football to a simple test of ones ability to leap while shoving just enough to avoid a whistle.
With all due respect to the recent set of changes to the laws of the game, highlighted by the newfound legality of taking a kick-off backwards, its time for something more radical.
Such as
Smaller numbers on set pieces. One reason teams can park the bus is that traffic in front of goal is so congested on corner kick and free kicks in an opponents half. If teams were limited say, five to six players per team in the box until the ball is cleared attacking players would have more space, and defensive players would have more of a challenge. Teams could nominate whoever they want to go into the box so fans would still get the thrill of seeing their keeper sprint up the pitch for a rubbish header in the final seconds of a cup tie.
Farewell, offside. Interpretation of Law 11 has evolved over the years. Now, were told even is on. But its still far too easy for a defensive line to compress the field. The laws supporters say defenders are free to join the attack without having to worry about an opposing forward lurking 70 yards down the field, but when the defense press forward, we can end up with 20 or so mobile players in a congested area. And then the outcome of a game may hinge on the split-second decision of an assistant referee who surely could do better things than stare at the second-to-last defender for 90 minutes.
Which leads to this
More eyes off the ball. The NFL has several officials who watch for fouls away from the ball. Basketball has three officials for 10 players. Ice hockey has four officials for 12 players. Football has one person running more than 12 miles per game just to be near the ball. Two more officials race along the lines of the field, but again, their primary task is to stare at the second-to-last defender. Then a fourth official holds aloft a sign and attempts to calm down Jos Mourinho (more than four officials have been used in some tournaments but the practice is not yet widespread).
Surely some responsibilities can be rearranged. Tests with a video assistant referee are promising, though perhaps a video official can chat with the referee through a headset (as in cricket, rugby, field hockey and a handful of other sports) instead of waiting for the referee to jog over to see someones video screen.
But if we need to resort to stronger measures, maybe we need to start punishing teams who sit back, make themselves a nice sandwich and wait for penalties. Some suggestions:
Passivity penalty. Each team will be required to register a legitimate shot on goal at least once every 30 minutes. Failure to do so is punished by the removal of one player. The referee wouldnt issue a red card so players arent suspended for a collective failing but the manager of the offending (or over-defending) team would be obliged to take off one player. Well need to define a shot too possibly a ball that is either on target or within six yards either side of the goal to prevent players from just taking a speculative whiff from 50 yards out every few minutes.
Those are game-by-game solutions. A few other ideas are dependent on the type of competition.
League play: Deduct points. Each time a team attempts fewer than eight shots in a game, its a warning. The third warning is a one-point deduction. The fifth warning is a two-point deduction. And so on. Until your team is relegated on minus-98 points.
Tournament play: Revamp extra time. If a game remains tied after extra time, the team that attempts the most shots in the added period is declared the winner. A team may still park the bus for 90 minutes, but sometime in the next 30, they needs to get that bus in gear. If teams are level on shots, it goes to penalties just to make England unhappy. Yes, you may see teams doing whatever they can to take or prevent shots. That simply adds another dimension to the game and makes the tiebreaker something other than the test of nerves and luck of the traditional kicks from the penalty spot.
And if all else fails, boo. Complain. Gripe. Writers, should stop hailing the brave defense of an overmatched team that makes little effort to play an entertaining game. Fans, create tifo ridiculing negative opponents.
Perhaps thatll remind coaches and players that their massive salaries are dependent on people who have other options to spend their money on. And if they keep on treating the beautiful game as a dour exercise in cranking out results, well all be watching and playing lacrosse or ultimate frisbee in another couple of decades.
Read more: www.theguardian.com