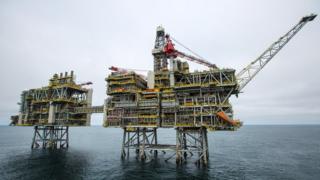 Energy giant BP has announced two new North Sea oil and gas discoveries.
Tests have been carried out to discover how much oil and gas is present, with the data currently "under evaluation".
The finds – in the Capercaillie and Achmelvich fields – were made in the central North Sea and west of Shetland after wells were drilled last year.
BP said in 2017 it hoped to double North Sea oil production to 200,000 barrels by 2020 through a range of projects.
The company said it would "assess future options", when analysis of the latest finds was complete.
It is understood that oil and gas might be extracted using a "tie back" whereby a pipe is laid to existing platforms.

Analysis by Kevin Keane, BBC Scotland environment correspondent

In the grand scheme of things, this isn't a big find. BP has given no indication how much oil and gas it expects from these two wells, but the mood music suggests it will be small to moderate. Any development will most likely be tagged to existing infrastructure.
What this speaks to though is the broader outlook for an industry which has been in the doldrums. When times are bad, oil companies halt the financial gamble of searching for more "black-stuff" and concentrate on the production that makes them money. Exploration has been virtually non-existent since the oil price crashed and confidence for the future has been low.
But this, and some other recent discoveries, are clear indicators that the bottom has been hit. The oil price is relatively high and the government has made some supportive changes to the tax structure.
Boom time? Not a bit of it. This is an industry which wants to be seen as lean and frugal. But is is clearly on a purposefully slow bounce back.

BP North Sea regional president Mark Thomas said: "These are exciting times for BP in the North Sea as we lay the foundations of a refreshed and revitalised business that we expect to double production to 200,000 barrels a day by 2020 and keep producing beyond 2050.
"We are hopeful that Capercaillie and Achmelvich may lead to further additions to our North Sea business."
Industry body Oil and Gas UK said the sector was making headway after the downturn in oil prices prompted efficiency savings.
Chief executive Deirdre Michie said: "BP's exciting discovery marks a more positive start to 2018 for UK exploration.
"Our competitive fiscal terms, and the strides we have made to bring our finding costs in line with our peers, make the UK continental shelf a very attractive basin for doing business."
However, environmentalists have responded with dismay to the news that production in the area was the be stepped up.
Gina Hanrahan, acting head of policy at WWF Scotland said: "Just weeks after it was reported 2017 was one of the hottest years on record, it seems perverse to be aiming to double production of North Sea oil.
"Instead we need to see a just transition that enables us to harness the engineering skills currently deployed in the North Sea and apply them to supporting a range of cleaner forms of energy production."
Read more: www.bbc.co.uk