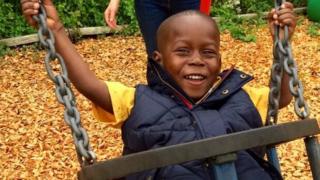 A three-year-old born with his organs outside his abdomen is to undergo life-saving surgery later thanks to a chance meeting with an English couple.
Ethan Suglo, from Ghana, has exomphalos which can be fatal but is routinely treated in the UK.
Last year his father Charles met doctors David and Jacquie Williams when they were visiting Ghana and asked them to examine his son.
The parents helped raise 39,000 to fly Ethan to the UK for surgery in Oxford.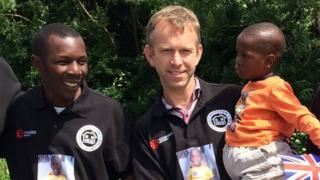 He is due to have an operation at the John Radcliffe Hospital later, after doctors in Ghana and neighbouring Nigeria proved unable to help.
Charles Suglo said: "We were almost losing hope in everything. But we were also saying if it will take our property, our life, to save him we will do that, because we love him.
"Always Ethan is happy, cheerful, singing, jumping, playing – that gives us hope."
He said that after the operation he hoped to be able send Ethan to school.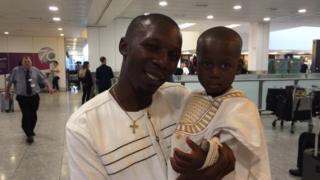 Mr and Mrs Williams, from Stretton-on-Fosse in Warwickshire, met Charles at the radio station where he works while visiting their daughter Laura who was doing voluntary work.
He asked them to look at his son, who he said had "a swollen tummy".
"I thought I would be examining a normal African child with malnutrition," Mr Williams said.
"But it was clear he had a major abdominal defect."
---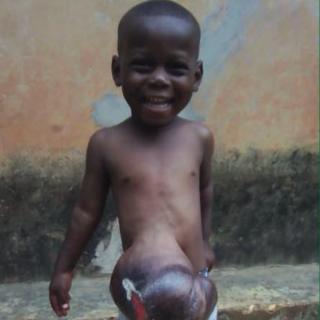 What is exomphalos?
Exomphalos occurs when a child's abdomen does not develop fully while in the womb.
Early in all pregnancies, the intestine develops inside the umbilical cord and then usually moves inside the abdomen after about 10 weeks.
The intestines and sometimes other organs, such as the liver, remain inside the umbilical cord but outside the abdomen.
There is no known cause and about half of all babies with the condition will have problems affecting other organs, particularly the heart, lungs and kidneys.
Surgery is essential and takes place in either one go or over several weeks, depending on its severity.
---
In March this year the couple started raising the money needed for air fares, surgery and nursing care after the operation.
The Willing and Abel charity, which helps children in developing countries receive treatment, also pledged 10,000 to help.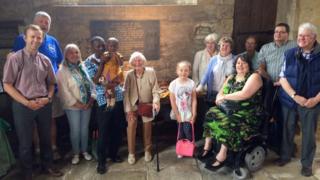 Read more: www.bbc.co.uk