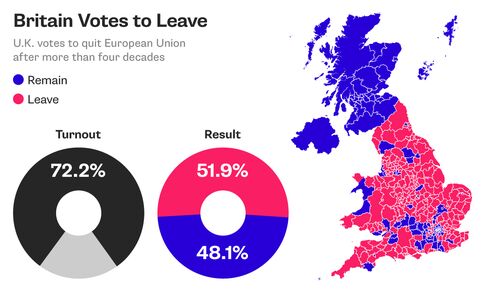 Scots, famously, tend to root for any sports team that plays against England. The roar of jubilation at Edinburghs Three Sisters bar Monday night as tiny Iceland knocked Scotlands ancient rival out of the European soccer championships had an extra edge.
QuickTake Scotlands Independence
Despite voting to stay in the European Union in last weeks Brexit referendum, Scots now face being forced to leave after being outvoted by a predominantly English majority. That realization has brutally exposed the lopsided nature of the U.K., a union of four nations in which there are almost 10 English voters for every Scottish one.
The resulting emotional backlash has thrust Scotlands independence back into play just two years after the nationalists suffered defeat in a referendum to leave the U.K. The leader of the semi-autonomous government, Nicola Sturgeon, vowed to keep her country in the EU — with or without the rest of Britain. EU Commission President Jean-Claude Juncker said on Wednesday Scotland had won the right to be heard in Brussels.
"Its an injustice," said Iain McLaren, a 40-year-old Edinburgh IT worker, as he nursed a post-game beer at another sports bar in the Scottish capital. "I voted a reluctant No in 2014, because the independence campaign hadnt made the case economically. But the Brexit vote has changed everything politically. Now Im willing to take the gamble."
Hearts and Heads
Two recent opinion polls suggest that if another independence vote were held today, it would succeed, breaking up a three-centuries-old union and adding to Europes disarray.
What rankles potential swing voters like McLaren is that they expected English voters to stick with the EU for the same reason Scots stuck with the U.K.: although their hearts cried freedom, they decided it would be economically reckless to follow through.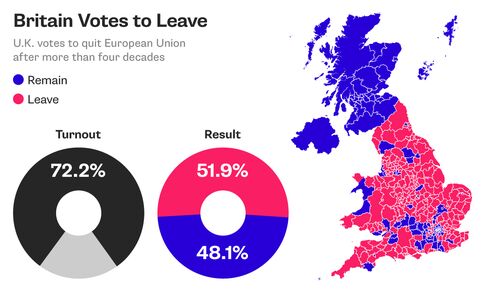 In England, however, a majority decided last week to throw caution to the wind. Ignoring warnings from economists, "Leave" voters opted to escape what they perceive as a European superstate. As a result, about $4 trillion was wiped off the value of global financial markets, the U.K.s credit ratings were downgraded, and the Bank of England said it was preparing to counter a potential economic downturn.
"I really think the Scottish National Party will have to call another referendum," said Richard Parry, honorary fellow at the University of Edinburghs Centre on Constitutional Change. "I cant see how they dont at least try."
Different Vibe
The mood in Edinburgh, the traditionally staid home of Britains second-largest financial industry, is telling. In 2014, it voted to remain part of the U.K. by a wider margin than the national 55-45 percent victory margin. Last week, almost three-quarters of voters in the city opted for the status quo with the EU.
Yet the SNP has become a powerful machine and Sturgeon has a troop of members behind her numbering more than one in every 50 Scots. The party won all but three of Scotlands 59 seats in the U.K. Parliament last year and every one of its regions rejected Brexit.
For analysis of Scotlands independence drive, click here
Another tilt at independence may not happen for a while, though. At Scotlands regional parliament on Tuesday, party leaders continued to differ over the independence issue in a debate, at the same time expressing shock and anger at the Brexit result and at the often xenophobic campaign that produced it.
In a speech setting out her plans, Sturgeon, 45, focused on the shared goal of keeping Scotland in the EU and open to immigration. There was no hiding the political pressure, as one SNP legislator after another rose to cast doubt on the feasibility of remaining part of two divorcing unions.
Existential Question
Brexit is one of the political shifts the SNP has said all along could trigger another independence vote, but, as for investors, bookmakers and pollsters, the result came as a shock. Sturgeon headed to Brussels on Wednesday to garner support for Scotlands continuing membership in an alliance it joined with the U.K. in 1973 and was scheduled to meet Juncker. Its cohabitation with England goes back to 1707.
"The existential question being asked of us is whether we leave one union or the other," Michael Russell, the SNP head of the Scottish parliaments finance committee, said in an interview. "This isnt about purely economic determinism."
Russell was even bullish about Edinburgh benefiting should London be forced out of the EU while Scotland remains. "If I were a company looking at what to do, Id already be factoring Edinburgh into my plans," he said.
Sturgeon will have to move carefully to choreograph what she does with movements by the U.K. and other EU countries, according to Parry at Edinburgh University. Key questions such as when — or even if — the government in London will trigger the two-year negotiation to exit the EU remain uncertain. Equally unclear is whether the other 27 EU members would be willing to accept that Scotland inherits the U.K.s position in the EU when it leaves, rather than having to apply as a new state.
Harsh Economics
Anger over Brexit will also have to overcome harsh financial realities, because the economic case for independence has only weakened since 2014.
Tumbling oil prices mean that the North Sea oil tax revenue the SNP was counting on to fuel an independent Scotland are projected to reach just 35 million pounds ($47 million) this year, compared with the Scottish governments projection at the time of at least 7 billion pounds. Scotlands budget deficit — currently subsidized by the rest of the U.K. — has hit a potentially crippling 9.7 percent of gross domestic product.
Moreover, Scotland exports more than four times as much to the rest of the U.K. as it does to the rest of the EU — and the EUs share is falling.
McLaren, back at the sports bar, said all this bad economic news had helped him to live with the reluctant choice he made back in 2014. But "now you forget about that," he said. The U.K. also no longer looks like a safe economic bet.
Neither he, his friend Kenny Turnbull, nor other Scots interviewed at Milnes and the Three Sisters sports bars could summon up sympathy for Englands humiliating 2-1 defeat by Iceland, a nation the size of a London suburb, on Monday. It led to the immediate departure of the teams manager in an echo of Prime Minister David Camerons resignation right after last weeks referendum loss.
"Id actually like for England to have made it through to the semi-finals," said Turnbull, 39. "That way theyd get all puffed up about how theyre the best team in the world — and be destroyed when they lost."
Read more: www.bloomberg.com