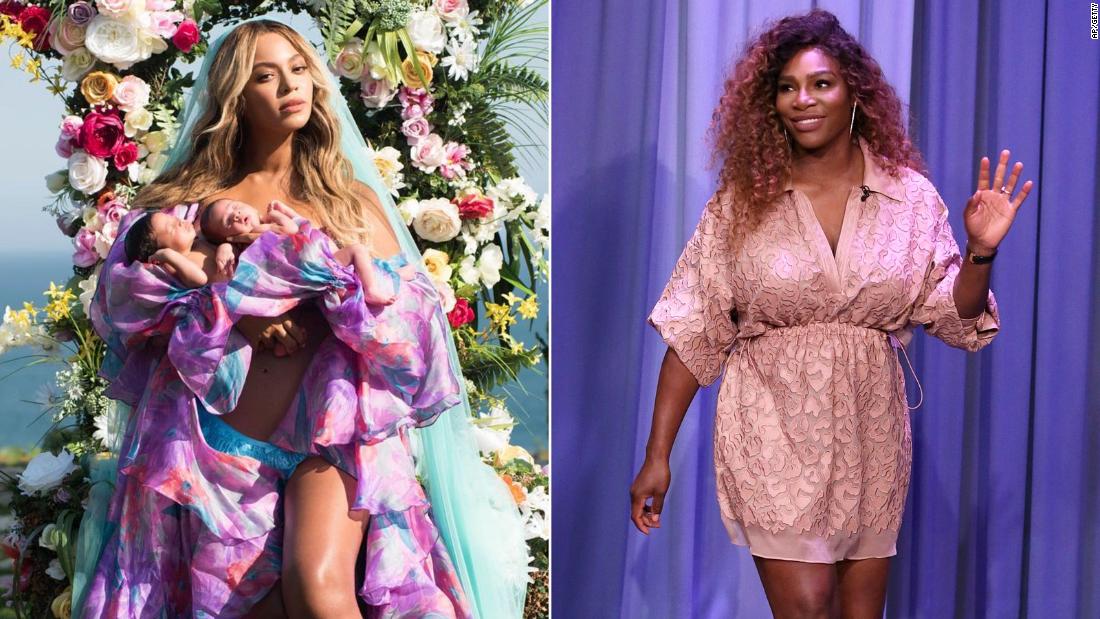 (CNN)Beyoncé and Serena Williams have once again proven that they are icons — but this time, it's not for the reasons you might think. I'm not referring to their legendary professional accomplishments, but rather to their willingness to speak out publicly to counteract the pervasive fat-shaming that surrounds women's postpartum bodies.
Earlier this week, in a rare and candid as-told-to
Vogue feature
, Beyoncé spoke about her difficult pregnancy with twins Rumi and Sir, revealing that she weighed 218 pounds the day she gave birth by emergency C-section because she had been suffering from toxemia — more commonly known as pre-eclampsia and whose typical symptoms are high blood pressure and swelling of the limbs — and had been on bed rest for over a month.
She contrasted this birth with that of her daughter Blue, when she felt pressure to lose all the baby weight in three months. This time, she said, "During my recovery, I gave myself self-love and self-care, and I embraced being curvier. I accepted what my body wanted to be. … To this day my arms, shoulders, breasts, and thighs are fuller. I have a little mommy pouch, and I'm in no rush to get rid of it."
Twitter went particularly crazy over the kicker of this part of the feature: "But right now, my little FUPA and I feel like we are meant to be." And rightly so: the Queen of popular music and one of the sexiest women in the world has embraced her "Fat Upper Pubic Area" (
the "p" sometimes stands for a different word
), the fatty pouch that hangs over the genital area that is the bane of many a mother's existence.
Beyoncé's public revelation of her weight was a real bombshell, as it represents for many women (myself included) one of the most private details of a woman's pregnancy. Right after giving birth to my second child a little over six months ago, a nurse asked me what my last recorded weight was and I was ashamed to say it out loud with my husband in the room.
This despite the fact that I have become a rather vocal critic of fat-shaming and am constantly striving to let go of what I now see as the fat phobia that surrounded me during my childhood and adolescence. And yet, I was still embarrassed by that number on the scale because it began with the number "2." I never imagined Beyoncé's number did, too.
In fact, Serena said she quickly lost 10 pounds once she stopped breastfeeding. This statement exploded the common assumption that breastfeeding and weight loss go hand in hand, and resonated strongly with me and, I'm quite sure, thousands of other mothers for whom breastfeeding did not result in weight loss.
While I would never argue this is a myth, the notion that breastfeeding will automatically lead to weight loss — which is reinforced by virtually all medical professionals, lactation consultants, and parenting websites a woman encounters during and after pregnancy — is a generalization that doesn't account for the diversity of body types among women. It directly contributes to further unrealistic expectations for women during the postpartum period, namely that women should "bounce back" (return to their pre-pregnancy weight) as quickly as possible.
As women who have not historically seen themselves on the cover of magazines, mothers of color — particularly black women — have a lot to teach us, not because they can save us from ourselves (painting them as saviors only strips their humanity and freedom to mess up like the rest of us, and it's not their job to carry us on their backs!) but because they have had to advocate for and love themselves against all odds for centuries.
This is the kind of strength and self-acceptance I want my own daughter to see as she grows up.
Read more: www.cnn.com