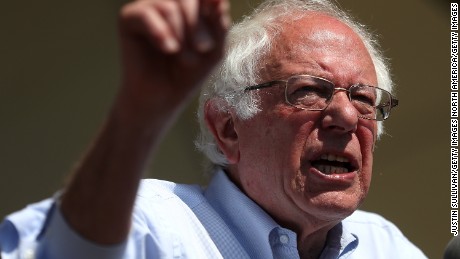 (CNN)It was really just a matter of time.
With the Democratic presidential primary in its twilight, frustration within the ranks over the party's handling of the primary process spilled out this week as Bernie Sanders supporters lashed out at party leaders, arguing that their candidate has been treated unfairly.
The public outpouring of anger began last weekend at the Nevada Democratic Party convention, where Sanders supporters who said Hillary Clinton's backers had subverted party rules shouted down pro-Clinton speakers and sent threatening messages to state party Chairwoman Roberta Lange after posting her phone number and address on social media.
That led Democratic National Committee Chairwoman Debbie Wasserman Schultz, Senate Minority Leader Harry Reid and other top party leaders to demand an apology and publicly ruminate on the possibility of violence at the Democratic National Convention in July as they prepare for a general election battle with Donald Trump.
Obama administration officials on Wednesday played down concerns about escalating tensions, likening the race to the 2008 primary fight between Clinton and then-Sen. Barack Obama.
But Sanders isn't backing down. A campaign spokesman said Wednesday that the campaign was "looking into" whether to ask for a recount in Kentucky, where Sanders narrowly lost on Tuesday night, and he fired up his crowd in Southern California Tuesday night by calling out the Democratic establishment.
The Sanders campaign on Tuesday did condemn unruly behavior from supporters and those who made threats to party leaders, but made clear it is sticking with its stance that the party is subverting the process in a way that benefits Clinton.
"These claims that our campaign is sort of fomenting violence in some way are absolute nonsense," Sanders campaign manager Jeff Weaver told CNN's Wolf Blitzer Tuesday night, adding that the campaign "absolutely, categorically" condemns any threatening behavior.
The breakdown in civility comes after what has otherwise been a comparatively polite campaign season for Democrats, but the frustration exposes a rift in the party and undercuts the notion that Clinton will be able to march into the Democratic convention this summer with a party unified behind her.
Throughout the year, Sanders and his supporters have complained about the nomination process and ways they believe it has helped Clinton, including debates held on Saturday nights, closed primaries in major states such as New York, and the
use of superdelegates
— essentially free-agent party and union stalwarts who are overwhelmingly backing Clinton.
"The problem is that there are long-simmering concerns about unfair treatment out in the Nevada Democratic Party," Weaver added. "We are not going to allow the millions of people who supported Bernie Sanders to be sort of rolled over in places like Nevada by the way they handled that convention."
While the spotlight this year was on the Republican primary and prospect for a contested convention and protests at the national convention in Cleveland, some Democrats now worry about that happening at their convention in Philadelphia.
Wasserman Schultz said the incidents in Nevada would result in the DNC reviewing its procedures for Philadelphia.
"As a result of this happening this weekend, we will have conversations both at the staff level as well as my having conversations with the candidates so that we can make sure that both campaigns are focused on making sure that we can allow this process for the duration of the primary to play out in a civil and orderly way," she said.
But the DNC chairwoman said she wasn't worried about violence happening at the convention.
"This was absolutely a serious concern, which is why I said what needed to be said yesterday and others have said that there was real concern," Wasserman Schultz told Blitzer Wednesday afternoon. "But it is important and I am confident that the candidates take the messages to heart about making sure that we respond and conduct ourselves in a civil and orderly way."
California Democratic Sen. Dianne Feinstein, however, warned that Sanders' intention to take his candidacy to the Democratic convention could spark unrest similar to the chaotic 1968 convention in Chicago and the riots surrounding it.
"It worries me a great deal," Feinstein told CNN's Manu Raju. "You know, I don't want to go back to the '68 convention, because I worry about what it does to the electorate as a whole — and he should, too."
And Senate Minority Whip Dick Durbin of Illinois also said he's concerned about violence in Philadelphia.
"We saw what happened at the Trump rallies, which broke into violence, people punching one another. I don't want to see that happen at the Democratic Party," Durbin told CNN. "I call on Bernie to say to his supporters: be fervent, be committed but be sensible. Don't engage in any violence."
Weaver pledged Tuesday night that the convention will be peaceful.
"There's not going to be any violence in Philadelphia, Wolf, I guarantee you that," he said on CNN. "We hope for a fair and orderly convention."
Read more: www.cnn.com