As expected, the president mocked Donald Trump but also made fun of his fellow Democrats efforts to attract younger voters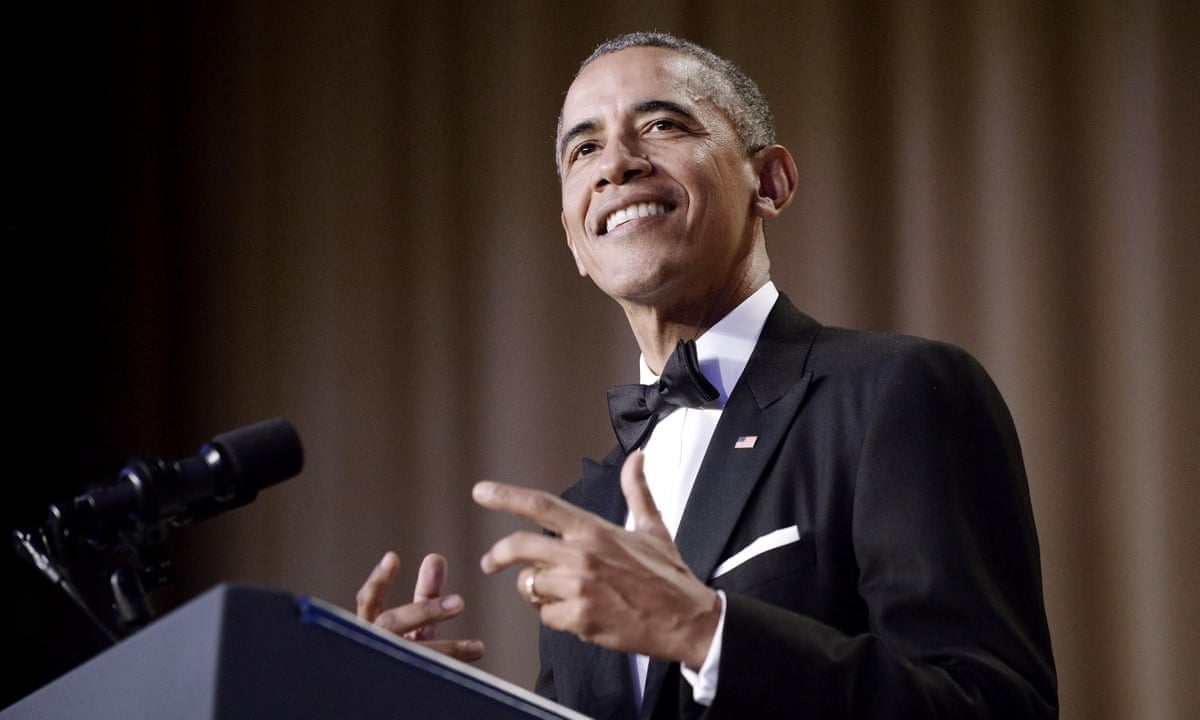 Barack Obama has taken satirical swipes at Donald Trump and, more surprisingly, Hillary Clinton and ended his final White House correspondents dinner by literally dropping the mic and departing with the words: Obama out.
In the traditional tongue-in-cheek address to the Washington press corps on Saturday night, the president lampooned the Republican frontrunners foreign policy and business credentials while also mercilessly mocking the efforts of his fellow Democrat to appeal to younger voters.
Obama did not linger on Trump for as long as some had expected during his half-hour speech, especially those who recall the correspondents dinner in 2011 where he roasted the celebrity tycoon as he sat in the room.
Watched by an audience that included politicians, journalists, actors and Trumps two sons, he pretended to wind up his remarks before interrupting himself: No, Im just kidding, you know Ive got to talk about Trump. We werent just going to stop there. Come on!
Although I am a little hurt that hes not here tonight. We had so much fun the last time. And it is surprising: youve got a room full of reporters, celebrities, cameras, and he says no. Is this dinner too tacky for The Donald? What could he possibly be doing instead? Is he at home eating a Trump steak, tweeting out insults to Angela Merkel? Whats he doing?
Evidently relishing this election year, Obama then made reference to Trumps former ownership of the Miss Universe beauty pageant. The Republican establishment is incredulous that he is the most likely nominee, he continued. Incredulous! Shocking! They say Donald lacks the foreign policy experience to be president but, in fairness, he has spent years meeting with leaders from around the world. Miss Sweden. Miss Argentina. Miss Azerbaijan.
As guests erupted in laughter, the candidates claim to be a winner in business was also targeted. And theres one area where Donalds experience could be invaluable and thats closing Guantanamo because Trump knows a thing or two about running waterfront properties into the ground.
Obama said he had more material but would leave it there, prompting the crowd to beg for more. He went on to make a sardonic-but-serious point about the avalanche of media coverage devoted to Trump, who has warned that any attempt to deny him the Republican nomination at the partys convention in Cleveland, Ohio, in July could lead to violent protests.
I dont want to spend too much time on The Donald, he said. Following your lead, I want to show some restraint because I think we can all agree that, from the start, hes gotten the appropriate amount of coverage, befitting the seriousness of his candidacy. I hope yall are proud of yourselves. The guy wanted to give his hotel business a boost and now were praying that Cleveland makes it through July.
At that, Obama shook his head slightly and grunted: Mmm, mmm, mmm. Mmm.
Read more: www.theguardian.com