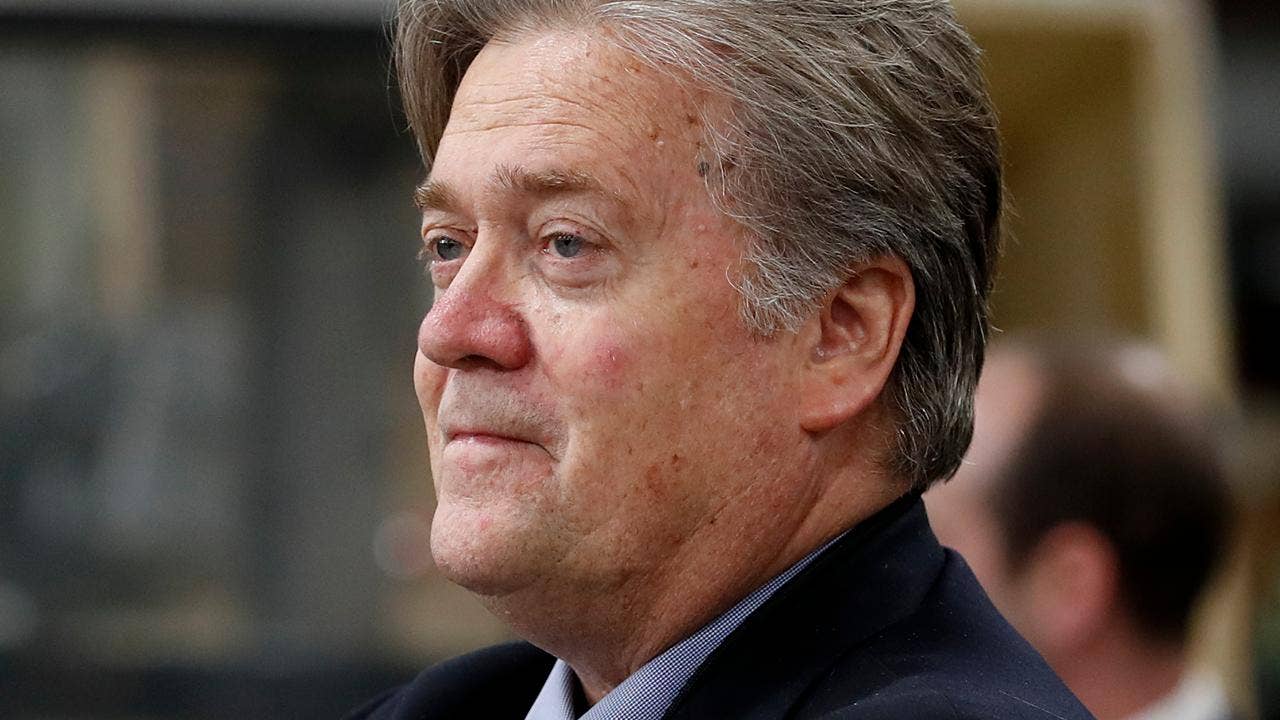 Steve Bannon, President Trump's former chief strategist, said in an interview with "60 Minutes" that New Jersey Gov. Chris Christie was taken out of consideration for a Cabinet spot for not standing by the Republican nominee after the damaging "Access Hollywood" tape surfaced last October.
Bannon described the fallout from that infamous 2005 tape, in which Trump could be heard making lewd comments about women to host Billy Bush, as a pivotal moment – a "litmus test" to check who was with Trump and who was not.
In the "60 Minutes" clip, Bannon acknowledged he took names that weekend.
"You know, I'm Irish. I gotta get my black book and I got 'em. … Christie, because of Billy Bush weekend … was not looked at for a Cabinet position," he said. "I told him, 'The plane leaves at 11 o'clock in the morning. If you're on the plane, you're on the team.' Didn't make the plane."
Christie did not attend a debate that weekend to show his support for Trump, and later criticized Trump over both the lewd comments and his response to the tape's release. He did not abandon or rescind his endorsement of the Republican nominee, but never was nominated to any top positions with the Trump administration – such as attorney general.
"It's a litmus test," Bannon said of the tape fallout. "Billy Bush Saturday showed me who really had Donald Trump's back to play to his better angels. All you had to do, and what he did, was go out and continue to talk to the American people. … People didn't care. They knew Donald Trump was just doing locker room talk with a guy. And they dismissed it. It had no lasting impact on the campaign. Yet, if you see the mainstream media that day, it was, literally, he was falling into Dante's Inferno."
Bannon said then-Republican Party boss Reince Priebus also suggested Trump drop out.
"Trump went around the room and asked people the percentages he thought of … still winning," he said. "And Reince started off and Reince said … 'You have two choices. You either drop out right now, or you lose by the biggest landslide in American political history.'"
Bannon claimed he was the last person to speak and told Trump, to the contrary: "You have 100 percent probability of winning."
Priebus would go on to be Trump's first chief of staff, but was be replaced in July by former Homeland Security secretary John Kelly.
Bannon, who is back at the helm of Breitbart News after leaving the White House, also took more shots in the interview at what he called the "Republican establishment."
He said they are "trying to nullify the 2016 election," pointing the finger at Senate Majority Leader Mitch McConnell, "and to a degree, [House Speaker] Paul Ryan."
"They do not want Donald Trump's populist, economic nationalist agenda to be implemented. It's very obvious," he said.
Read more: www.foxnews.com