Vampire Weekend played a benefit for Bernie Sanders at the weekend, but which other rock stars have declared their intentions? Which candidate has bagged the big names and is anyone backing Donald Trump?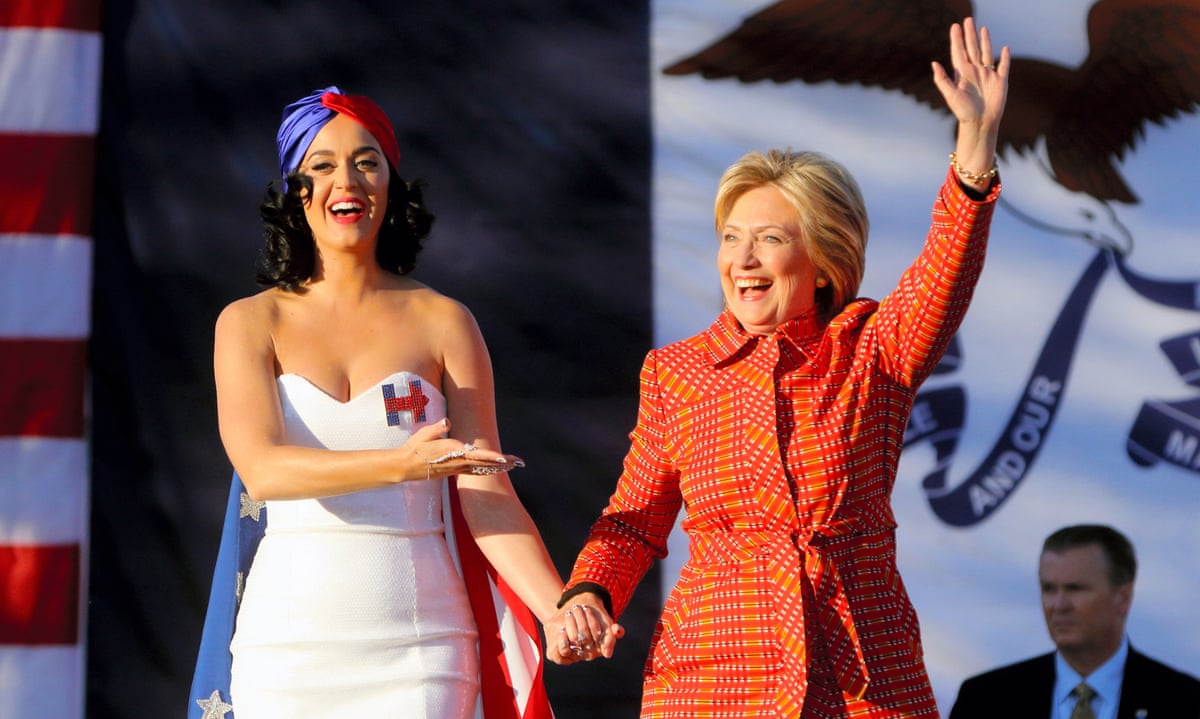 As the leftwing choice in 2016, Sanders is not short of rock star fans. Vampire Weekend played a benefit in Iowa on Saturday (the band were joined by Sanders and his wife Jane for a rendition of Woody Guthries This Land is Your Land), and others will appear at a Feel the Bern fundraiser in Los Angeles on Friday. Headliners will be the Red Hot Chili Peppers, who presumably after a long band meeting collectively declared in favour of the Vermont senator last September. Bernie Sanders is the only remotely reasonable candidate for president of the United States, Flea had already tweeted in August. (The Chili Peppers, of course, being longstanding experts on whats reasonable.)
Indeed, looking down the list of official Sanders backers, despite the presence of progressive rappers such as Killer Mike and Lil B, there seems to be a prevailing 80s and 90s flavour, suggesting he appeals more to the middle-aged indie crowd than to millennials. Theres Lou Barlow of Dinosaur Jr, Jello Biafra of the Dead Kennedys, Belinda Carlisle of the Go-Gos, Jon Fishman of Phish, Billy Gould of Faith No More, Chris Shiflett of the Foo Fighters, Maureen Herman of Babes in Toyland and Thurston Moore of Sonic Youth. Going further back, the faint sound of barrel-scraping gets louder as David Crosby, Mike Watt of the Stooges and Donovan (Mellow Yellow guy, British not American) are also included.
Strangely, theres no sign on the list of Roger Waters (also British), who endorsed Sanders last October, or Simon and Garfunkel, who gave permission for their song America to be used on a campaign ad. This did not imply an endorsement from Simon and Garfunkel, a spokesperson said at the time, but Art Garfunkel later told CNN that he and Simon were both asked about the song. Its the moment when you say, Am I a Bernie guy? Yes, I am. Billy Bragg supports Sanders, too, but doesnt make the website either.
If the US were a rockocracy (one small mercy to be thanked, there), then the 2016 election would already be effectively over, with Hillary and Bill back in the White House. Thats because Clinton has all the blue-chip endorsements going, including deep breath Kanye West, Beyoncé, Pharrell Williams, Katie Perry, Christina Aguilera, Burt Bacharach, Tony Bennett, Jon Bon Jovi, Mariah Carey, Cher, Kelly Clarkson, Ellie Goulding, Ice-T, Ja Rule, Elton John, Quincy Jones, Lady Gaga, Jennifer Lopez, Ricky Martin, Janelle Monae, Morrissey, Snoop Dogg, 50 Cent, Sting, Barbra Streisand, James Taylor, Usher, will.i.am and Stevie Wonder. Which ought to do it.
The trouble with having such famous fans, however, is that they do tend to be asked their opinions about things, and their opinions are often fairly odd. For instance, 50 Cent spoke surprisingly warmly of Hillary to the Daily Beast, before explaining that he mainly admired her for tolerating Bills infidelity. The lust factor out of convenience, he said. Things happen at points, and her seeing past that made her human to me. Uh-huh.
Or heres Pharrell explaining to GQ why he supports Hillary, and why shes sure to win: Everywhere you go in this country, you have red and blue. You got the Democrats; you got the Republicans You know what else is red and blue? Blood. Blood is blue in your body until air hits it, and then it turns red. That means theres unity. Theres quite a bit more along these lines, but to sum up Pharrells position: the two main parties are represented by two colours that are the same as the two colours of blood (which is actually never blue), which means that, even though half of America hates Hillary, it is destined for a woman president. Infectious pop hits: definitely. Thinking about things: maybe not.
However, perhaps most worrying for some would be Hillarys relationship with Kanye which apparently includes taking his political ambitions so seriously that she would consider him as a possible running mate in 2016. Ive told Kanye that I think he might want to wait. Cause Ill be running for re-election, she has said. I might want to give him some additional experience so hes got, on all the other things hes done on his resumé, hes got some kind of envoy role or something he could point to … I would not rule out anybody for vice president. Rockocracy might be closer than we thought.
Artists for Trump isnt a very large constituency, for some reason. (Although he does have the hulk vote sewn up, with endorsements from both Hulk Hogan, who has volunteered as running mate, and Lou The Incredible Hulk Ferrigno Hes a fabulous guy. I hope he goes all the way.)
Among the few musicians who have declared for Trump are the country music legend Loretta Lynn (I just think hes the only one whos going to turn this country around), hard-rock gun enthusiast Ted Nugent (Donald Trump is the hellraiser America has needed for a very long time) and Mr Las Vegas Wayne Newton (Number one, he tells the truth. Number two, hes been where most of these guys want to be, in terms of riding on his own plane). In truth, Newton seems to be such an all-round positive guy that hell endorse just about anything red. Jeb Bush would also make an incredible president, he says. Plus he loves both Carly Fiorina and Ben Carson.
Confusingly, Trump also has the support of Azealia Banks, whose reasoning, as she explained in a series of tweets today, goes as follows. Just because Hilary [sic] Clinton and Bernie sanders say nice things about minorities doesnt mean they actually mean them I only trust this country to be what it is: full of shit. takes shit to know shit so we may as well put a piece of shit in the White House In conclusion, I think Donald trump is evil like America is evil and in order for America to keep up with itself it needs him. Which is nice, but hard to leverage.
Always the mould-breaker, Trump is actually more of a specialist in counter-endorsements. Only this week, Adele has insisted that she did not give permission for him to play Rolling in the Deep or Skyfall at his rallies. Trump also got a letter from Steve Tylers lawyers after he used Aerosmiths Dream On which, the letter complained, gives a false impression that [Tyler] is connected with or endorses Mr Trumps presidential bid. Michael Stipe of REM was even more forthright, if less lawyerly, last autumn, when he refused Trump permission to use his music with the words, Go fuck yourselves, the lot of you you sad, attention-grabbing, power-hungry little men. Do not use our music or my voice for your moronic charade of a campaign.
Now were running low on fuel. Rand Paul has the support of Jonathan Davis and Phil Labonte of Korn and All That Remains respectively. Ben Carson has Kid Rock. Jeb Bush has country singer Toby Keith. But it appears that no notable musicians at all would like to see a President Christie, Cruz, Fiorina, Kasich or Perry. Unlike Trump, few of the other Republicans have even been thought worth banning from anybodys music. Im like the only rightie in the leftie industry, Kid Rock plaintively told Fox News.
Which leaves Marco Rubio, who has perhaps the best chance of beating Trump to the nomination and will hope to be powered there by the backing of Johnny Van Zant, the lead singer of Lynyrd Skynyrd (current lineup), as well as Kenneth Babyface Edmonds, the successful R&B singer and producer whose nickname rather unfortunately describes Rubio himself. It remains to be seen whether this will be enough to distract attention from the support he is also getting from the pornographic actor Jenna Jameson, whose eye for a winner picked out Hillary Clinton in 2008 and Mitt Romney in 2012. Im very looking forward to a Republican being back in office, she said at the time. When youre rich, you want a Republican in office.
Read more: www.theguardian.com