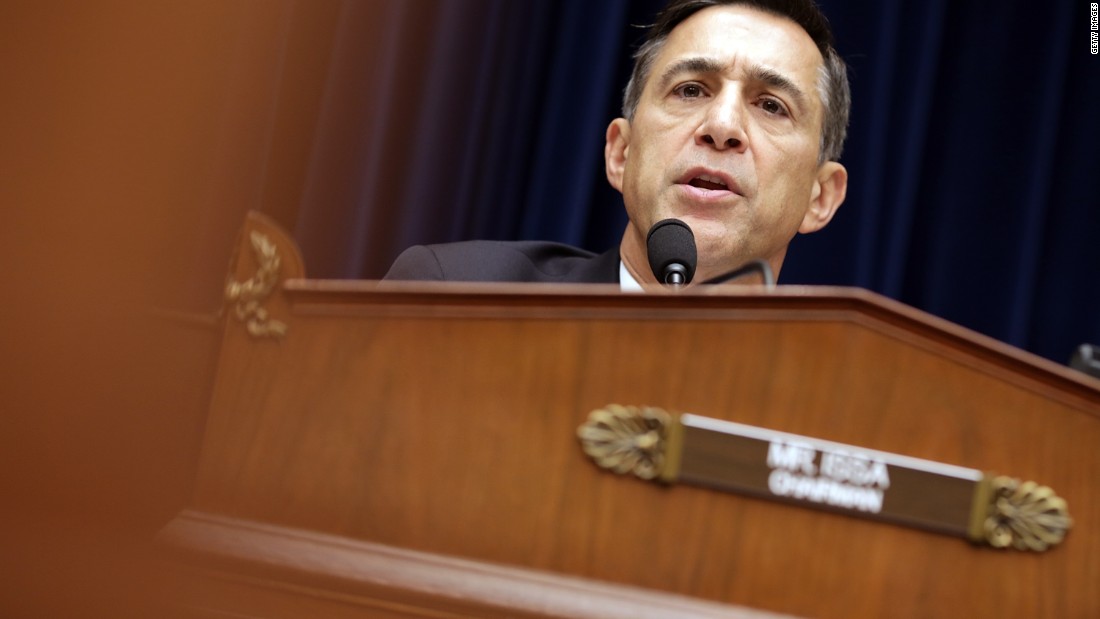 Washington (CNN)Vulnerable down-ballot Republican candidates seized on the news Friday that the FBI was reviewing new emails tied to the investigation of Hillary Clinton's use of a private server, arguing the GOP must remain in charge of Congress so they can keep check on a potential Clinton presidency.
"This decision shows exactly why we need strong watchdogs in Congress to ensure thorough oversight of the executive branch," said veteran Republican Rep. Darrell Issa. The Southern California congressman, who has been one of President Barack Obama and Clinton's most spirited investigators over the years, is in an unexpectedly tough re-election battle.
If re-elected, Issa vowed he would "ensure the FBI completes its investigation thoroughly and impartially this time around."
After months of struggling to defend a constant barrage of Donald Trump's controversial comments, GOP lawmakers in swing states turned the tables and blasted their Democratic opponents for their loyalty to Clinton who has admitted her use of a private server was wrong.
"When will Catherine Cortez Masto stand up to Hillary Clinton's reckless behavior?" GOP Rep. Joe Heck asked about the Democrat he's running against for Nevada's open Senate seat in a press released titled "Cortez Masto blindly supports Hillary Clinton because she always overlooks wrongdoing by Democrats."
Cortez Masto has not yet issued a statement in response.
The National Republican Senatorial Committee blasted Deborah Ross, a North Carolina Democrat challenging incumbent Republican Sen. Richard Burr, for not breaking with Clinton.
"Less than 24-hours ago, Deborah Ross happily campaigned in Winston Salem with Hillary Clinton who was introduced as "the next 'President.' But as news breaks today that the FBI is reopening its investigation into Hillary Clinton's private email server, Deborah Ross is silent," the statement said.
As of late Friday, Ross's campaign had not issued any statement about the development.
Aides and strategists said it was too early to gauge what the political fallout will be for down-ballot candidates of either party. But the issue of Clinton's honesty, especially in the wake of the email controversy, has been a rallying cry for Trump supporters and this added fuel may inspire undecided voters now to back Trump — and others on the GOP ticket — as the campaign draws to a close.
The National Republican Congressional Committee issued a flurry of press releases calling out Democrats in competitive races to declare whether they support the Democratic nominee. In one of these, attacking first term Rep. Brad Ashford, D-Nebraska, spokeswoman Kate Martin said, "the FBI is reopening its investigation into Hillary Clinton and Nebraska voters deserve to know if Brad Ashford still stands by her."
Martin added, "It's time Ashford stood up for Nebraskans who deserve better than Hillary Clinton, who enables corruption, scandals and lies."
Just as Trump did, at least one senator used the news Friday to raise money for his campaign.
"If you agree that Hillary Clinton should be indicted for mishandling classified information, please stand with me today by making an urgent contribution today," said an appeal from Sen. Rand Paul. R-Kentucky, who is expected to be re-elected.
Democrats largely silent
While Republicans were quick to react to the news, congressional Democrats were largely silent on the development, a reflection of how unclear the political damage might be. Some privately complained that the cryptic letter from FBI Director James Comey left them grasping for a response.
Sen. Dianne Feinstein of California, the top Democrat on the Intelligence Committee, was angry about that. She issued a sharply worded statement in which she said she was "shocked" when she read Comey's letter because it was so vague "it's impossible to make any informed judgment on this development."
"One thing is clear: Director Comey's announcement played right into the political campaign of Donald Trump, who is already using the letter for political purposes. And all of this just 11 days before the election," Feinstein said.
House Democrats believe they are in striking distance of taking back the chamber. Anxious to contain the politically treacherous situation, Rep. Nancy Pelosi, the House Democratic leader, called on Comey to provide more details so voters will have a better understanding of the FBI's views.
"The public interest would be served by the FBI providing the facts, rather than allowing Republicans to stoke innuendo and falsehoods 11 days away from a presidential election," she said.
One Democratic strategist argued Democrats running for the House and Senate who have backed Clinton through the ups and downs the email controversy should stick with her now too.
"We trust and support Hillary Clinton and we know that she would be a good president for us and for the country. That's what we've been saying throughout the conversation about emails in the last year or so," said Basil Smikle, a top official in the New York State Democratic Party, in an interview on CNN.
Following word that an FBI "sexting" investigation into former Rep. Anthony Weiner, D-New York, who is the estranged husband of Clinton aide Huma Abedin, had led to the discovery of the new emails that could be pertinent to the Clinton probe, one GOP strategist quipped on Twitter that the partisan Weiner may have "saved" the Senate for Republicans.
"This won't save the WH campaign, but Carlos Danger may have saved the GOP Senate," said John Weaver, referring to an Internet name Weiner has used.
Read more: www.cnn.com