NATIONAL HARBOR, Md. — Amid fiery speeches and emotional pleas about "the future of conservatism" at a major conservative conference Thursday, there was no mention of the man who might be conservatism's biggest existential threat: Donald Trump, the Republican presidential front-runner.
On the first day of the Conservative Political Action Conference speakers showed no inclination to address the matter, despite growing panic and opposition toward Trump's firepower in the GOP presidential race.
Even rising star Sen. Ben Sasse (R-Neb.), one of the party's most vocal Trump critics, did not refer to the real estate mogul in his speech on conservatism. Over the past few weeks, Sasse has sounded the alarm about Trump's candidacy, revealing that he will not vote for him and may leave the party if Trump becomes the nominee.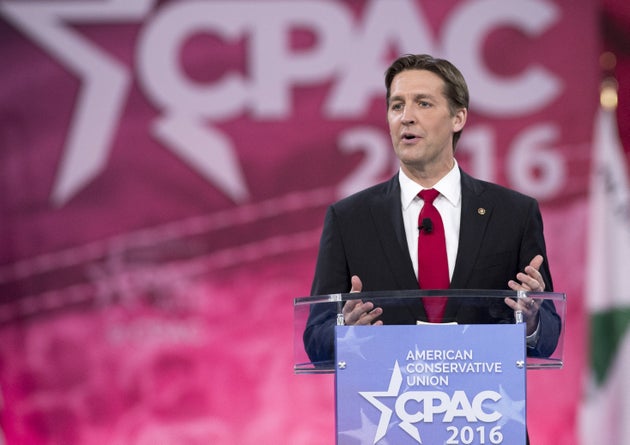 On Thursday, Sasse instead delivered a more general statement about the Constitution and freedom of liberty, skewering President Barack Obama and other Democrats for being "post-constitutional" and lamenting the consequences of the Obama presidency for conservatives.
"It's been a bad seven years for the Republican party. It's been a bad seven years for conservatism. It's been a bad seven years for those of us who believe in the American idea," he said.
Sasse also told attendees to look beyond Washington to "make America great again."
"The meaning of America is not in Washington, D.C. The meaning of America is in all the little platoons that you come from," he said.
Other conservatives tried to provide prescriptions for the future.
Former Pennsylvania Sen. Rick Santorum (R), who has twice sought the GOP presidential nomination, implored conservatives to embrace populist ideals as a means of building a more inclusive movement.
"We're not feeling the love because we haven't been giving much," he said.
Similarly, House Speaker Paul Ryan (R-Wis.), who kicked off the afternoon session and garnered a rousing standing ovation, spoke about his anti-poverty initiatives.
Just hours earlier, he addressed Trump's candidacy, laughing off the businessman's threat that Ryan would "pay a big price" if the two did not get along. Ryan, however, issued his own threat toward Trump.
"If I see episodes where conservatism is being disfigured, if I see ideas and comments that mislead the people as to who we are as Republicans, I'm going to speak out on those," he said at a Capitol Hill press conference.
It's a strange balancing act for CPAC — one of the biggest annual gatherings of conservatives — particularly in presidential election years.
Trump himself will appear at CPAC in a prime speaking spot on Saturday. The real estate mogul has donated money to the organization which hosts the conference, the American Conservative Union, and has spoken at CPAC several times before, often to boos from the crowd.
But this time, it's different, as Trump continues to barrel toward the GOP presidential nomination while the worried party establishment mulls a brokered convention and other measures to stop him.
Some conservatives hoping to halt Trump's progress are riled up about Saturday's speech, posting a petition to force organizers to rescind the invitation, though all of the remaining GOP presidential candidates will speak here in the next two days.
Any mention of presidential politics on Thursday mainly targeted the other side. National Rifle Association vice president Wayne LaPierre attacked "the Obamas and the Clintons" for never "getting the basic truth."
LaPierre seemed to reference Trump's appeal when he told attendees that "this election year proves the rage of the American people to be real and to be powerful."
"Candidates, strategists and pundits are learning this year that telling it like it is brings success. Straight talk brings rewards," he said.
But that turned out to be a segue into his usual defense of the Second Amendment and the NRA as "a guiding light for American gun owners," with LaPierre criticizing Democrats for trying to limit gun rights and spreading "deceit." He also aired old video clips of his own television appearances defending gun rights, which were met with raucous applause.
It was another speech that seemed like business as usual, in a presidential election year that has been anything but usual.
Editor's Note: Donald Trump is a serial liar, rampant xenophobe, racist, misogynist, birther and bully who has repeatedly pledged to ban all Muslims — 1.6 billion members of an entire religion — from entering the U.S.
Read more: www.huffingtonpost.com