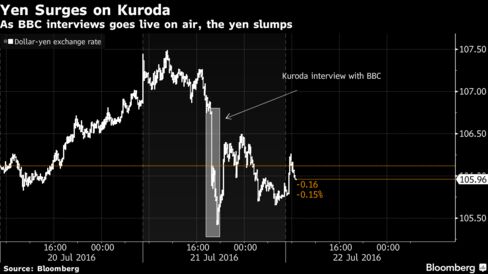 Asian stocks fell after Bank of Japan chief Haruhiko Kuroda dashed hopes for so-called helicopter money, triggering the yens steepest rally in a month and weakening the outlook for exporters in Tokyo.
The MSCI Asia Pacific Index declined 0.2 percent to 134.45 as of 9:10 a.m. in Tokyo, retreating from its highest level since November. The gauge is up 0.6 percent for the week. The Topix index slipped 0.8 percent, trimming its gain for the week to 0.9 percent. Investors focused on the comments from Kuroda, even after a Nikkei newspaper report said Japans stimulus package could be as large as 30 trillion yen ($283 billion).
At this stage there is "no need and no possibility for helicopter money," Kuroda said in a BBC Radio 4 program that was aired Thursday and that the broadcaster said was recorded on June 17. At this moment, the Bank of Japan has three options with quantitative and qualitative easing with negative interest rates." These current policies can be expanded if needed and there are no significant limitations to further monetary stimulus, he said.
The comments will disappoint investors who had been selling the yen in anticipation of the Bank of Japan announcing helicopter money at its meeting next week, said Jasper Lawler, a London-based analyst at brokerage CMC Markets Plc. After the failure of its current quantitative easing program to boost inflation, helicopter money is one of the few remaining tools in the Bank of Japans arsenal. He added that Kuroda may have changed his opinion in the last month since he gave the interview, which came before the U.K.s vote to leave the European Union.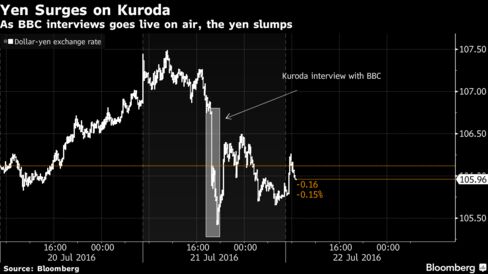 Global stocks added almost $5 trillion in three weeks on bets central banks will stoke growth, pushing valuations on the Asia Pacific index to the highest level this year. Earnings have also played a part, with positive surprises helping lift the S&P 500 Index to a record. Some of that optimism subsided Thursday as signs faded that profits will be able to sustain equities at elevated valuations.
The yen strengthened sharply after Kurodas comments, which come ahead of a policy meeting next week and as Prime Minister Shinzo Abes government prepares a fiscal spending package in an effort to support growth. People familiar with the discussions at the central bank have indicated that an increasing number of officials at the BOJ are concerned about the sustainability of the current framework for massive monetary stimulus.
Australias S&P/ASX 200 Index dropped 0.1 percent. South Koreas Kospi index declined 0.2 percent. New Zealands S&P/NZX 50 Index, the worlds best performing developed-market gauge, was little changed.
Futures on the FTSE China A50 Index and Hong Kongs Hang Seng Index dropped 0.3 percent before markets opened in China.
E-mini futures on the S&P 500 were little changed. U.S. stocks declined Thursday as results from companies including Intel Corp. and Southwest Airlines Co. disappointed. The S&P 500 fell the most in two weeks after closing Wednesday at a record high.
Read more: www.bloomberg.com