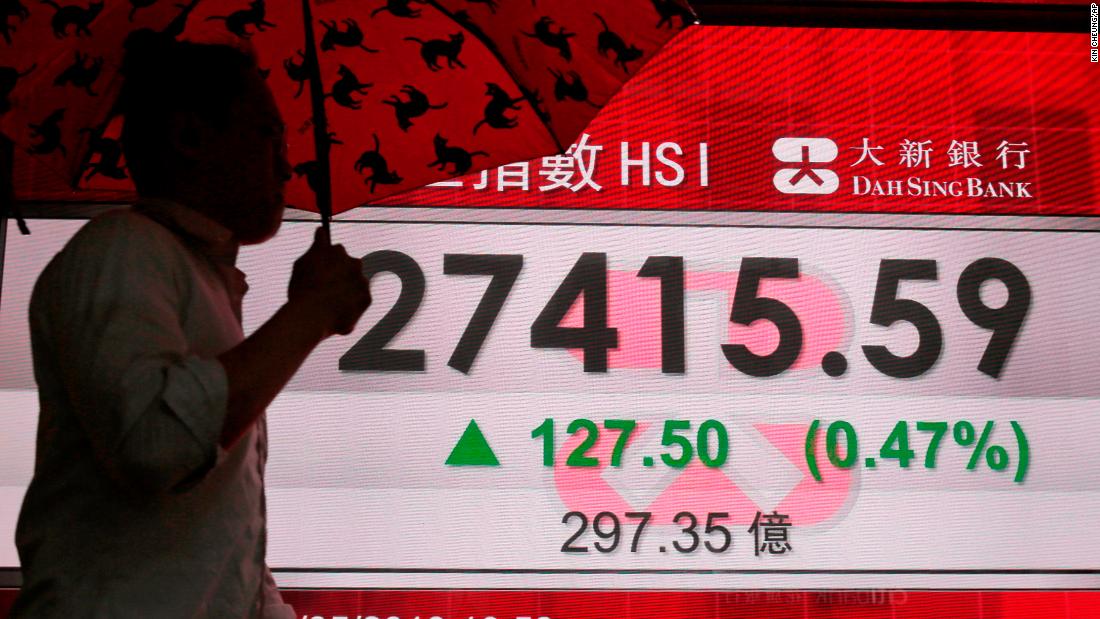 Hong Kong (CNN Business)Asian markets broadly rose Thursday as China's yuan held steady — one of a few signs in the region that helped to stave off fears of global economic trouble.
China's
Shanghai Composite Index
(SHCOMP)
gained 0.9%, poised to snap a six-day losing streak. Hong Kong's
Hang Seng Index
(HSI)
added 0.7%.
Japan's
Nikkei
rose 0.7%, while South Korea's
Kospi
(KOSPI)
climbed 1%. New Zealand's NZX 50 rose 0.6%, and India's
Sensex
(SENSEX)
added 0.4%.
It's been a turbulent week for markets, as fears about the US-China trade war and the risk of a recession
have gripped investors
. Trading in the United States on Wednesday
was volatile
.
Central bank cuts and a stronger yuan
Thursday's upswing in Asia came a day after central banks in India, New Zealand and Thailand all made aggressive cuts to interest rates. The Philippines is expected to follow suit, said Ken Wong, an Asian equity portfolio specialist for Eastspring Investments.
Wong added that expectations have risen for the Federal Reserve in the United States to make additional cuts, too, to bolster growth amid rising fears about a worldwide economic slowdown. The Fed
cut rates last month
for the first time since the Great Recession.
Meanwhile, China's yuan rose in both onshore and offshore trading. The People's Bank of China earlier cut the yuan's daily reference rate to 7.0039 yuan to one US dollar. China
sets a "band" every day
to limit how far up or down the yuan's value can move.
While that is the lowest fixing the central bank has made since the spring of 2008 — and below the psychologically important benchmark of 7 — it wasn't as weak as what was expected, according to analysts polled by Reuters.
China's daily reference rate for the yuan has been of immense interest to investors since the country let its currency fall below 7 to the US dollar in trading earlier this week. That devaluation sparked a worldwide sell-off Monday, and prompted the United States to label China as a "currency manipulator." But China has also taken steps this week to shore up its currency.
US stock futures were all higher Thursday after the rate fix.
While Thursday's fix was stronger than expected, it is still ambiguous enough to keep the market guessing, saidStephen Innes, managing partner for Valour Markets Pte in Singapore.
And while the Chinese central bank "continues to deny they will weaponize the yuan they have a sturdy tool at their disposal and will not hesitate" to use it to offset tariffs, he added. US President Donald Trump escalated the trade war last week by
threatening a new round of tariffs on China
.
Wong, the analyst from Eastspring Investments, said the fact that China set its fix for the yuan below 7 was "more of a news headline and market noise, and doesn't have material impact."
"The depreciation of the yuan so far is limited compared with other emerging markets currencies in the region," he said. "I seriously doubt the yuan will have a large depreciation against the dollar, as it will trigger massive capital outflows, which is something that China absolutely doesn't want."
News from China raises investor spirits
Stocks received an additional boost after China
released trade data
that looked better than expected. The country's exports rose 3.3% in July compared to a year ago, according to government statistics released Thursday. Imports fell 5.6% over the same period, but that was less than what analysts polled by Reuters expected.
"The moderating decline in imports suggested improving production in domestic China," wrote Ken Cheung Kin Tai, chief Asian foreign exchange strategist for Mizuho Bank in Hong Kong, in a research note.
He added, though, that US-China trade tensions will continue to be a challenge.
The increase could trigger the inflow of more than $22 billion into Chinese equities, analysts at China International Capital Corporation, an investment banking firm, wrote in a report earlier this week.
MSCI also said it will add 10 new members to one of its indexes, including the chemical company Wanhua Chemical Group and pharmaceutical firm Wuxi AppTec. Those stocks surged 4.5% and 3.2% in Shanghai, respectively.
Here's what else we're watching at 12:30 p.m. Hong Kong time:
Japan announced Thursday that it has approved the first exports of materials to South Korea since curbs on exports were put in place last month, according to its top government officials on Thursday. Trade tensions between the two countries escalated after Japan announced trade restrictions on South Korea and dropped the country as a preferred trading partner.
On Wednesday, US stocks had a volatile session after a bond market scare. The

S&P 500

(SPX) and the

Nasdaq Composite

(COMP) recovered their earlier losses and closed up 0.1% and 0.4%, respectively. The

Dow

(INDU) ended down 0.1%, or 22 points. At its worst, it was down 589 points.
Read more: www.cnn.com