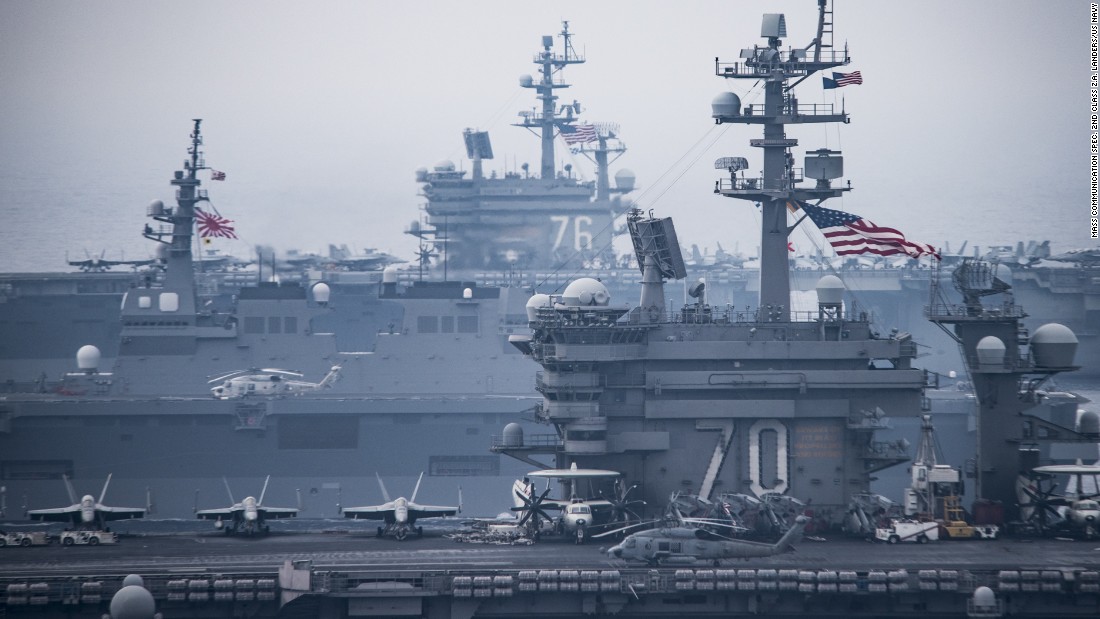 (CNN)At this point, the pattern is familiar.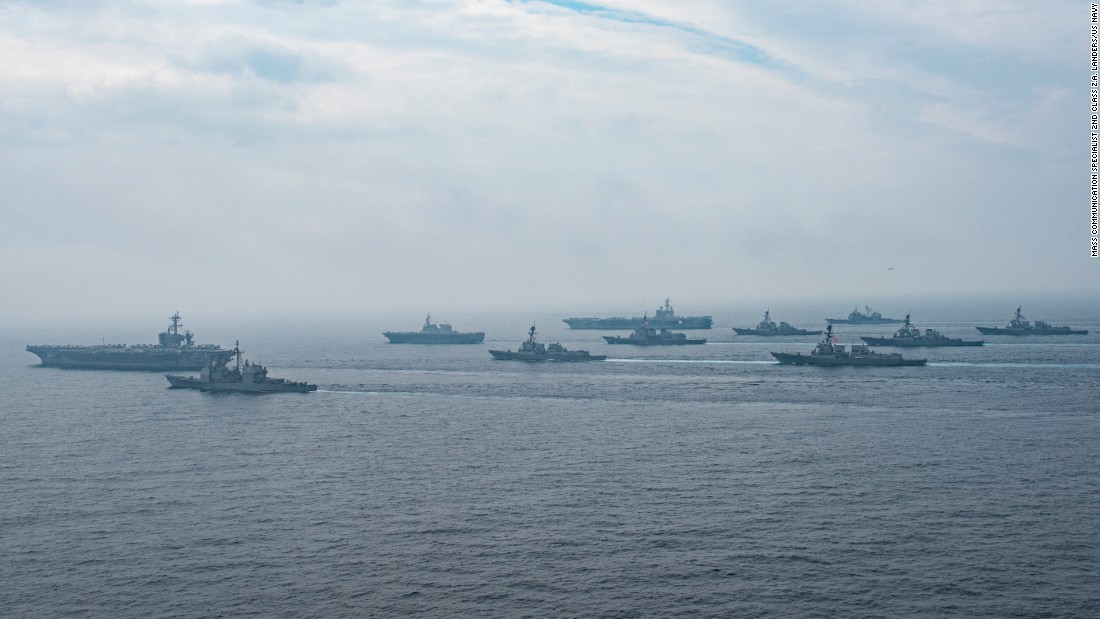 April 12, 2017
China's President Xi Jinping calls for a "peaceful" resolution to tensions on the Korean Peninsula during a phone call with President Donald Trump as the USS Carl Vinson aircraft carrier strike group churned toward the contested region. Trump, eager to stop rapid advances in North Korea's nuclear and ballistic missile programs, signals a break with decades of US policy as he looks to coax China into ramping up the pressure on North Korea.
Trump says he was sending "an armada" to Korean waters potentially to deal with threats from North Korea. The statement came after Pyongyang said it had successfully launched a new ballistic missile.

April 13, 2017
North Korean monitoring service 38 North says the country's Punggye-ri nuclear site is "primed and ready" for a sixth nuclear test.

April 15, 2017
North Korea celebrates the Day of the Sun, an annual event commemorating the birth of the country's founder Kim Il Sung. Many observers expected a nuclear test or missile launch in honor of the occasion, but in the end, nothing happened on that day.


April 14, 2017
Trump tweets about China help with N Korea — Trump sent tweets this week praising Xi for committing to help restrain North Korea, which may be on the verge of a sixth nuclear test. Beijing is Pyongyang's closest ally.
Trump tweeted that he'd told Xi a trade deal with the US would be "far better for them if they solve the North Korea problem." On Wednesday, Trump tweeted that he and Xi had had "a very good call" about Pyongyang. And Thursday, the president tweeted that he had "great confidence that China will properly deal with North Korea. If they are unable to do so, the U.S., with its allies, will! U.S.A."

April 16, 2017
North Korea conducts a failed missile launch, the day after the Day of the Sun, the country's most important holiday. The first missile test after US President Donald Trump's inauguration came when he was meeting with Japanese Prime Minister Shinzo Abe in February.



April 17, 2017
US bombers fly near Australia. Two B-1 bombers also flew over South Korea in late April, according to a US defense official.


April 20, 2017
US and South Korea conduct 'Max Thunder' joint military drills.


April 24, 2017
The USS Michigan — a guided-missile submarine — arrived in South Korea for what a US defense official described as a show of force amid tensions between the US and North Korea.



April 23, 2017
North Korea threatens to sink an American aircraft carrier that is beginning joint drills with two Japanese destroyers in the western Pacific Ocean. The USS Carl Vinson was joined by the Ashigara and Samidare destroyers in "tactical training" drills near the Philippines.

April 25, 2017
North Korea stages its largest ever military drill to mark the founding of the country's army, amid rising tensions with the West.



May 1, 2017
Two US B-1 bombers departed Andersen Air Force base in Guam and conducted a joint drill with South Korea and Japan's air forces over the Korean Peninsula, according to the US Air Force. This is the fourth US presence mission in the Indo-Asia-Pacific region since April 1 and bombers have flown near the Korean Peninsula twice in the past two weeks — a move that has drawn sharp criticism from North Korea amid rising tensions in the region.

May 14, 2017
North Korea fired what analysts called its most successful test ever in its quest to develop ballistic missiles that can carry nuclear warheads. That test came as China was hosting a major economic summit in Beijing. In early April, Pyongyang tested a missile as Trump and Chinese President Xi Jinping prepared to meet at a summit in Florida.

May 18, 2017
The Navy aircraft carrier USS Ronald Reagan conducted training off the coast of Japan and was expected in the coming days to join the USS Carl Vinson in the region, putting two carriers in the vicinity of the Korean Peninsula, two US officials tell CNN.

May 21, 2017
Pyongyang sends a medium-range ballistic missile into the waters off its east coast. North Korea said that projectile was a ground-to-ground strategic ballistic missile Pukguksong-2, state news agency KCNA reported.



May 29, 2017
North Korea launches a ballistic missile test, its third in less than three weeks. The short-range ballistic missile traveled an estimated 248 miles, splashing down within Japan's exclusive economic zone, an area of sea where commercial ships are known to operate, according to statements from both the Japanese government and the South Korean military.



May 30, 2017
Two US Navy aircraft carriers are expected to begin training together as soon as Wednesday in the Sea of Japan, for a few days in what US military officials say may be interpreted by North Korea as a signal of a more aggressive US military posture. The current schedule calls for the USS Carl Vinson and USS Ronald Reagan, along with other warships, to move into the south central area of the Sea of Japan, also known as the East Sea, a US defense official told CNN.
The USS Nimitz is scheduled to leave its home port in Bremerton, Washington, for its deployment period. It is expected to pass through the Pacific region on its way to the Persian Gulf.
US conducts successful missile intercept test.
Read more: www.cnn.com