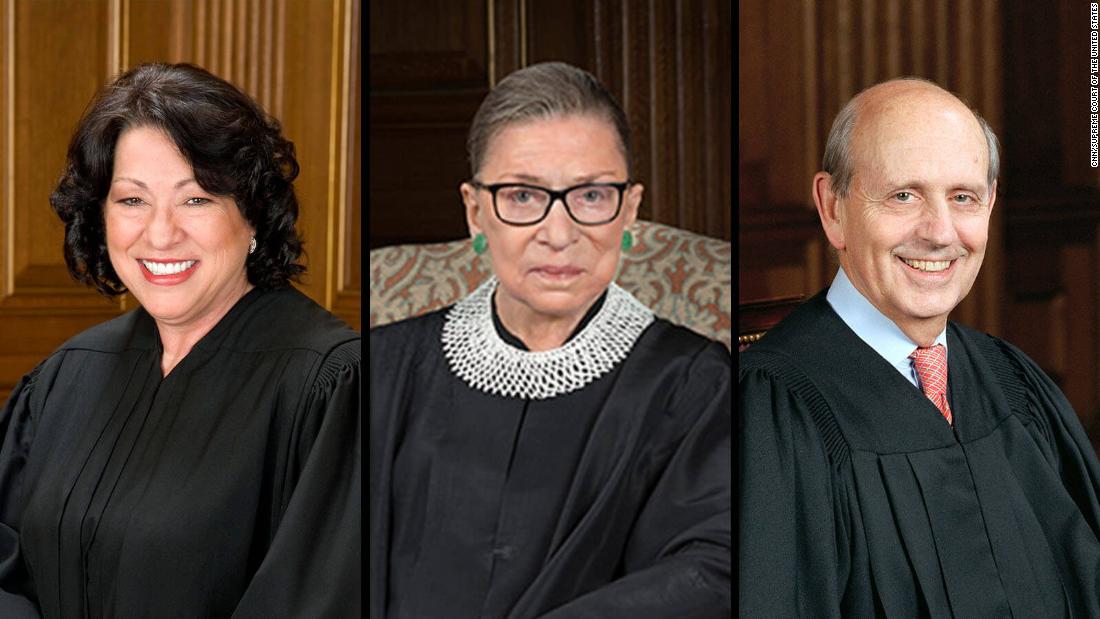 Washington (CNN)Perhaps it's the pressure of the last weeks of the annual Supreme Court session, but the justices seem to suffer a fair number of broken bones as deadline season approaches.
Now, as the court returns to the bench on Monday with new rulings and heads into its final weeks, Justice
Sonia Sotomayor
is in a sling from shoulder surgery. She fell at her home last month.
The litany of justices going bandaged into June, traditionally the last month of the session, is anecdotal. Certainly, justices have taken spills at other times. Yet coming in the season that is also rife with retirement speculation, the late-spring pattern offers a reminder of the justices' sometimes precarious health.
The average age on this nine-member court is 69.
Each is appointed for life, and with the court deeply divided, the well-being of a single justice matters. Currently, court observers wondering about a retirement have focused on 81-year-old Anthony Kennedy, who has pondered retirement in the past.
Senate Judiciary Committee Chairman Chuck Grassley on Thursday told talk show host Hugh Hewitt that he hopes if any justice is close to announcing a retirement, it happens soon. Grassley noted that the Senate, which has the power to confirm or reject a president's nominee, is already looking ahead to the busy midterm elections, where Democrats could win control.
"So my message to any one of the nine Supreme Court justices," Grassley said: "If you're thinking about quitting this year, do it yesterday."
Supreme Court justices tend to serve well beyond normal retirement years. Justice John Paul Stevens stepped down in 2010 at age 90 and remains a prolific writer.
The justices also tend to pick themselves up from health episodes and keep going. The eldest, Ginsburg, has survived two bouts of cancer, colorectal in 1999 and pancreatic in 2009.
The 2013 fall at her Washington, DC, home was not her first during the peak decision-writing period. She cracked her ribs in an earlier fall, as the court was resolving the contentious Obamacare case in 2012.
Breyer, who will be 80 in August, endured several spring bicycle accidents. The first to make headlines came in 1993 when President Bill Clinton was considering Breyer, along with other US appeals court judges, for a high court vacancy. Breyer had been hit by a car, punctured a lung and broke ribs, and was in the hospital when Clinton aides interviewed him. Breyer was still in a painful recovery when he met the president, who in the end opted for Ginsburg in 1993. Breyer became his nominee for a 1994 vacancy.
In late May 2011, as the decision-writing season was heating up, Breyer fell from his bicycle while riding near his home in Cambridge, Massachusetts. He broke his right collarbone. In late April 2013 he fell off his bike in Washington as he was pedaling near the Lincoln Memorial. That fall required him to undergo shoulder replacement surgery.
Breyer now exercises in the safer environs of a weight room.
Sotomayor, who will turn 64 in June, underwent similar shoulder replacement surgery this month. Supreme Court spokesperson Kathy Arberg said in a statement that Sotomayor was recovering at home.
Sotomayor experienced another health scare earlier this year. In January, paramedics were called to her home after she suffered "symptoms of low blood sugar," Arberg said. Sotomayor has lived with type 1 diabetes since being diagnosed at age eight.
Court officials sometimes minimize the justices' health problems, and plenty go unreported. And the justices have differed in their responses to public inquires.
In July 2005, as the annual session was ending, reporters tried to find out whether Chief Justice William Rehnquist, who had been fighting thyroid cancer for months, planned to retire. Reporters and photographers camped out at his suburban Virginia home, monitoring his comings and goings. When a reporter shouted a question about Rehnquist's health as he left the house one day, the 80-year-old chief declared, "That's for me to know and you to find out."
He died two months later, on September 3, still in office.
Read more: www.cnn.com