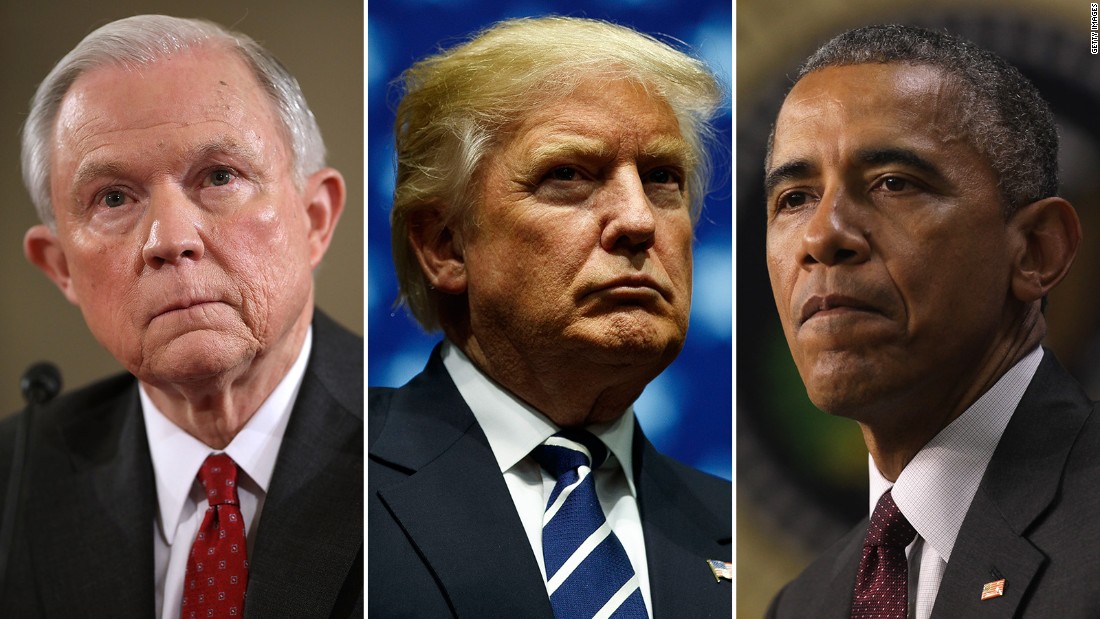 Washington (CNN)The future of criminal justice reform hangs in the balance as the nomination of Alabama Sen. Jeff Sessions, President Donald Trump's pick for attorney general, was advanced in a party-line vote by the Senate Judiciary Committee Wednesday.
Activists worry that Trump, who preached "law and order" during his campaign and
threatened
last week to "send in the Feds" to violence-plagued Chicago, would halt former President Barack Obama's reforms, and institute new policies that could worsen conditions.
"The Republican Party right now is divided between people who recognize now that the criminal justice system is a big failed, unaccountable government bureaucracy that's wasting money and lives on the one hand," CNN political commentator Van Jones told CNN. "On the other hard, you have people who want to stick with the same old dumb on crime, lock 'em up policies that have made things worse, not better. Where Trump comes down is not clear yet."
Trump is expected to move ahead with an executive action this week addressing local crime-fighting and curbing the sale of drugs in the United States.
Here's why activists and civil rights groups fear Trump's White House could turn a deaf ear to racial biases in law enforcement and policing:
Sessions' record on sentencing reform disputed
Trump's nomination of Sessions to be the next attorney general has exacerbated concerns that policing and sentencing reforms initiated by Obama would come to an end.
As President, Obama granted 1,715 commutations for non-violent drug offenders — more than the past 12 presidents combined. Of those, 568 of the individuals who received lesser sentences had been sentenced to death.
Sessions
slammed
Obama's efforts as a "weakening of some of our most important criminal sentencing policies."
As a candidate, Trump
accused
the Obama White House of giving "drug dealers and gang members" a "slap on the wrist" and turning them "loose on the street."
The American Civil Liberties Union, a strong advocate for criminal justice reform, wrote
a letter
last week urging leadership of the Senate Judiciary Committee to hold a second hearing and cancel the vote on the senator's nomination.
And William Smith, a longtime Sessions staffer, defended the senator's record at the hearing, saying, "After 20 years of knowing Sen. Sessions, I have not seen the slightest evidence of racism because it does not exist."
But the NAACP, which
vehemently opposes
Sessions as attorney general, issued an action alert for supporters Wednesday, urging them to contact their lawmakers and oppose Sessions.
"Sen. Sessions as AG is deeply troubling, and supports an old, ugly history where Civil Rights were not regarded as core American values," the NAACP tweeted.
Sessions
previously called
the ACLU and the NAACP "un-American" and said these organizations "forced civil rights down the throats of people."
Trump supports stop-and-frisk tactics
Throughout the 2016 campaign Trump argued repeatedly that stop-and-frisk policies reduced crime in New York City and in September, he
called
for implementing these controversial policies in Chicago.
A US District Court judge
ruled
in 2013 that New York City's use of stop-and-frisk is unconstitutional because it violates the Fourth Amendment and has been used to target people based on race.
New York City Mayor Bill de Blasio disputed Trump's claim that the practice led to a reduction of crime.
"With stop-and-frisk down nearly 97% from its high point in 2011, crime in New York City is now at record lows," de Blasio wrote
in a September op-ed for CNN
.
"Stop-and-frisk was not a driver of that public safety progress. Donald Trump's refusal to admit this and his willingness to inflame tensions for political purposes isn't just foolish. It's dangerous," he added.
Despite the tactic being ruled unconstitutional, Trump insisted that stop-and-frisk is "constitutional" during the first presidential debate and said that implementing it in Chicago would "overwhelmingly" save African-American and Hispanic lives.
Sessions later agreed with Trump,
telling Bustle,
"It's all about how that is done."
The role of police reform
Over the past two years, Obama-appointed Attorney General Loretta Lynch launched several Justice Department investigations into police departments around the nation, including
Ferguson
,
Baltimore
and
Chicago
, revealing patterns of racial discrimination in policing and cases of excessive force.
In some cases, the Obama White House has used consent decrees to make changes in policing, which require the city to implement reforms under court supervision, whether the police department agrees with the findings or not.
Whether a Trump administration will act to address these findings, open new investigations or utilize consent degrees is yet to be seen.
Read more: www.cnn.com