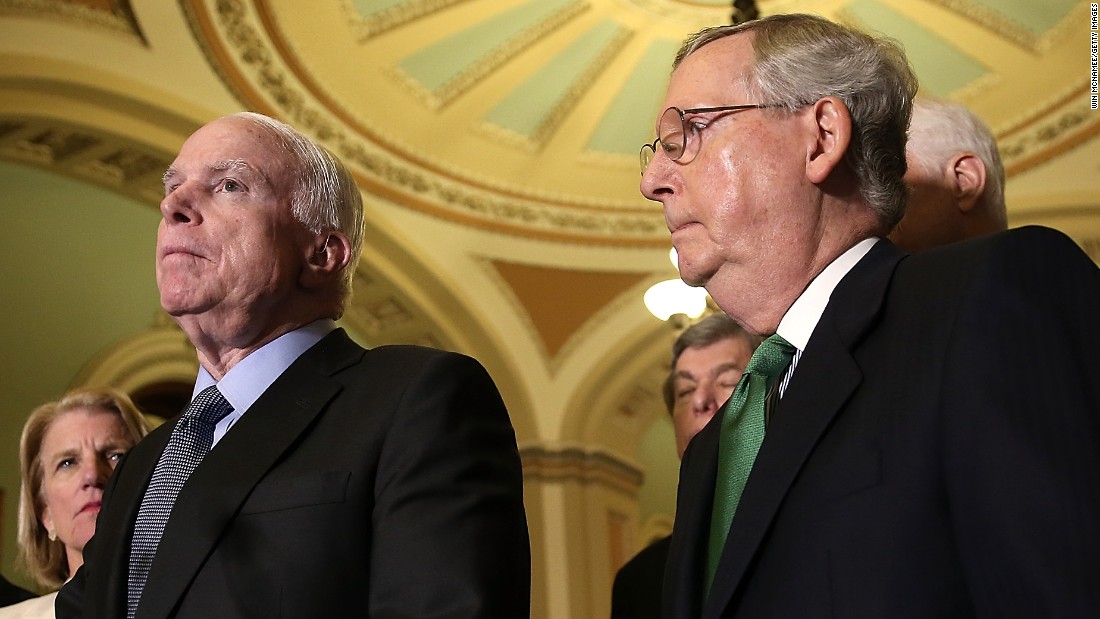 (CNN)News of Arizona Sen. John McCain's brain cancer reverberated across Capitol Hill on Wednesday night, breaking just as a group of Senate Republicans were huddled together in the Dirksen Senate Office Building trying to find a way forward on their health care bill.
"We all stopped and just prayed," Alaska Sen. Lisa Murkowski told reporters.
"Stunned disbelief," North Dakota's John Hoeven said, describing the mood in the room.
It's a devastating development for Senate members — many of whom see McCain as a leader, ally, mentor and friend.
"John McCain has been a mentor of mine and an American hero," Alaska Sen. Dan Sullivan said. "My entire family is praying for him at this moment."
McCain's illness also casts doubt on what comes next for Senate Republicans' health care bill. The GOP's efforts to repeal Obamacare have collapsed in recent days as enough members have vowed to block even advancing the bill. On Monday night, Majority Leader Mitch McConnell's plan to vote on a revised version of the repeal and replace bill ran aground after Sens. Mike Lee of Utah and Jerry Moran of Kansas announced they'd vote against the motion to proceed. Then, after McConnell announced he'd bring up the 2015 Obamacare repeal-only bill, a group of moderates announced they'd block that too.
On Wednesday, more confusion ensued as Republican senators left a meeting with President Donald Trump at the White House with the impression that Trump wanted Republicans to abandon a plan to vote on a repeal-only bill and return again to their repeal-and-replace strategy.
Whatever the path forward, McConnell is working without much room for error. Even with McCain in Washington, McConnell could only afford to lose two Republicans and still pass a health care bill. Without him? McConnell can only lose one.
"I think more people are thinking about his health than thinking about the math. But, you know, you understand the math. So obviously it makes things difficult," said Sen. Bob Corker, R-Tennessee.
The timing for health care remains up in the air at the moment. While McConnell has said Republicans will vote "early next week" on a proposal, there are still major questions as to what exactly they are voting on and whether Republicans may need to wait for McCain now if the vote tally is razor close. There is still no indication leadership has the votes. McCain has not said how he would vote on the revised repeal-and-replace bill if that came to the floor. However, McCain has said he would vote — at the very least — to begin debating it.
McCain's close friend, South Carolina's Sen. Lindsey Graham, took a phone call with McCain during the three-hour health care meeting Wednesday night in Dirksen, where McCain reportedly told him, "I'm gonna stay here a little bit longer, take some treatments, and I'll be back."
How long that process will take is unknown.
"We all look forward to seeing this American hero again soon," McConnell said in a statement Wednesday night.
McCain's office said in its official statement Wednesday night that "Further consultations with Senator McCain's Mayo Clinic care team will indicate when he will return to the United States Senate."
Senators were very clear Wednesday that their first concern was that McCain get better.
"I don't know why bad things to happen to good people," said Louisiana Sen. John Kennedy. "And I'm just so sorry to hear it. I don't know what else to say except we're all kind of in shock."
Asked if it came up in the health care meeting that McCain may not be able to return in the near future for a health care vote, Kennedy said, "I'm not thinking in those terms. I'm thinking about a man that sacrificed more for his country than I can possibly imagine … and how we can help him beat this."
For now, Republicans still seem to be trying to figure out a way to keep moving on health care without Democratic support. They are using a process known as reconciliation that only requires 50 votes. However, if a more bipartisan process does take root, it's exactly the kind of thing McCain has a lot of experience in.
McCain is known as a dealmaker on Capitol Hill, a member who is able to garner favor and find solutions on legislation that seems immovable. He was instrumental in the Senate's "Gang of Eight" negotiations on immigration reform. He worked with independent Sen. Bernie Sanders to overhaul the veterans' health care system and broke with his party to support the release of the CIA's torture report.
In recent days, McCain has called for Republicans to finally begin working with Democrats on health care. He said earlier this week in a statement that "one of the major problems with Obamacare was that it was written on a strict party-line basis and driven through Congress without a single Republican vote."
"We must not repeal the original mistakes that led to Obamacare's failure," the statement said. "The Congress must now return to regular order, hold hearings, receive input from members of both parties, and heed the recommendations of our nation's governors so that we can produce a bill that finally provides Americans with access to quality and affordable health care."
"Look, there's only one John McCain. He's crusty. He's a character. He's a hero. He's a hard a working person as we've ever had in the US Senate. He's dedicated his life to this country," said South Dakota Sen. Mike Rounds. "If you lay out a definition of a hero, you start with John McCain. We're not giving up on John McCain. He's as tough as they come."
Read more: www.cnn.com