With viewership up and money coming in, Professional Bull Riders Inc is about to hit the big time. But elite bull riders still fight to stay alive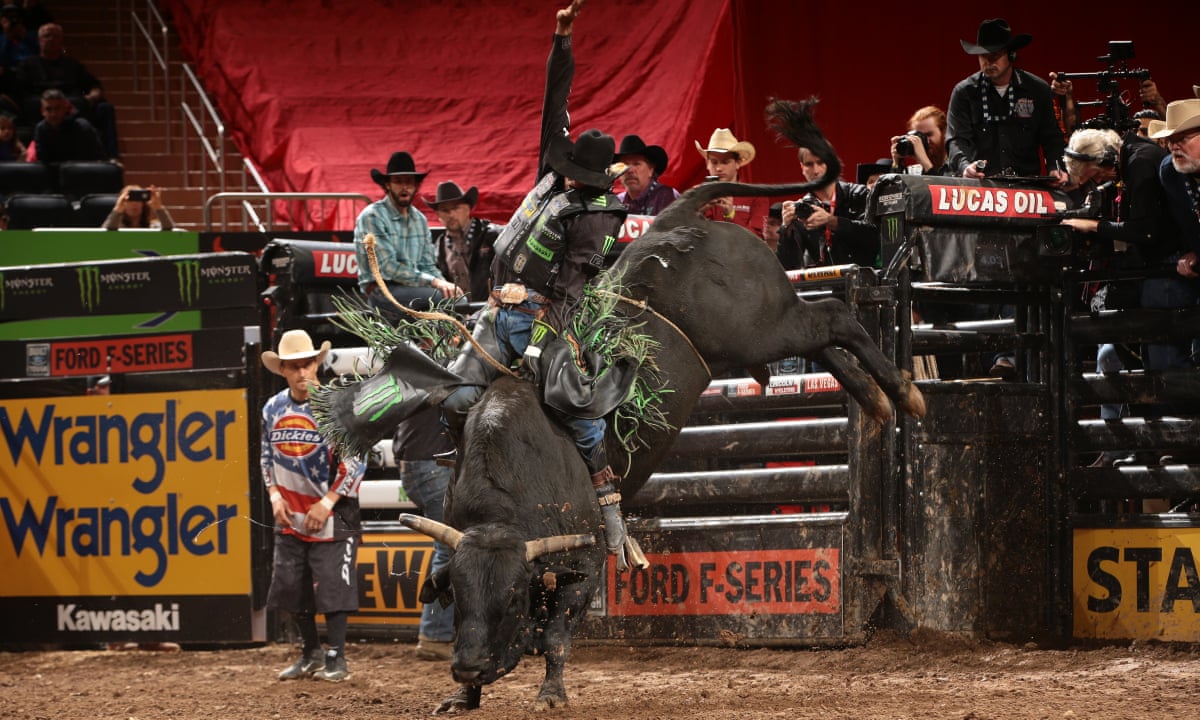 Silvano Alves has been in the bucking chute longer than usual. The bull is twisting against the bars of its enclosure, making a stable starting position all but impossible. Sitting atop the ornery animal, the three-time world champ is running out of seconds before he receives an automatic no-score for failing to leave the gate. Refusing a loss by default, he gives the nod for the chute to open. A latch pops, and Percolator, all two tons of him, slings them both into Madison Square Gardens 18,200-seat arena.
Looking more like a dust storm than a bucking bull, Percolator kicks high and hard to the left. Off balance and unable to counter him, the Brazilians body swings wide.
The 28-year-old pitches to the ground, landing square on the base of his skull, his body in the fetal position. Still bucking, Percolators left hoof comes down hard on Alves helmet, peeling it free from his head. The colossal hoots of the spectators melt into a windy intake of breath. The bull lowers his horns and butts the riders still torso once, then again, before freight-training over him.
For a long moment, Alves lies face down in the dirt. The colosseum is quiet.
But that was yesterday. Its now Saturday night, day two of three at the Professional Bull Riders (PBR) Built Ford Tough Series at Madison Square Garden, and Alves says hes feeling fine. Theres a purple bruise below his right temple, about the size of a toddlers handprint.
It was a really bad day. The bull hit my head, and my head aches, and I am asleep in the arena a little bit, says the Brazilian. But tonight I am waiting, and the doctor check me before event, and he say, its all right, you pass the test, you can ride. Its OK.
The PBR medical staff says hes free of symptoms from the previous nights knockout. Hes cleared to ride.
For Alves and the 35 other international pros competing tonight, its a breakout year for bull riding. The 10-month season is hyped like never before. In the middle, on a podium four feet off the ground, the reigning PBR world champion JB Mauney appears in a spotlight. He looks 10 feet tall and bulletproof. The 29-year-old lifts the crown of his black stetson, and gestures slowly from one side of the stadium to the other. Fireworks boom. The crowd is incandescent.
It hasnt always been this way. Talent and entertainment behemoth WME/IMG bought PBR for a reported $100m in April, a few months before purchasing the Miss Universe Organization from Donald Trump. For the agency that represents Novak Djokovic and Dwayne The Rock Johnson, this is just the beginning of a bid to turn bull riding into a household sport.
PBR is setting itself up to go mainstream, with riders getting prepped to model fashion lines and move merchandise. In an effort to lengthen the stats on a savagely simple sport, WME/IMG hopes to install sensors on bull and rider later this year, to judge turning speed and stomping impact.
While the forces at play are astronomical, the rules are compact: a rider must keep his mount for eight seconds, within which four judges award points for the riders skill and the bulls fight. The harder the bull bucks and rolls, the higher the points the rider earns if he maintains his seat. During that time, the rider must keep one arm on the bull rope fastened around the animals chest and never strike the bulls body with his free hand.
While PBR counts 33 million fans across the country, the sport is still alien to many.
But PBR has never before had a spokesperson like Mauney. Hes an American champion in a league that has been dominated over the last few years by Brazilian athletes. With blue eyes and a cheshire cat grin, the North Carolina farm boy has conjured name recognition not seen in bull riding since Lane Frost. The 26-year-old died of his injuries in 1989 after being bucked off a bull known as Takin Care of Business. Frost, the subject of multiple subsequent country songs, was immortalized by Luke Perry in the 1994 biopic 8 Seconds.
Mauney appeared on Colbert this past week. He opened the Nasdaq. Mauneys theme song, Bad to the Bone, will play every time he appears on the CBS livestream this weekend. The Madison Square Garden crowd a mix of Western transplants, curious hipsters, Brazilian expats, and female buckle bunnies all go nuts for him.
As the sport enters the mainstream, some of the rougher edges are being rounded off. In 2013, PBR ruled that any rider born after 1994 would be required to wear some kind of helmet. About half of older riders still elect to wear cowboy hats in lieu of protective head gear.
This year will be the first that PBR enforces its own concussion rule: a rider who shows symptoms of a brain injury will not be allowed to get on another bull that same night. While PBR conducts a three-part test that concussed riders must pass before returning to competition, many riders are back on bulls the following night or weekend. Under increased scrutiny for head injuries, the NFL, by contrast, reports that players who suffered brain injuries last season spent an average of 16 days off the field.
Unlike an MMA athlete or football player, elite bull fighters compete several times each weekend.
Like a fighter has six weeks out to a month knowin what hes gonna do to prepare for that one fight. Well, I gotta get in four fights this weekend, three fights next weekend, says rider Douglas Duncan, whos competed in the pro circuit for six years. He tries to maintain a gymnast form, practicing yoga and avoiding carbs. And with us breaking stuff all the time, you gotta figure out how to do cardio with that.
PBR riders also dont have guaranteed contracts, unlike NHL or NFL players. If they dont ride, they dont have a shot at winning any money. A $400 appearance fee is all they receive if they fail to successfully ride a bull on a given weekend.
Riding anywhere from 90-130 bulls over PBRs 26-stop season, a professional bull rider can easily expect three or four major surgeries in his career, according to PBRs Dr Tandy Freeman. Even if a rider avoids getting hung up in the rope, stomped under the bulls hooves, crushed against a bucking chute, or gored with a horn, theres no way to dismount gracefully, even on a winning ride.
Knee ligaments tears are one of the most common injuries, with many of the top riders competing sans ACL, MCL or PCL. Because surgery would see them without a paycheck for half the year, the medical staff often helps to tape and brace knees that are so torn up they no longer support a riders slender frame.
PBR athletic trainer Rich Blyn says its a challenge to educate riders about the hazards of chronic injuries.
To ride a bull the ACL is I dont want to say its not important, says Blyn, his lower lip full of chew. They still have to be able to get away from the bull, but we have found over the years that with tape, with bracing, or the combination of the two, they can compete and sort of put off that surgery.
He says he always explains to riders the dangers of waiting to enter surgery or rehab that they could end up a 30-year-old man with the arthritic, grinding joints of an 80-year-old.
They dont care, says Blyn. They just want to be able to get on another bull tomorrow.
Mauney, whos visibly frustrated at winning just $533.33 after three bulls, hulks out of the locker rooms with a pronounced limp. Hes lost both his ACL and MCL. He says it doesnt hurt it just makes him a bit wobbly on his feet.
He lives by the words his father, a former bull rider, taught him as a kid: You play the game, you take the pain. If both legs arent broken, a cowboy always stands up and walk out of that arena.
The first bull he mounted, at 13, left him with no illusions: Hit me in the face, my hand hung up, drug me around, stomped on me, and I guess I was too dumb enough to know this shit was gonna hurt.
Wearing the helmet his mom mandated, he competed in youth rodeo till he turned 18. At one of his first bull rides as an adult, he got trampled. Following his fathers example, he picked himself up and walked off.
The following day, when his lacerated liver swelled up to the size of a volleyball, his mom made him go to the hospital. Just a few months after surgery, and a few months before his doctor said he could, he debuted at PBR in Lexington, Kentucky.
Over the years, hes broken his leg, broken ribs, fractured his hip, broken a hand, shattered his jaw, and bruised both his kidney and spleen. Too many concussions to mention. All pretty standard. A few years ago, in response to a losing streak, he stopped wearing a helmet. In a cowboy hat, he says, he can better track the bull.
When he broke his riding arm in 2012, Mauney asked his brother-in-law and fellow PBR rider Shane Proctor to help him learn how to ride with his non-dominant arm. Proctor, whos lost two friends to the sport and has the bulls brands tattooed on each wrist, agreed. He tied Mauney onto bulls so he could continue to ride in a cast.
The reward for Mauneys persistence is almost $7m in 10 years on the PBR circuit, the most any professional bull rider has ever made.
Its the massive purse for the big winners that now draws the top bull riders out of competing leagues, like the Professional Rodeo Cowboys Association (PRCA). Some PBR riders, needing the money, ride in other competitive leagues on their rest days or during the two months off in the summer.
Before Mauney took to the circuit full time, he worked cutting grass and riding barrel horses. He even worked at a ball bearing plant for five or six months: Soon as I got back to riding, I said, Im gon make sure I make bull riding my living … cause, Im dang sure not gon do this the rest of my life.
Mauney describes PBR as a high-stakes roulette. Have a good ride, and you could pick up $40,000. Get bucked off or injured and you make almost nothing.
Halfway through the event, the weekends $200,000 purse is making a few riders a bit desperate. All they want is to pick a good bull in the next stage a round-winning bull. One that has a lot of fight in it.
JW Harris, who won $4,000 the night before on a bull named Fire Bender is the favorite going into Saturday nights round. He steps into the chute wearing a white stetson and mounts a bull called Mishap.
Harris nods open the gate, and with one massive kick, the bull is 20 feet out from the chutes. Mishap immediately turns a sharp right, and before the announcer has stopped introducing the ride, Harris slips off the bulls left flank. Harriss hat flies through the air and he falls free of the rope and under the bulls jackhammering hooves. Mishap turns again and rams Harris with his horns. Harris rolls clear, pushes himself to his feet, and slumps against the rails. Hes bleeding from his neck.
The medics who walk him out say hes fine. Bloody nose. Nothing to worry about.
The following day, Harris hasnt put on his chaps. The medical teams says he opted out of an x-ray the previous night and might have broken ribs. Hes chosen not to ride, and like many riders with suspected serious injuries, will wait until he gets home to Texas tomorrow before seeing a doctor.
Harris, 29, walks like a man aged 50 years overnight. A four-time PRCA World Champion, he transferred to PBR in 2013, saying he was too old to be riding bulls for free.
There are bags under his eyes today, and hes hoarse from catching a horn to the throat. He suffered a similarly bad wreck the previous weekend, in Rosemont, Illinois, where fellow rider Bonner Bolton fractured his C2 vertebrae.
Everything from about my chest up hurts, says Harris. My elbow was really the determining factor because its my riding arm and I cant straighten it.
Before the start of the final rounds on Sunday, riders Cody Nance, from Tennessee, and Mike Lee, from Texas, pray for a visiting family with a disabled child. Lee has a three-inch scar on the right side of his head from brain surgery when he was 20. He returned to riding three months earlier than doctors advised.
While some riders study their bulls before they ride, Nance says he focuses on physical training. He does yoga and P90x and says he tries to be a good father and a good Christian: I try not to expect anything because its all fulfilled anyway. These bulls got a mind of their own.
In the last rounds of competition, Brazilian Paulo Ferreira Lima, achieves a perfect fourth bull ride, taking a total payout of $129,500. Silvano Alves is bucked off his third and final bull, leaving with just $400. Lee is also bucked off his last bull, prompting him to head-butt the bucking chute twice in his helmet. He then goes down on one knee and says a prayer. He takes home $1,550 for his wife and three kids.
Mauneys performance improves on the last night, successfully riding Shaft, the same bull that bucked him off Friday night. Everything hurts, he says, but I dont like gettin beat. He walks away with $3,600.
The riders, wrapped in ice packs, sign a few autographs as the gates dissolve around them. They check off their names on a clipboard to prove they met their public and quickly pack up their stuff. Their work allowed for the highest rated TV programming that weekend outside of the NFL. While a couple of the guys talk about grabbing a beer, most of the them are either with their families or ready to get home to them. With suitcases in hand and clean stetsons on, they walk carefully out onto the snowy streets and down into the subway.
Read more: www.theguardian.com