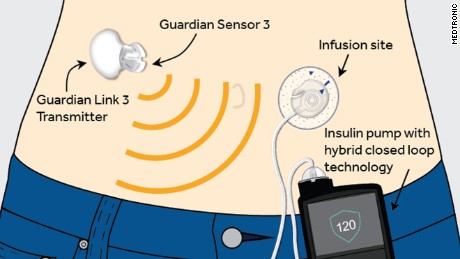 (CNN)The Food and Drug Administration approved a so-called artificial pancreas Wednesday. The first-of-its-kind device, the size of a cell phone,monitors and treats patients with type 1 diabetes, also known as juvenile diabetes.
In those with type 1 diabetes, the pancreas does not produce enough insulin, a hormone people need to get energy from food. The
Medtronic MiniMed 670G
system continuously monitors glucose (blood sugar) levels and delivers needed insulin to patients.
"This is a revolutionary day for the treatment of diabetes. We've been long awaiting the artificial pancreas, and it's exciting to see it," said Dr. Robert Courgi, an endocrinologist at Northwell Health's South Side Hospital in Bay Shore, New York.
"It is designed to learn what an individual's insulin needs are and to take action to minimize both high and low glucose levels," said Hooman Hakami, group president of Medtronic Diabetes, in a
blog post
.
Although little or no input is required of a patient to maintain basal insulin — also referred to as "background" insulin, this is the amount available whether a person eats or not — the artificial pancreas does require users to manually adjust their bolus insulin.
Bolus insulin refers to the extra doses of insulin a normally functioning pancreas makes in response to eating food. Type 1 diabetes patients currently take a bolus dose of insulin to respond to the natural spike in blood sugar that can occur after eating certain foods.
FDA concerns
As part of the approval process for the Medtronic device, the FDA evaluated data from a clinical trial involving 123 participants.
"The fear was life-threatening hypoglycemia (low glucose levels) from the device," said Courgi, who heard a lecture on the artificial pancreas at an endocrinology conference last year. He has no ties to the company that makes it.
However, no serious side effects, including severe hypoglycemia, were reported during the study. However, the FDA still requires further study to better understand how the device performs in real-world settings once it is commercially available.
Medtronic, based in Dublin, Ireland, has begun studies to evaluate the safety and effectiveness of the device when used by diabetic children between the ages of 7 and 13.
The FDA cannot be faulted for beginning with older patients first, said Courgi. "We expect improvements … as it becomes more mainstream and more data comes back; then we can extend it to the younger population."
Read more: www.cnn.com