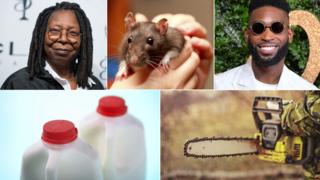 It's hard to know what to trust on April Fool's Day as there are are many stories that seem rather strange but are in fact genuine.
But here is a round-up of some of this year's odder stories that are apparently true.
1. Transparent wood could soon replace glass in some windows. Swedish researchers have engineered the non-shattering material by stripping out the component that makes wood brown and replacing it with acrylic. The wood could let in light while still maintaining privacy for residents.
2. A fashion designer has released a 185 T-shirt modelled on the courier DHL's employee uniform. French firm Vetements has a reputation for selling expensive "normcore" hoodies and tracksuits. The garment has been much mocked on social media, but has already been modelled by the DHL Express chief executive, as well as actor Jaden Smith's model girlfriend Sarah Snyder.
3. Whoopi Goldberg plans to launch her own line of medical marijuana products to combat period pains. For legal reasons, it will only be sold in California and the range includes sipping chocolate and bath soak. "I don't want this to be a joke to people. It's not a joke to women," she said.
4. South Wales Police have come up with a novel way of entering buildings – by using a chainsaw. They used the technique in preference of the usual battering ram during a drugs raid in Cardiff.
More details (Daily Telegraph)
5. Skimmed milk can be described as an "imitation milk product", a Florida judge has ruled – unless vitamins are added – in a long-running dispute. "I refuse to lie to my customers, so I have stopped selling skim milk until I am allowed to tell the truth again," says one disgruntled seller.
6. There's a trend for denim-coloured hair. Denim has long been a fashion staple but now some people are combining blue, purple and grey colour to leave their hair looking vaguely like jeans.
7. The CIA has been left red-faced after forgetting they had left "explosive training material" on a school bus in Virginia. Detectives had hidden it in the engine compartment as part of a training exercise for explosives-detecting dogs. It was found by a surprised technician from Briar Woods High School during routine maintenance.
8. Tinie Tempah intends to buy a farm and loves the BBC's rural and environmental affairs programme Countryfile. Speaking on the Jonathan Ross Show, the 27-year-old rapper also revealed his plans to settle down in the near future. "Three more years of a lot of fun and then probably settle down, have a family, live on a farm, get some animals," he said.
More details (Belfast Telegraph)
9. A bounty is being offered to everybody who kills a rat in the Pakistani city of Peshawar. From Tuesday, residents will be paid 300 rupees (2) for every rodent apprehended in the worst-affected part of the city. That bonus is reduced to just 25 rupees in the rest of the city.
More details (Channel News Asia)
10. A politician from Missouri is so fed up with her colleagues saying "physical" when they mean "fiscal" that she's filed a resolution demanding that they mend their ways. "There are a lot of reasons to be depressed about the Missouri Legislature, and this just kind of piles on," State Rep Tracy McCreery says.
Compiled by Claire Bates, Harry Low, and Jon Kelly
Subscribe to the BBC News Magazine's email newsletter to get articles sent to your inbox.
Read more: www.bbc.co.uk