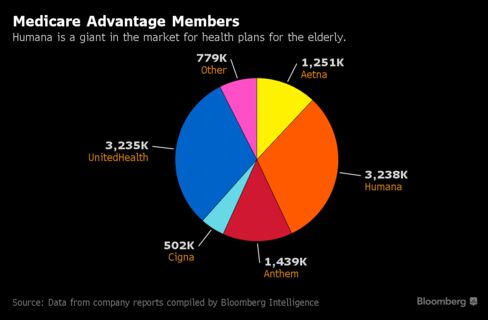 U.S. antitrust enforcers roundly rejected a pair of proposed deals that would consolidate the nations five biggest health insurers into three.
The Justice Department on Thursday sued to block two separate tie-ups — Anthem Inc.s $48 billion takeover of rival health insurer Cigna Corp. and Aetna Inc.s $37 billion bid for Humana Inc. — saying the deals would raise health-care costs and reduce choice for consumers.
"For most Americans, health insurance is not luxury but a necessity," Attorney General Loretta Lynch said in Washington. "Health insurance can mean the difference between life and death. If the big five were to become the big three, not only would the bank accounts of American people suffer, but the American people themselves."
Fight Lawsuits
Three of the companies said they would fight the lawsuits, which could tie them up in months of litigation, dragging out deals that were announced about a year ago. Cigna said it was reviewing its options under the merger agreement, which contains language that may require it to defend a government challenge. The insurers could also agree to abandon the transactions, potentially sparking a round of new deals.
The lawsuits continue a string of merger challenges by antitrust enforcers looking to stop industry consolidation, dealing a blow to Anthem and Aetnas bids to gain scale by snapping up rivals. The actions underpin wider sentiment within President Barack Obamas administration about the importance of protecting competition among health insurers. By challenging the deals, the administration has seized another opportunity to shape the future of health care — an effort to safeguard choice and affordable options for consumers — after passage of the Affordable Care Act.
Earlier this month, Obama himself wrote an essay for The Journal of the American Medical Association in which he emphasized the need for competition to keep health care affordable for consumers. Health and Human Services Secretary Sylvia Mathews Burwell, whose department is closely watching the deals because of their potential impact on the delivery of medical plans under the health care law, also highlighted the importance of competition in insurance markets in an interview with Bloomberg News on July 15.
Vigorously Fight
Aetna and Humana said in a statement that they will vigorously fight to complete their deal. Cigna, meanwhile, cast doubt on whether its deal can be completed. Anthem said its ready for a court fight, but is also open to a settlement with the Justice Department.
The DOJs action is based on a flawed analysis and misunderstanding of the dynamic, competitive and highly regulated health care landscape and is inconsistent with the way that the DOJ has reviewed past health care transactions, Anthem said.
Shares of all four companies rose after the lawsuits were filed in federal court in Washington. Humana, which also raised its 2016 financial forecasts Thursday, rose 7.8 percent to $170.81 at 2:15 p.m. in New York, while Aetna was up 2.4 percent to $119.23. Anthem rose 2.9 percent to $139.43, and Cigna climbed 3.7 percent to $138.09.
If Anthems bid for Cigna falls apart under antitrust scrutiny, Cigna is owed $1.85 billion, according to the terms of their agreement. Aetna would owe Humana $1 billion should its takeover fail under a U.S. challenge.
Divestiture Proposals
Aetna did present two divestiture plans to the Justice Department in an effort to resolve the governments concerns and allow the Humana deal to go forward, a person familiar with the matter has told Bloomberg News. Health insurers including WellCare and Centene offered to buy the policies up for sale, which cover about 350,000 people, the person said.
Aetna Chief Executive Officer Mark Bertolini said in an interview that the company was willing to offer more divestitures in an effort to resolve the governments complaint.
Bill Baer, the Justice Departments No. 3 official, said at a press conference the proposals offered by companies in both deals fell far short of restoring the competition that would be lost from the mergers, and he signaled it was unlikely any remedy would work for either deal.
"The standard we apply is: Will the status quo be preserved? Will consumers after a divestiture benefit from the same degree of competition that exists today?" he said. "We have zero confidence that the proposals that have been made to us come close to meeting that standard."
The government said in its complaint that Anthems deal for Cigna would hurt competition for millions of consumers who receive commercial insurance from national employers as well as large-group employers in at least 35 metropolitan areas, including New York and Los Angeles. Aetnas planned takeover of Humana would undermine competition in 21 states for Medicare Advantage plans, the government insurance program for the elderly, affecting more than 1.5 million customers, the Justice Department said. Both deals also hurt competition on the health-insurance exchanges under the Affordable Care Act, it said.
After the lawsuits were filed, Humana said it expects to record significant losses in its business selling health insurance to individuals who arent covered by Medicare, the U.S. program for the elderly and disabled, and would exit eight of 19 states where it sells individual plans under Obamacare.
If the Anthem-Cigna merger ultimately fails, smaller insurers could become targets for Cigna, including WellCare Health Plans Inc., Centene Corp. and Molina Healthcare Inc. Anthem, meanwhile, has said it would be interested in buying assets from Aetna and Humana if they win approval for their deal conditioned on divestitures. The Justice Department can decide to settle the lawsuits if it finds asset sales by the companies resolve its concerns about the tie-ups.
The Justice Department signaled its opposition to the deals early on. In March, Baer, who is the former head of the antitrust division and the person who decided to bring the lawsuits, told lawmakers the two takeovers are a game changer for the industry. He also said a year ago he would assess the industry as a whole, given the surge of deals, to make sure competition is preserved and the mergers dont lead to higher costs for consumers.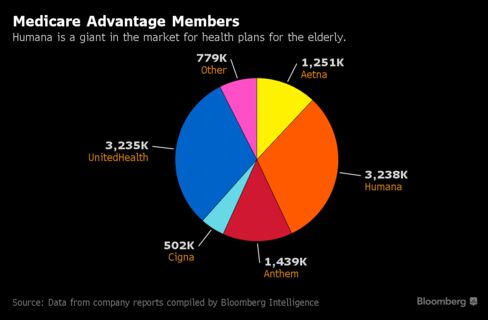 The combinations also faced criticism from the start from consumer groups worried about higher premiums as well as from hospitals and doctors, who risk seeing lower payments from insurers that have more bargaining power. In June, a group of Democratic senators called for the Justice Department to stop the transactions.
If Anthem and Cigna can overcome the governments challenge, their combination would create the biggest U.S. health insurer by membership, topping UnitedHealth Group Inc., with total revenue of about $115 billion. The bulk of the companys revenue — about 66 percent — would come from administrative services sold to self-insured employers. The combined company would have about 29 percent of that market, according to data compiled by Bloomberg.
Medicare Advantage
If Aetna ultimately is allowed to buy Humana, it would become the biggest provider of Medicare Advantage plans. The combined company would have about 25 percent of that market, according to Bloomberg, with about half its $115 billion in revenue coming from Medicare plans, Aetna has said.
Eight states including Florida and Illinois, plus the District of Columbia, are joining the suit to block the Aetna-Humana deal. Nine states and the District of Columbia joined the U.S. action against the Anthem-Cigna deal, including California, New York and Connecticut, with two more — Colorado and Tennessee — later added to the docket.
The cases are U.S. v. Anthem Inc., 16-cv-1493, U.S. District Court, District of Columbia (Washington) and U.S. v. Aetna Inc., 16-cv-1494, U.S. District Court, District of Columbia (Washington).
Read more: www.bloomberg.com