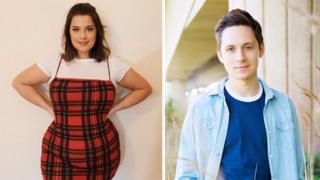 Many people still don't know the signs someone has an eating disorder.
Of 2,108 adults surveyed by YouGov, 79% were unable to name psychological symptoms, such as low self-esteem or body dysmorphia.
But for yoga instructor James Downs, and blogger Aliss Bonython, this doesn't come as a surprise.
They both live with eating disorders and say a misconception around what that looks like has been very damaging.
James says he was diagnosed with anorexia when he was 15. He's now 28 and a healthy weight but tells Newsbeat he still deals with bulimia everyday.
"I've worked really hard to be a 'normal' weight and I look 'normal' – so people find my bulimia quite hard to understand.
"When I was really underweight, obviously people knew something was wrong, it was very visible that I was not okay."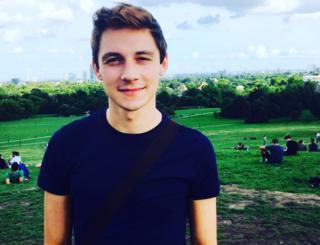 "I do a lot of physical exercise and teach yoga, so obviously I use my body for work and try to help other people feel well in their bodies.
"But I don't think people realise I'll go home and spend nearly two hours everyday being sick with the bulimia," he says.
James thinks that as well as his appearance, gender can also be a "barrier" when seeing doctors.
"It can't just be an eating disorder because you're a guy – maybe there's something else underlying it," he says.

Aliss also uses her body for work.
The student and body positivity blogger from Nottingham uses her platform to show that anorexia and bulimia has no body type.
The 22-year-old says there's an idea that the opposite of anorexia is obesity – "but anorexia is a mental disorder, not a body size," she tells us.

"I've been living with it [an eating disorder] since I was eight.
"It started with me cutting out certain foods, which turned into anorexia, before I fell into Bulimia during my recovery," she says.
"The signs are so much more than weight and not eating at all – it's having an aversion to eating meals, not wanting to eat around people and saying that you've eaten before when you actually haven't."

Aliss says her main mission is continuing to put her body image out there in order to show people that weight is not a tell-tale sign of an eating disorder.
"I like to show people completely unaltered bodies and different body images, as this one-size-fits all mentality is the real problem."
Listen to Newsbeat live at 12:45 and 17:45 every weekday on BBC Radio 1 and 1Xtra – if you miss us you can listen back here
Read more: www.bbc.co.uk