Even in a divisive election year, Americans are largely united in their appreciation of woman-on-woman porn.
"Lesbian" was the most-searched term in 30 U.S. states in the first month of 2016, according to data from news site Vocativ and Pornhub, one of the top destinations for adult content on the web. That same term was also the most-searched on Pornhub internationally in 2015.
Not everyone searching for lesbian porn is likely to place themselves on the lesbian or gay end of the sexuality spectrum. In fact, "Lesbian" was the top-viewed category among "straight" women in 2014, according to an earlier study from Pornhub.
Why are straight women watching other women get frisky? The sex depicted in "lesbian" porn might just be more appealing to female viewers, according to a Huffington Post report last year.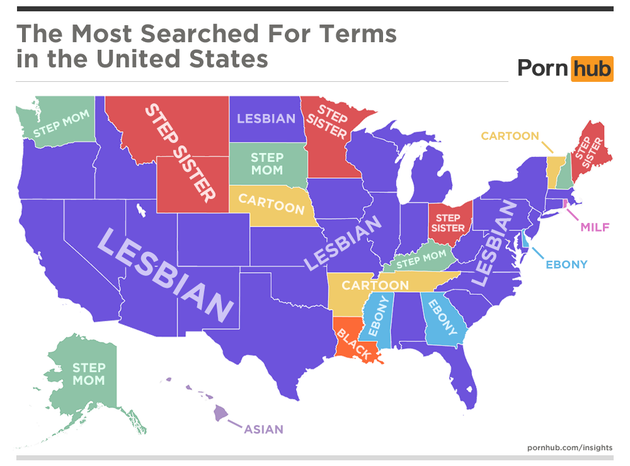 "There … tends to be more foreplay," sex therapist Kimberly Resnick Anderson said of lesbian porn, per a 2015 interview with HuffPost. "Whereas in the straight porn, it may go straight to the f**k scene or money shot. In lesbian porn there's a focus on breast stimulation. It tends to be more tender and more intimate."
Although "lesbian" tops Pornhub's search rankings, several Western states prefer watching sex of the almost-incestuous variety. "Step sister" and "step mom" were the most-searched terms in Montana, Wyoming and Minnesota, as well as in Ohio and Maine.
"Ebony" or "black" were the most-searched terms in a few southern states. While it's tempting to see that as indicative of those states' large African-American populations, Pornhub did not release additional demographic information on its viewers.
And, importantly, there is a long history in the U.S. of sexualizing black female bodies, often by white men.
"For centuries the black woman has served as the primary pornographic 'outlet' for white men in Europe and America," Alice Walker wrote in her book You Can't Keep A Good Woman Down.
But don't worry, you're probably watching lesbian porn anyway.
CORRECTION: An earlier version of this post incorrectly identified Wyoming as Colorado.
MORE:
Read more: www.huffingtonpost.com