The forwards outpourings of frustration after Chiles latest defeats suggest that retaining him is not the coup Arsenal might present it as, yet he remains key to dragging them out of their current mess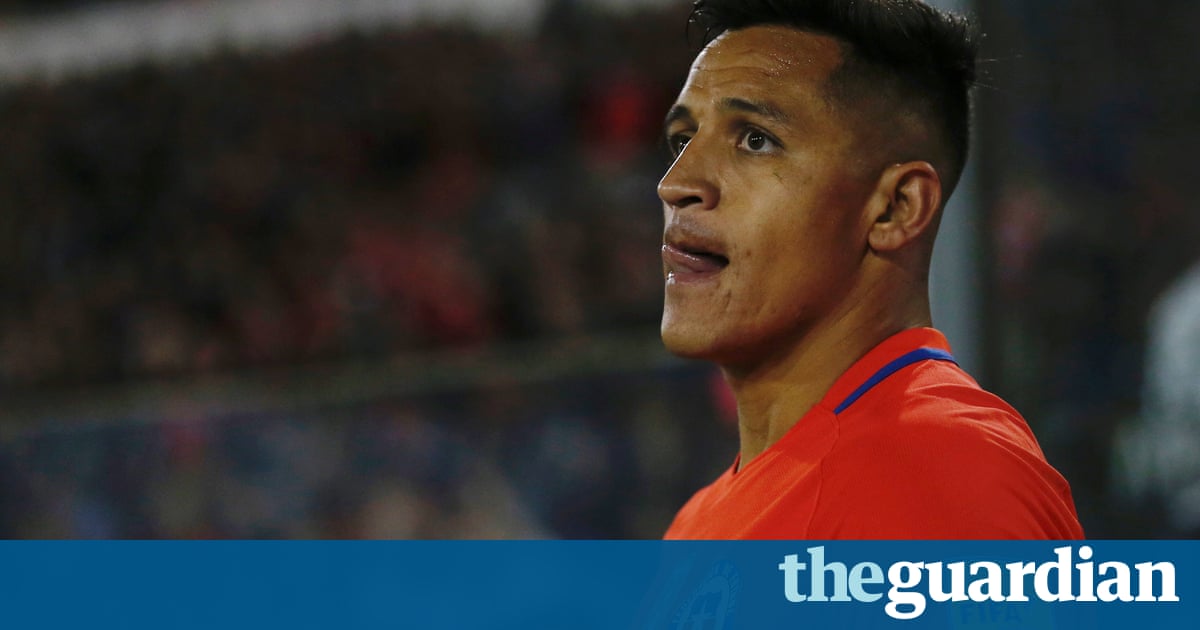 In a little under a week, Alexis Sánchez's life has been turned upside down. When the Arsenal forward woke up last Thursday, on transfer deadline day, he was assured that he would complete his endlessly trailed move to Manchester City; the one he had wanted and made no secret about pushing for.
It did not happen for a number of reasons, chief among them Arsenal's failure to close an incoming deal for Monaco's Thomas Lemar, despite an offer to the French champions of €100m (£92m).
That night Sánchez played in a World Cup qualifier for Chile at home to Paraguay. They lost 3-0. Then, on Tuesday, he and his international team-mates faced Bolivia. They lost 1-0. Rather abruptly, Chile have slipped from fourth place in the South American standings to sixth – with two matches to play; the first at home to Ecuador, the second away to Brazil. The top four nations qualify automatically, with the fifth entering a play-off. Chile's hopes have been left hanging by a thread.
Sánchez is not, generally, given to public pronouncements but he poured out his heart on Instagram after the defeat in Bolivia. "You get tired of being criticised with reason and without reason, you get tired of those who want you to lose, you get tired of saying to yourself: 'I'll get up again,' after crying after a defeat," Sánchez wrote.
"You get tired of telling the world and people who are with you that everything is going well. And the worst is that no one ever realises how that makes you feel. I have the No7 of Chile on my back and it is a huge responsibility. That's why it makes me sad that journalists and bad people criticise without knowing."
It did not take a psychologist to detect a man whose frustration is overwhelming and whose focus has to be open to question. Sánchez will now come back to a club he wanted to leave and attempt to unscramble himself for the potentially fraught home fixture in the Premier League against Bournemouth on Saturday.
Sánchez was not the only Arsenal player who wanted out and was denied his wish. Héctor Bellerín told Arsène Wenger in a face-to-face meeting in early July that his heart was set on a move to Barcelona and, later in the window, Shkodran Mustafi voiced a desire to leave. Both have stayed. The Mesut Özil stand-off rumbles on – the midfielder is running down the final year on his contract, although he lacked suitors over the summer – and what of players such as Mathieu Debuchy and Jack Wilshere?
But it is Sánchez's situation that has drawn the bulk of the headlines and the backdrop to his return is a sense of battle fatigue in the dressing room. Some of his team-mates have had enough of him and the whole soap opera and they felt it would have been better for the club to have taken City's money and moved on.
Instead, those players and everyone else must prepare for another season-long plot line. Last time out it was Wenger and the will-he-won't-he saga of the manager's contract renewal. There is no will-he aspect to the Sánchez story; he will not stay beyond next summer and the expiration of his deal but, nonetheless, it is surely an unwanted distraction.
The scrutiny on him promises to be relentless; every performance and every gesture will be viewed through the prism of his wish to leave. Sánchez might have felt the weight of the Chile No7 shirt but what of his Arsenal jersey? Despite everything, he remains the club's most talented player and the imperative will remain on him to make the difference.
Wenger can be expected to talk up the positives of the retention of Sánchez at his press conference on Thursday morning. This is a player who is defined by his warrior spirit and simply wants to play and win when he steps onto the pitch. Everything else is forgotten. The club's hierarchy are confident that Sánchez's innate drive will slice up the other issues – particularly in a World Cup year. How they need Chile to find a way to the finals.
Read more: www.theguardian.com