Albert Woodfox spent 43 years in solitary confinement as one of the Angola Three. Finally released in February this year, here he talks about survival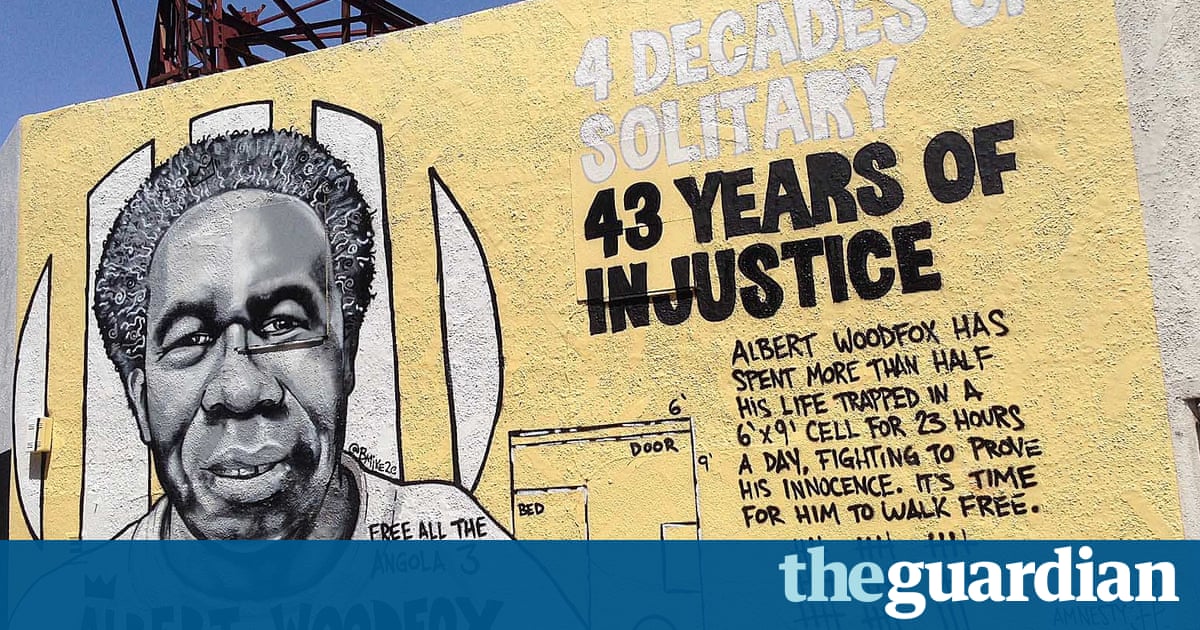 Everybody has fear, says Albert Woodfox. Fear is the soul telling the body that its in danger. Some people overcome that fear. I overcame it by having a cause. Thats what the party told me: always be honourable, always serve the people. Woodfox, now a grizzled 69-year-old, has had more reasons to be afraid than most, and when he says that he has known more pain and suffering than any human being should be asked to suffer, he is not exaggerating. At the hands of the American penal and judicial system he has endured wrongful imprisonment and deprivation of basic needs to a degree that seems outlandish in an advanced democracy. Yet his experience is not unique. It is an extreme version of something inflicted on thousands of others, and it is on behalf of these others that, he says, he continues to fight.
This February, as he puts it, I walked through the gates of hell into freedom. He was released from 45 years incarceration, almost 44 of them in solitary confinement, for most of the time in the Louisiana State Penitentiary, also known as Angola prison. Originally imprisoned for armed robbery, he was later sentenced for the fatal stabbing in 1972 of a prison guard called Brent Miller, a conviction ruled unsafe three times by a federal judge. Together with two other prisoners subjected to decades of solitary, Robert King and Herman Wallace, Woodfox was one of the Angola Three, whose treatment provoked sustained campaigns for their release . Wallace was convicted along with Woodfox for Millers murder, King for a separate murder of another prisoner, of which he was eventually cleared.
Even had he been guilty of Millers murder, decades of solitary confinement would be an exceptionally sadistic punishment, one defined as torture by the United Nations. Woodfox believes it was inflicted on him because he joined the Black Panthers in prison, the party to which he refers. I know how many times they offered that if I gave up my party theyd let me out of solitary. Each time I told them, get out of my face.
The phrase solitary confinement might suggest total isolation, a blank-walled cell with a lightbulb, food pushed through a slot in the wall, a condition which over any length of time would destroy anyone. Woodfox is at pains to say that in Angola his was not this Hollywood version but rather 23 hours a day locked into an 9ft by 6ft (2.7 metres by 1.8 metres) cell, barred at one end, in a tier of 14, 15, 16 similar cells. Some communication was possible with neighbours, even if he could not see them, or with other inmates on their way to the showers. The Angola Three made themselves chess sets out of twisted toilet paper and played games by shouting moves to each other. Woodfox would also walk repeatedly up and down his three-yard-long universe in an effort to keep fit.
The former attorney general of Louisiana James Buddy Caldwell has tried to argue that this wasnt really solitary at all, on the basis of the limited human contact allowed that, rather than being absolutely unsurvivable, it was merely almost so. The United Nations disagrees with his definition and says that no form of solitary confinement should be imposed for more than 15 days that is, about a thousandth of Woodfoxs punishment after which some of the harmful psychological effects of isolation can become irreversible. CCR, or closed cell restricted, to give the term preferred by the prison system, is incomprehensibly harsh. Some inmates, none of whom suffered it as long as Woodfox did, curled themselves up in foetal positions, others screamed. That may seem good, says Woodfox of the fact he could talk to other prisoners, but given the nature of some of these guys driven insane, sometimes it wasnt.
Read more: www.theguardian.com