In a year almost certain to be historys hottest, drastic environmental changes are taking a toll on food supply and even language in Arctic communities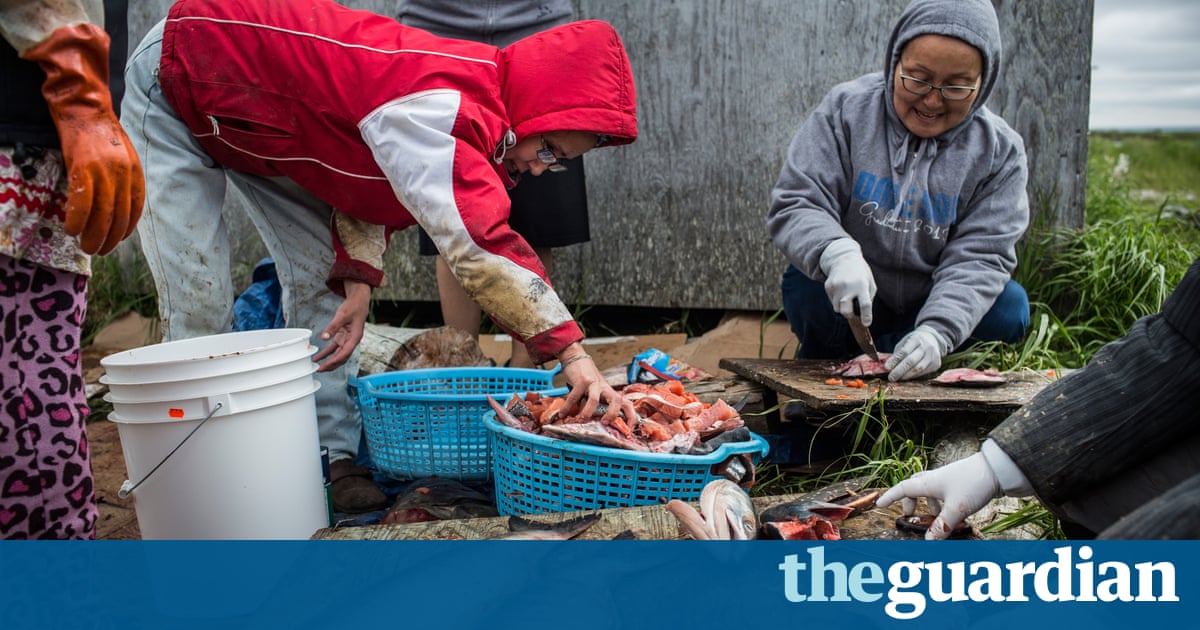 The extreme warmth of 2016 has changed so much for the people of the Arctic that even their language is becoming unmoored from the conditions in which they now live.
The Yupik, an indigenous people of western Alaska, have dozens of words for the vagaries of sea ice, which is not surprising given the crucial role it plays in subsistence hunting and transportation. But researchers have noted that some of these words, such as tagneghneq (thick, dark, weathered ice), are becoming obsolete.
After thousands of years of use, words are vanishing as quickly as the ice they describe due to climate change. The native inhabitants are also in peril there are 31 Alaskan towns and cities at imminent risk from the melting ice and coastal erosion. Many will have to relocate or somehow adapt.
In December, we normally have waters covered in ice but right now we have open water out there, said Vera Metcalf, director of the Eskimo Walrus Commission, which represents 19 native communities stretching along Alaskas western coast. We are so dependent upon sea ice conditions. Its our life, our culture.
Arctic sea ice extent slumped to a record low in November, winnowed away by the warming air, warming seas and unhelpful wind patterns. The regions 2016 temperature has been 3.5C warmer than a century ago. In some locations the divergence from the long-term average has been an eye-watering 20C.
On 21 November, the decline on the long-term average of sea ice extent for that day was 888,000 sq miles (2.3m sq km) an area 10 times larger than the UK, but smaller than the long-term average. Almost every year now we look at the record of sea ice and say wow, but this year it was like three times wow, said Tad Pfeffer, a geophysicist at the University of Colorado. This year has been a big exaggeration on the trends weve already been seeing.
These numbers have resonance for people who require dependable rhythms in the environment in order to survive. In remote Alaskan communities, the stores sell goods priced to reflect their journey $20 for a pizza, $15 for a gallon of milk. If you cant butcher a 1,000lb walrus because there is no sea ice to support both of you, then you might well be left hungry.
The window of opportunity for hunting continues to shrink, Metcalf said. The communities are worried about this because food insecurity is something we are now having to tackle every single day.
Metcalf grew up on St Lawrence island, a far-flung piece of the US that sits just 36 miles from Russia in the Bering Sea. The island is thought to be one of the last exposed fragments of a land bridge that connected North America to Asia during the last ice age.
In 2013, the islands two main communities managed to catch just a third of the walruses they normally do. Last year, Gambell, the largest settlement, snared just 36 down from the 600 it could expect just a few years ago.
Sea ice is further out from land than it once was and is becoming treacherously thin for hunters to traverse. Walruses, which require sea ice for resting and giving birth, often have to resort to heaving themselves on to crowded strips of land. These grand tusked beasts can trample each other to death in such conditions.
Its not like the walrus populations are changing, its that the climate is changing the conditions, Metcalf said. We are trying to plan better but we cant go out every day and hunt. We can try to adapt and hunt caribou or moose but its not easy. It comes at a cost to us.
Read more: www.theguardian.com