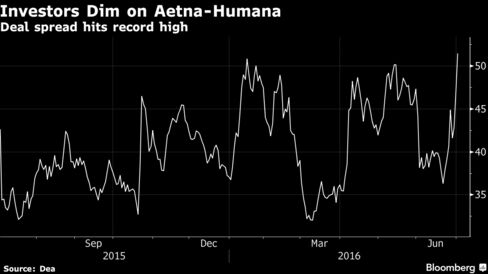 Aetna Inc., the health insurer, is preparing to sell assets worth several billion dollars as it seeks to quell regulatory concerns over its proposed $37 billion takeover of smaller rival Humana Inc., according to people familiar with the matter.
The company is working with advisers to identify a portfolio of assets that could, if divested, reduce any significant overlap between its operations and those of Humana, the people said, asking not to be identified as the matter is private. The process is advanced and assets could be marketed to potential buyers within weeks, the people said.
Any sale of assets by Aetna would be conditional on the completion of its deal with Humana, they said.
News of possible asset sales didnt do much to revive investor optimism about the deal prospects. Aetna lost 1.8 percent to close at $119.95 Friday. Humana was down as much as 5.5 percent before closing 3.3 percent lower at $174. The spread between the offer and the share price hit a record before the report about Aetnas plan, indicating investors are pessimistic the deal will close. That spread narrowed slightly after the report.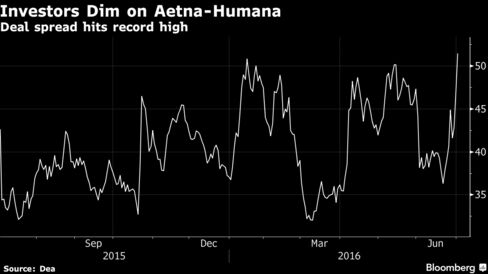 A representative for Aetna declined to comment, while a spokesman for Humana didnt respond to requests for comment.
The market for private health plans for the elderly, known as Medicare Advantage, has emerged as a focus of antitrust concern. An analysis by the Kaiser Family Foundation last July found that a combined Aetna-Humana would have at least half of all Medicare Advantage enrollees in 10 states, and at least two-thirds in five states.
Aging Population
Humanas big position in the fast-growing Medicare Advantage market is a key piece of its appeal to Aetna. The policies are becoming more popular among U.S. seniors, and the industry is expanding as the population ages. Humana already has about 3.2 million Medicare Advantage health-plan clients, and Aetna has 1.3 million. Together, theyd be the largest provider of Medicare Advantage plans by a large margin.
Californias insurance commissioner called on the Justice Department to block the deal, citing reduced competition in markets for insurance plans in the state, including Medicare Advantage. The same states Department of Managed Health Care approved the transaction. In Missouri, the state insurance regulator found the deal would lead to too much concentration in the Medicare Advantage market. That leaves the door open for Aetna and Humana to submit a plan to remedy the issue.
Aetna has said other firms have expressed interest in the assets it may have to divest.
Obviously, people, since we announced the transaction have expressed interest, Karen Lynch, the companys president, said at an investor conference on June 8. When we are ready to have the conversations around divestitures there, we believe theres a number of interested parties.
Anthem-Cigna
The effort comes as health insurers Anthem Inc. and Cigna Corp. are pursuing their own $48 billion combination. The department has told Anthem that its planned purchase of Cigna threatens competition and probably cant be fixed by selling parts of their businesses, people familiar with the matter said this week. Bill Baer, the No. 3 official at the Justice Department, has said the deals represent a game changer for the industry.
The Humana takeover has a higher probability of winning approval than reflected in market trading, according to Ira Gorsky, an analyst at Elevation LLC. While resolving antitrust issues in Anthems bid for Cigna would require unmanageable remedies, the Humana deal is easier to fix because its primarily about Medicare Advantage, which is based on distinct, local markets, Gorsky said.
Humana has been unfairly tarred with the issues Cigna has, Gorsky said in an interview on Bloomberg Television Friday. Its a much different transaction.
Read more: www.bloomberg.com