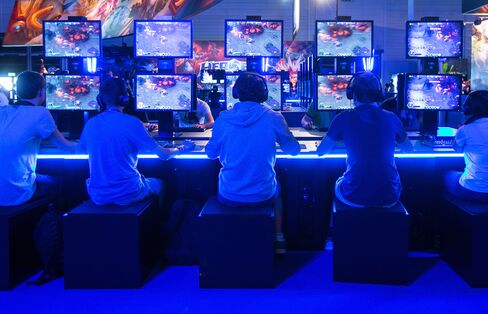 When the French telecom giant Vivendi SA wanted to get out of video games and pay down debt in 2013, the heads of its Activision Blizzard business engineered an unusual deal — one thats about to deliver them a $1 billion profit, at least on paper.
Vivendi agreed to sell 601 million Activision shares. While most of the stock was bought back by the video game company — the producer of hits like Call of Duty — its leaders Bobby Kotick and Brian Kelly led a group that purchased about 30 percent through a partnership called ASAC II, putting in $100 million of their own money.
The group said last week it plans to distribute shares to its limited partners on June 8 based on a previously agreed-upon formula. Kotick, Activisions chief executive officer, and Kelly, the chairman, could receive 31.6 million shares worth some $1.2 billion, according to estimates from Michael Pachter, an analyst at Wedbush Securities Inc. ASACs limited partners, including Davis Advisors, Leonard Green & Partners and Tencent Holdings Ltd., could receive 140 million shares, worth $5.3 billion.
Not bad for two years and eight months of work, said Pachter, whose calculations dont include $800 million the partnership borrowed.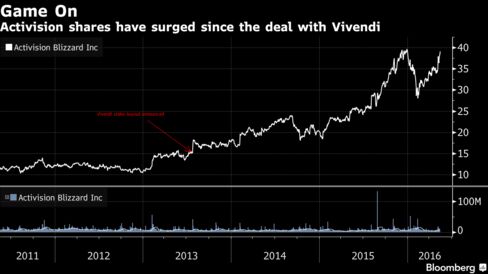 The deal was controversial from the day it was announced in July 2013. Activision got Vivendis holdings for $13.60 a share, a 10 percent discount to the market price. While thats not unusual for a huge sale, Kotick, Kelly and their partners also obtained their stock at that same price. The shares rose 15 percent to $17.46 after the announcement.
Shareholders sued Vivendi, Activision and its board, claiming the discount allowed the insiders to enrich themselves at the expense of the game companys other investors.
According to the shareholders attorneys, a model prepared by Kotick and Kellys advisers showed the two would be distributed over $1 billion on their $100 million investment upon exit in three years, a Feb. 11, 2015, court filing shows.
On the eve of trial, Kotick, Kelly and the board settled, with the executives, their directors and insurers agreeing to reimburse Activision $275 million. Kotick and Kelly declined to comment.
Whats helped drive their gains has been a 124 percent increase in Activision shares since Kotick and Kelly completed the Vivendi buyout.
Big Turnaround
At the time, the video game industry was facing a huge new rival in free-to-play games on Facebook, and Activisions big hit World of Warcraft was losing subscribers. Kotick and Kelly steered the company toward digital purchases as the market waned for game discs bought in stores. They developed new franchises such as Destiny and Hearthstone, while establishing Activision as the leader in mobile gaming with the February purchase of King Digital Entertainment for $5.9 billion. TV shows and movies are also on tap.
Activision rose 1 percent to $38.29 at the close on May 13, giving the company a market value of $28.3 billion. The stock is little changed this year.
The group announced the distribution plan in a regulatory filing on May 9. The limited partners will be responsible for their portions of the debt outstanding when the shares are handed out, according to the filing. That could lead some of the investors to sell stock, potentially depressing the price and trimming their gains.
Read more: www.bloomberg.com