Fatherhood support groups in Boston help working-class dads deepen relationships with children that go beyond the ascribed role of breadwinner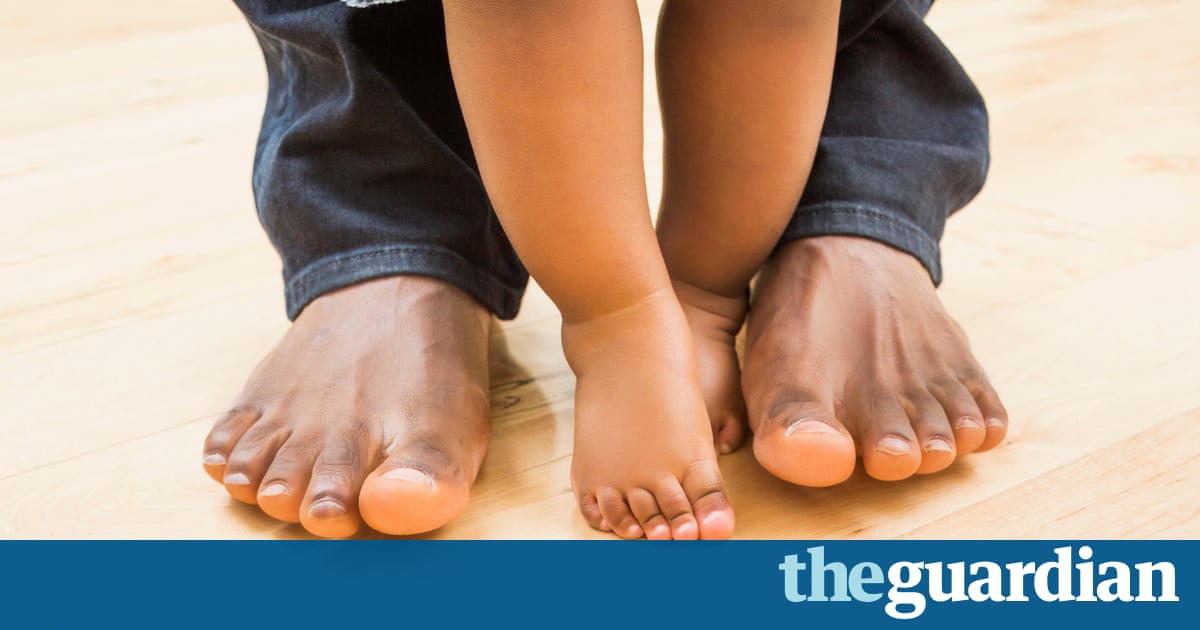 On a Saturday in late October, in the working-class Boston suburb of Revere, an organization called the Fatherhood Project held a scheduled playgroup for dads and kids. About 10 dads showed up that day. Some of the fathers had grown up in north Africa or eastern Europe, and some in greater Boston. There were single dads, dads with partial custody, and married dads.
Fathers and children sat in a circle on the floor while John Badalament, the director of programs, led them in singing Baby Beluga and The Wheels on the Bus. Then, while the children played with toys under the supervision of staffers, Badalament sat with the fathers at a table to talk.
The conversation quickly turned to the details of potty training and preschool drop-offs. One father said hed been having trouble at bedtime because his daughter would rather have mom with her. Dont give up, Badalament responded. Its like, Sorry, youve got dad tonight.
The Fatherhood Project, which operates out of Massachusetts general hospital, is one of a growing number of groups around the country that is actively trying to deepen fathers involvement in their childrens lives.
Psychiatrist Raymond Levy founded the organization in 2010. As a family counselor and researcher, hed seen a strong connection between absent fathers and childrens mental health problems. Today, dads come to the program, often referred by a pediatrician or other health professional, to get help developing parenting skills and learning to regulate their own emotions. In addition to the play groups, the organization offers other kinds of support, like individual and family counseling.
The Fatherhood Project supports dads from all backgrounds, but the question of what a fathers role should be is especially acute for working-class families, where assumptions about what a family looks like have changed dramatically in recent decades. When a mother with a bachelors degree gives birth today, theres a 91% chance shes married. For those with just a high school diploma, its 47%. Meanwhile, six out of 10 working-class marriages end within 20 years, compared with only 22% of marriages where the wife has a bachelors degree.

Within the past decade, academics and health professionals have turned a spotlight on working-class fathers attitudes. In their 2013 book Doing the Best I Can, sociologists Kathryn Edin and Timothy J Nelson found that, contrary to stereotypes, most new fathers in low-income city neighborhoods are incredibly excited about becoming parents. But they also found that the lack of well-paying jobs directly affected their ability to remain in their kids lives.
If hes out of work thats where a lot of the couples split up, Nelson said. Theres this whole traditional idea that if youre living [with your children and their mother],youve got to be part of the financial solution.
For groups like the Fatherhood Project, the goal is to engage dads not just as breadwinners but as caregivers, and to help them create relationships with their children that can survive even if their relationships with the kids moms dont.
Levy, the executive director of the Fatherhood Project, said that despite some progress in recent years, resources from maternity wards to home visiting programs that provide support for young families still tend to be aimed almost exclusively at mothers.
It is my impression that most home visiting teams are almost all female, and women are the population that is targeted, he said in an email. Men are viewed either as incapable, absent, threatening or disinterested.
Franklin Munoz, a broad-shouldered guy in a Patriots jersey, has been coming to the group since last year. Minutes after coming in the door, he was crawling around on the rug with his two-year-old son, Franklin Jr, playing with a plastic set of farm animals.
Munoz told me that when Franklin Jr was born, his mother was suffering from diabetes, and she died from related complications when he was 10 months old. Now, Munoz takes care of him from Thursday through Sunday, and his maternal grandparents have him the rest of the week.
Days spent on diaper changes and sippy cups are not what Munoz expected his life to be like. His father was deported when he was young, he said, so he didnt have much of a reference point for being a dad.
I was a little knucklehead, he said. I grew up rough.
Munoz said the play group has helped him be a better dad, teaching him ways to watch for signs of what his son is interested in while theyre playing.
Now, he said, his routine on the days Franklin Jr is with him nights working at a vegetable processing plant, days at parks and beaches with his son is exactly what he wants from life.
I found my purpose in my son, he said. He makes everything worth it.
While Munoz played with Franklin Jr, David Anchundia, a soft-spoken man in jeans and T-shirt, was building a block tower with his daughter, Iliana. As a kid, Anchundia said, his mom stayed home with the kids while his dad worked two jobs, leaving the house before the kids were awake.
Andchundia and his wife decided to do things differently. She works for a Boston insurance company during the day, while he cares for Iliana. At night, after catching a few hours of sleep, he heads to his job working the front desk at a hotel. That way she kind of has equal time with both parents, he said.
Being a nurturing father doesnt come easily to all dads, particularly when they have a hard time acting as breadwinners.
I dont think that an increased hands-on fathering role in the family can replace the decline of working-class mens traditional role as an economic provider, from which they derived satisfaction and respect, said Mark Feinberg, who studies family relationships at Pennsylvania State University.
Feinberg said really helping families who are struggling financially would require better access to good jobs, as well as support for hands-on parenting, for both men and women. But, in the absence of an economy that works for them, many fathers are still working hard to do what they can for their families.
Not far from Revere, on a different October day, a group of men gathered at the small office of the community group Fathers Uplift in the majority-black Boston neighborhood of Roxbury. Several of the men in the room said they have a lot of guilt about the way things have gone between them and their kids.
I was there for my kids being born I cut the cords, said Edwin Randolph, in a voice barely loud enough to carry around the small conference-room table.
But Randolph, whos 52 and the only white guy in the room, said he didnt stay in his kids lives consistently. He drank too much, suffered from diabetes, lupus and kidney disease, went to jail for a little while. Now his kids are 15 and 17, and hes been sober for three years. He calls them every morning to tell them he loves them, but it drives him crazy to know that he cant help out much financially, and he hates to think about the time he missed.
I cried my eyes out because I wasnt there for them, he said. It bothers the crap out of me.
Fathers Uplift is a very personal project created by Charles Daniels. A Georgia Baptist by upbringing and a social worker by training, Daniels talks about fatherhood in a language of suffering and redemption.
I entered this work through a place of brokenness, he said. My father wasnt in my life. I felt some type of way about it, it almost led me to killing myself.
Daniels, whos now married and the father of a toddler, contrasts his own upbringing with his wife, Samantha. Her parents werent together either, and they didnt really get along, but he always showed up when she needed him. As a teenager, she moved in with him for a while, with her moms blessing.
My mom was like, You need your dad around, he said. So I had that sense of fatherhood.
Daniels brought a couple female friends to the meeting to give a different perspective on parenting. Rebecca Bishop, a 23-year-old social worker, said shes been together with the father of her toddler son for almost four years. He works on the weekends and takes care of the boy while she makes most of the familys money. She said it isnt always easy for him to be the lower earner in the relationship, but they both take comfort in the idea that their roles may shift back and forth over the years.
My sister says rarely in a relationship will two people be 50-50, she said.
Daniels urged me to talk with one 21-year-old man in particular, Javon Taylor. He was 14 when his girlfriend gave birth to his daughter, and two years later they had a son. But, when the kids were young, he got locked up for assault and battery after a fight with another man. He was bigger and really drunk, Taylor said. Taylor was young and stupid, and he had a knife. He went away for more than two years, and by the time he came out his girlfriend was with someone else.
Taylor said he takes care of his kids when he can, but their mom has custody, so the schedule depends on her. His view is that a father needs to do more than provide for his kids.
I talk with them, I play with them, I cook for them, he said. Like a mom. Like everything you would think of a mother, thats really how I feel a father should be as well.
Taylor has a good-paying union construction job now. He said Fathers Uplift has helped him keep trying his best to do everything he can for them.
A lot of men wind up saying this girls a headache. If Ive got to go through this girl to see the kids, never mind, Ill move on, he said. But, he added, Daniels and the other guys in the group have pretty much encouraged me to be an active father, not let anyone or anything deter me away from that.
Read more: www.theguardian.com