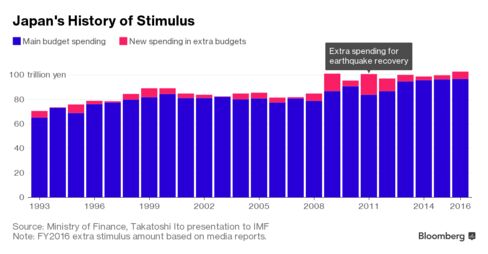 Prime Minister Shinzo Abes "bold" plan to revive the economy with a $273 billion package leaves him traveling down a well-trod path: it marks the 26th dose of fiscal stimulus since the countrys epic markets crash in 1990, in a warning for its effectiveness.
The nation has had extra budgets every year since at least 1993, and even with that extra spending, it has still had six recessions, an entrenched period of deflation, soaring debt and a rapidly aging population that has left the worlds third-largest economy still struggling to get off the floor.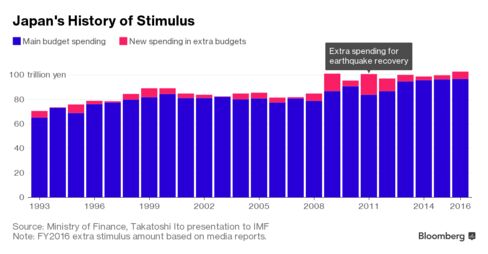 While some analysts say the latest round of spending may buy the economy time, few are convinced it will be enough to dramatically change the course. First off, much of the 28 trillion yen announced by Abe last week wont be spending, but lending.
And if previous episodes are any guide, an initial sugar hit to markets and growth will quickly fade amid a realization that extra spending does little to cure the economys underlying problems. A Goldman Sachs Inc. study found that markets gave up their gains in the first month after the cabinet approved the stimulus in 18 of the 25 packages it studied since 1990.
Skeptics of Abes latest plan arent hard to find. Instead of adding to a debt pile already more than twice the economys size, more should be done to tackle thorny structural problems such as a declining labor force and protected industries, according to Naoyuki Shinohara, a former Japanese finance ministry official.
"Looking at the history of the Japanese economy, there have been lots of fiscal stimulus packages," according to Shinohara, who was a top official at the International Monetary Fund until last year. "But the end result is that it didnt have much impact on the potential growth rate."
There are other reasons to doubt the latest stimulus plan. Economists question how much of the headline announcement is new spending — so-called "fresh water" — that will trickle into the economy, as opposed to existing spending pledges that have been repackaged.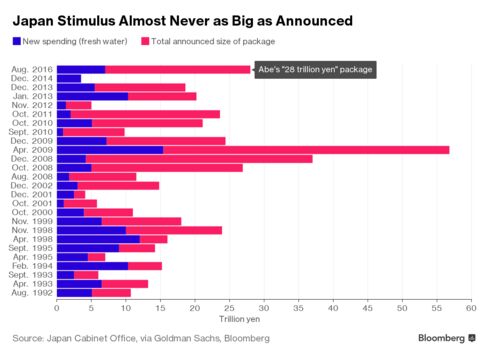 Its likely that Abes net new spending will be much smaller than the headlines suggest, said Hideo Hayakawa, a former Bank of Japan official.
"We dont need any fiscal stimulus," he said. "What we need is enhancement in productivity, thereby raising potential growth."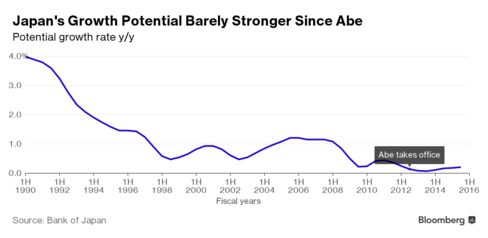 Abe came to power in late 2012 promising to drag Japan out of a deflationary malaise by changing the economy. The symbol of that was a new 2 percent inflation target, the achievement of which was meant to show that Japan had returned to a stable economic footing. Since then, the economy has contracted in five quarters, economic growth is forecast to have slowed sharply last quarter, and prices stopped rising and started falling again.
For a QuickTake Q&A on the BOJs elusive inflation target, click here
Emboldened by a thumping upper-house election win in July, Abe is doubling down the strategy that he unleashed in 2013 — extreme monetary easing and fiscal stimulus. Initially at least, the plan seemed to work. The yen dropped, exporters profits surged and stocks rallied, but that glow has since faded.
A decision to introduce a sales tax increase in 2014 triggered a recession and plans for another increase — vital for raising government revenues — have been put back to 2019. The yen has strengthened 16 percent this year, cutting corporate profits. Wage growth has been slow, companies and households are still hoarding cash, and progress on the third arrow of Abenomics — structural reforms — remains slow.
For a QuickTake explainer on Abenomics, click here
The fact that a stimulus package is being discussed only a few months after the April start of the new fiscal year is an indication about how weak the government thinks the economy is. Usually, an extra budget isnt created until the second half of the year.
In truth, few predict a quick turnaround for Japans economy as the population shrinks and policy makers grapple with the rich worlds highest ratio of gross public debt to economic output.
If history is any guide, this stimulus will just pile up more debt without really boosting long-term growth.
"Looks to me like they have a 1990s diagnosis of a 2010s problem," said Richard Jerram, the chief economist at Bank of Singapore Ltd. " I dont really see the benefit of a short-term demand stimulus."
Read more: www.bloomberg.com