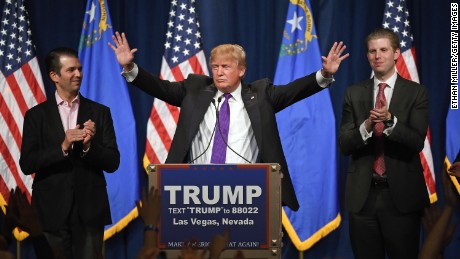 (CNN)Let's take a page from Donald Trump's book and ignore political correctness for a moment: If you support Trump, you support his sexist, bigoted and racist views.
There are no ifs, ands or buts about it. And this is especially true for GOP party leaders, elected officials and even community leaders.
We must assume that those who endorse Trump know this history, given that the media have widely covered it. We must also assume they are not just endorsing Trump's policy positions but his disturbing sexist and bigoted history as well.
The same goes for people such as former Utah Gov. Jon Huntsman, who recently proclaimed he would vote for Trump if he wins the GOP nomination because he feels compelled to back his party's nominee. Sorry, you don't get a free pass by saying you are in essence "following orders" by voting for the Republican nomination. You have a choice.
That's exactly why well-known conservative Erick Erickson wrote an article Monday titled simply, "I Will Not Vote For Donald Trump. Ever." Erickson, who I have vehemently disagreed with in the past, has offered a profile in courage knowing Trump's minions and even fellow conservatives will attack him.
Erickson first calls out Trump as a "liberal masquerading as a conservative." He writes that he simply can't support a candidate who "preys on nationalistic, tribal tendencies and has an army of white supremacists online as his loudest cheerleaders." That is one of several good reasons that no good person should support Trump.
GOP party leaders, elected officials and community leaders must realize that if they endorse Trump, the rest of us will be forced to assume they are just as bigoted and hateful as he is.
Join us on Facebook.com/CNNOpinion.
Read CNNOpinion's new Flipboard magazine.
Read more: www.cnn.com